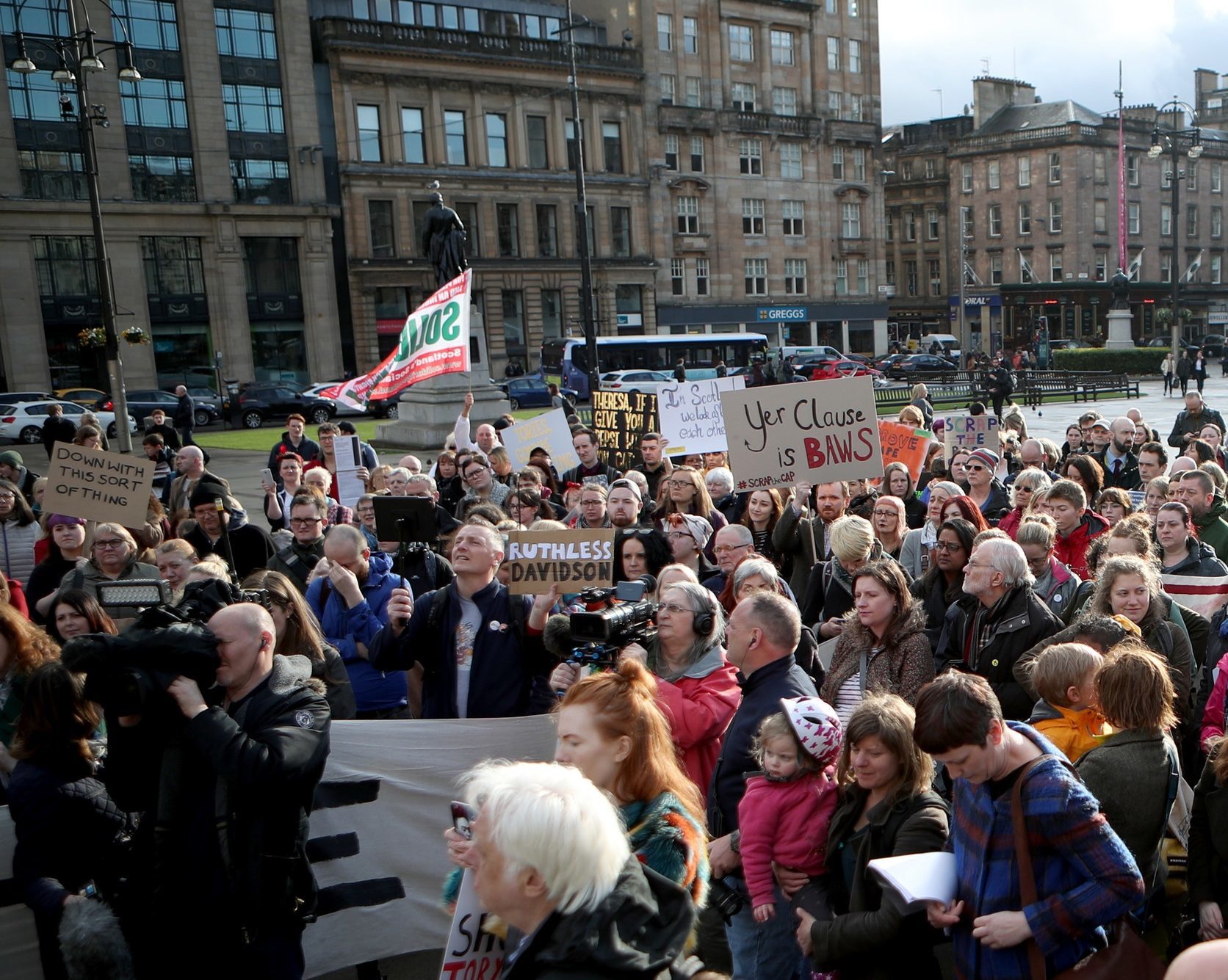 RUTH DAVIDSON and the Scottish Conservatives have come under fire over the "abhorrent rape clause" one year after the controversial welfare reform was brought in.
SNP and Labour politicians urged the Tories to rethink their support for the policy, branding it "despicable" and "absolutely heart-breaking".
It was established as part of UK Government benefit reforms which limit families to claiming tax credits for their first two children
One of the exemptions to this is the so-called "rape clause", which requires women to prove a child was conceived through rape or during an abusive relationship to qualify for the benefit.
Former Scottish Labour leader Kezia Dugdale pledged her party would "end the abhorrent rape clause across the UK" if Jeremy Corbyn becomes prime minister.
Hope the Rape Clause has a miserable 1st Birthday ?- sick to my stomach this abhorrent policy still exists https://t.co/DgKIOCwRoZ

— Kezia Dugdale MSP (@kezdugdale) April 6, 2018
"It is absolutely sickening that Ruth Davidson continues to remain silent about the rape clause, despite supposedly having influence in Downing Street. She is complicit in the continuation of this vile policy.
"Ruth Davidson tries to pretend to Scots that she's a different type of Tory – but this is the Nasty Party at its worst."
The Tories were repeatedly challenged on their support for the benefit change during last year's election campaign.
SNP MP Alison Thewliss called on the 13 Scottish Tory MPs elected then to consider whether the policy was "justified".
She said: "The policy not only plunges children into poverty, but forcing women to disclose one of the worst experiences of their lives, just in order to make a claim for a benefit, has to be one of the most abhorrent polices to have come out of this heartless Tory Government. "
Wondering what the issue is with the two child policy and the rape clause? Read my debate here: https://t.co/V7JapSdAQy #scraptherapeclause pic.twitter.com/0q9cXX7idT

— Alison Thewliss (@alisonthewliss) October 20, 2016
"I've continued to ask questions, but ministers haven't given me any answers, or reassurance or justification that this policy is either workable or necessary."
In pics: Hundreds come together to protest 'rape clause' in Glasgow
The Glasgow Central MP said: "The UK Government has made U-turns at short notice, even after holding out on its position for a long time. This despicable policy should be the next one to be axed."
A spokesman for the Scottish Conservatives said: "The last thing Kezia Dugdale should want to remember is the worst Labour election campaign in living memory which took her from political leader to jungle laughing stock in the space of months."