Ruth Davidson has resigned as the leader of the Scottish Conservatives.
Ms Davidson, who was at the helm of the party for eight years, said it was the "privilege of my life to serve".
But she admitted that the thought of fighting elections and campaigning once fired her up, but now fills her with dread at the thought of hours and days away from her family and new baby son Finn.
It has been the privilege of my life to serve as @ScotTories leader. This morning I wrote to the Scottish party chairman to tender my resignation. pic.twitter.com/CJ9EjW2RqN

— Ruth Davidson (@RuthDavidsonMSP) August 29, 2019
In a letter to the Scottish party chairman, she wrote: "The almost eight years I've spent at the helm have coincided with one of the most remarkable and important periods of recent Scottish political history. I am proud of the teams we have built in Holyrood, Westminster and in council chambers across the country and proud of our electoral successes in recent years.
"All of that pales in significance compared to vital role our party undertook in the Scottish independence referendum of 2014. I will always consider that the most important contribution of my working life and my commitment to keeping the United Kingdom together remains undimmed."
She thanked chairman Robert Forman for his guidance and friendship, as well as the "hard work and professionalism" of the Scottish Conservatives' central office.
Ms Davidson added: "Inevitably, much has changed over the years of my leadership — both personally and in the wider political context. While I have not hidden the conflict I have felt over Brexit, I have attempted to chart a course for our party which recognises and respects the referendum result, while seeking to maximise opportunities and mitigate risks for key Scottish businesses and sectors.
"I hope and believe that industries as diverse as our fishing fleets and whisky producers have felt well represented by the Scottish Conservatives during this time."
I wish Ruth well for the future. I know well the toll political leadership can take on family life, and no one will grudge her more time with her young son. There will be opportunity later to discuss the politics of her decision – but for now, I'll simply send my best wishes. https://t.co/S9WIGkNMnf

— Nicola Sturgeon (@NicolaSturgeon) August 29, 2019
Ms Davidson said that the biggest change in her life had been starting a family, thanking the party for their "generosity and support" since giving birth to her first child in October.
She said: "It made my return to work in April as smooth as I could have hoped and I believe the flexibility shown by colleagues has allowed me these last months to continue operating successfully in my role as leader.
"However, as I look to the future, I see the Scottish Election due in 2021 and a credible threat from our opponents to force a general election before then. Having led our party through seven national elections and two referenda, I know the efforts, hours and travel required to fight such campaigns successfully.
"I have to be honest that where the idea of getting on the road to fight two elections in 20 months would once have fired me up, the threat of spending hundreds of hours away from my home and family now fills me with dread. That is no way to lead.
"Additionally, I fear that having tried to be a good leader over the years, I have proved a poor daughter, sister, partner and friend. The party and my work has always come first, often at the expense of commitments to loved ones. The arrival of my son means I now make a different choice.
"While I offer you my resignation as party leader, I intend to continue in my role as the MSP for Edinburgh Central until 2021. I will always be thankful for the opportunity to serve and to the amazing teams I have worked alongside. Be assured I will continue to support the party, the Prime Minister and Scotland's place in the United Kingdom from the backbenches and beyond."
Credited with transforming the party's image north of the border since taking charge, Ms Davidson has been described as an energetic campaigner and colourful on-screen character.
She took her first steps towards a life in politics when she joined the Tories in 2009, having previously worked as a journalist for the likes of Kingdom FM, Real Radio and BBC Scotland.
She stood in the 2009 by-election in Glasgow North East following the resignation of Labour MP and Speaker Michael Martin, finishing third, before making the shortlist for Bromsgrove in Worcestershire, England, eventually losing out to Sajid Javid.
In the 2011 Scottish Parliament elections, she took a seat from the Glasgow region list after coming fourth in the race for the Glasgow Kelvin constituency.
Two months later, the then-party leader Annabel Goldie announced she would quit the post and Ms Davidson stood for the position.
The self-proclaimed "tough old bird" won the election and became party leader in November that year, gaining 2,278 first preference votes out of the 5,676 cast.
Since then, she has widely been credited with changing the party's image to being more socially liberal, supporting LGBT rights and favouring extending same-sex marriage equality to Northern Ireland.
Ms Davidson was at the helm during the 2014 Scottish independence referendum, which finished with the No side winning by 55% to 45%.
The 2016 Holyrood elections saw the Scottish Conservative Party position itself as the main unionist party, in which it gained the second-highest number of seats in parliament.
She had switched to the Edinburgh Central constituency for that vote, which left the Conservatives with 31 seats, a gain of 16.
During the campaign she rode a buffalo, played ice hockey, pulled pints and drove a crane in a number of photo opportunities.
In the 2016 Brexit referendum, she supported remaining in the EU, but after the result she called for a soft withdrawal.
The former Territorial Army signaller has publicly said she would not support a no-deal exit from the EU.
Ms Davidson has also received praise for overseeing the Scottish Conservatives going from one MP to 13 in the 2017 General Election.
Her 2018 memoirs revealed she struggled with her mental health as a teenager, citing that as a reason she would not stand to be UK Conservative Party leader.
The Dunfermline Athletic fan had often been tipped to take up the post.
In October last year, she gave birth to a baby boy with her partner Jen Wilson.
At the time, she said she did not believe having a child would impact her political career and her pregnancy would show it was normal for same-sex couples to have children.
Ms Davidson supported Jeremy Hunt to succeed Theresa May as party leader in July 2019.
She said she would judge Boris Johnson on his time in office as Prime Minister, but admitted the two had clashed on issues such as Brexit.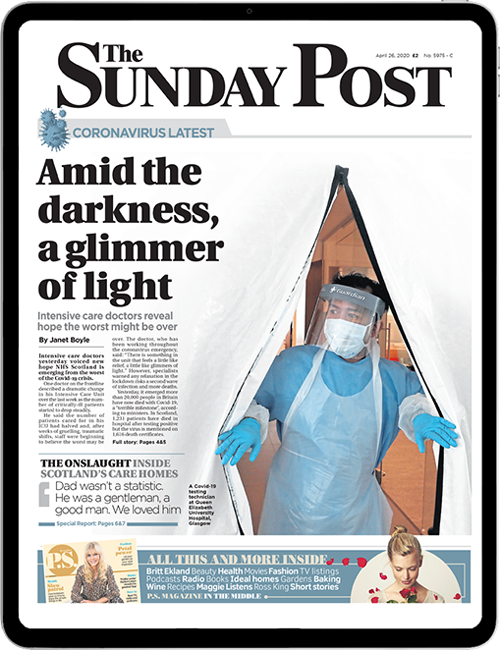 Enjoy the convenience of having The Sunday Post delivered as a digital ePaper straight to your smartphone, tablet or computer.
Subscribe for only £5.49 a month and enjoy all the benefits of the printed paper as a digital replica.
Subscribe