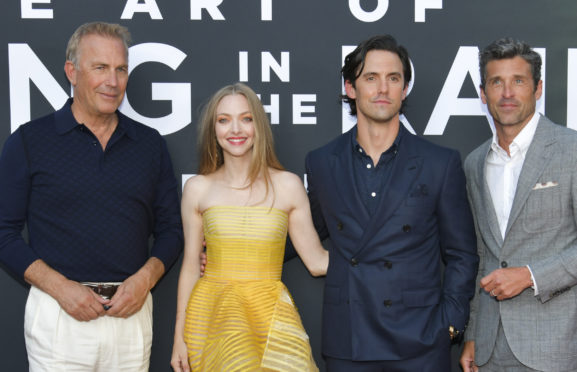 It sounded like the most unlikely potential sequel since a follow-up to Titanic was mooted.
Kevin Costner was recently revealed to have considered making a sequel to his hit movie The Bodyguard.
Instead of Whitney Houston, it would have starred Kevin protecting…Princess Diana.
Obviously it never happened – but I met up with Kevin last week, and we chatted about the royals and his new movie.
First, I wanted to know about Meghan Markle. She recently quit acting, so I asked Kevin if he could ever imagine Harry watching Meghan on screen again.
"That's why I'm not married to an actor," he laughed. "I don't want to see my wife kissing somebody!" he said.
"It would be hard for Meghan.
"There's so much thought that goes into taking on being a wife, and then being in this unique royal circle that I don't understand.
"We watch it from across an ocean, and sometimes we don't understand exactly what's going on. She's had enough attention for a lifetime now, in a year."
Getting back into acting is tough – not as difficult as getting into it the first time. I asked Kevin about his early career, which was inspired by a chance meeting with Richard Burton.
He was returning from his honeymoon when the legendary actor got on the same plane.
Kevin summoned up the courage to approach Burton.
"He had every right to tell me that look, I don't have to talk to jerks like you. But he didn't do that. He just spoke to me for five or 10 minutes. It was a meaningful exchange."
Kevin got off the plane and was sitting outside the airport when a limousine drew up.
"The window came down and it was Richard Burton," added Kevin. "He said, 'good luck', our last little parting thing to me.
"He had to tell the driver to slow down for a second because he saw me sitting on suitcases."
I was chatting with Kevin about his new movie, The Art Of Racing In The Rain, in which he plays a dog.
He doesn't get a furry suit on or anything, he's doing the voice of Enzo. It's a beautiful movie, a real tearjerker and yes it made me cry!
Kevin nails the voice of the dog and incredibly makes it all very believable.
"I think we are going to forever be trying to understand that mystical bond between a dog and people," said Kevin. "I like to think of Enzo as a once-in-a-lifetime dog for this guy.
"He'll have had other dogs before and other dogs after. But there'll only be one Enzo.
"It's not an easy gig," he said. "And I was unsure, because I never met the cast. You know, I never met the dog!
"I started off with what they initially thought they wanted. And they kept coming back because they wanted more.
"But they kept coming back to me, and they weren't always asking me to do the same thing.
"So I took that as a good sign. Good boy!"