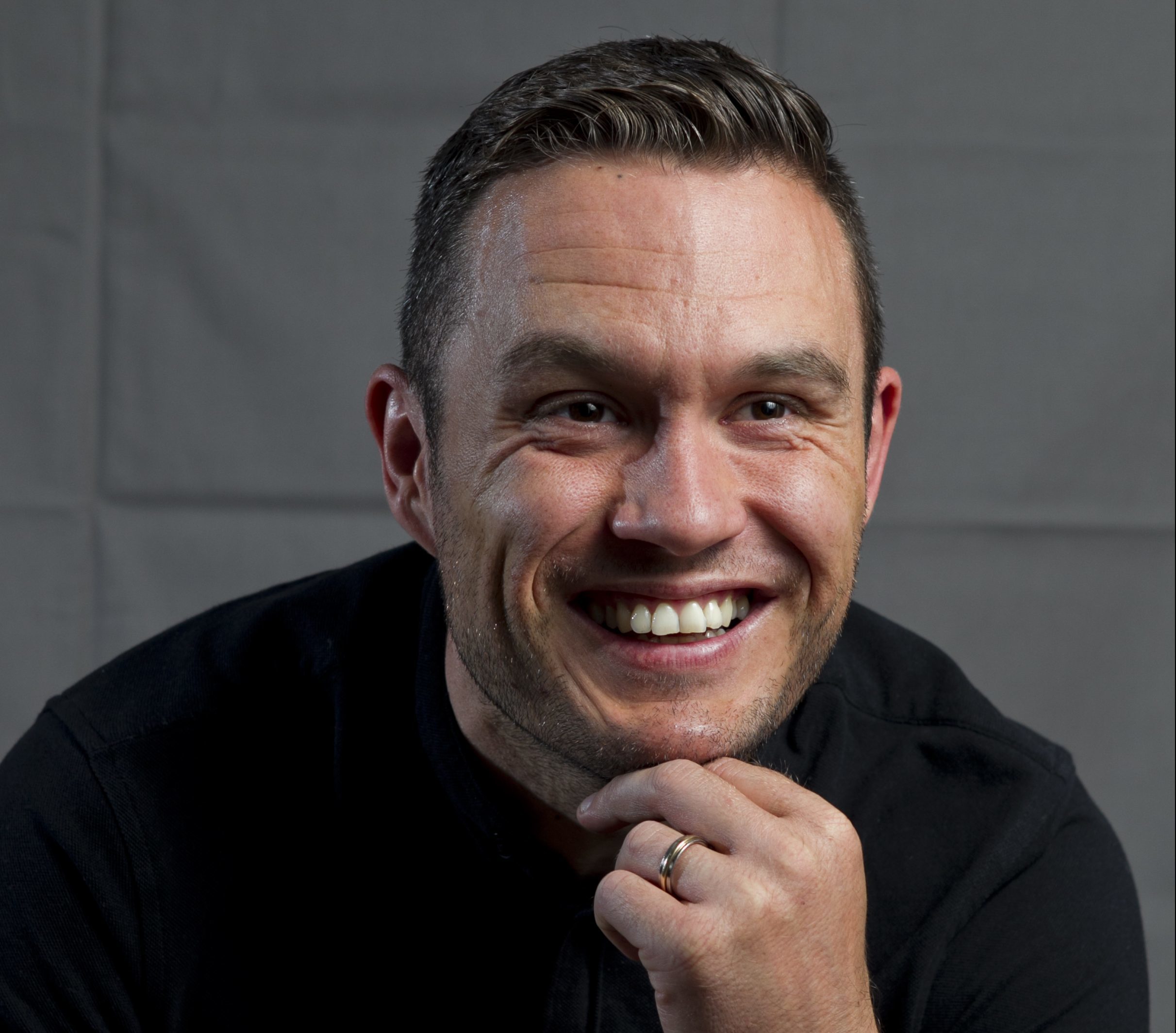 SITTING in an upstairs lounge of a plush Glasgow city centre hotel, something's not quite right.
There's nothing wrong with the surroundings, service or refreshments. The issue lies with River City's Jordan Young, Alex McAllister in BBC Scotland's popular soap.
He's, well, nice. Charming, excellent company and, here's the real shock, downright smiley.
"That's the first thing people always say to me, that I'm much cheerier than Alex," Jordan, 37, tells iN10, with a beaming smile.
"As Alex, I hardly ever get to smile, he's always moody and that's really not me.
"I'm the polar opposite. I'm softer, I've got a better moral compass – and I'm definitely funnier."
It's fair to say Jordan has much more to be happy about, both personally and professionally.
He's one of Scotland's most successful actors, on screen every week in River City and with a lucrative panto run every year for the past decade in Aberdeen.
That's brought security and a comfortable new house he's just moved into.
Things weren't, however, always so peachy, with hopes of an early telly breakthrough in Monarch Of The Glen dashed when he was pipped at the post by Martin Compston.
"Anything would have been a big break for me at that time," he admits.
"I was a waiter, a barman and my brother's best pal owns a waste recycling company so I was basically a bin man for eight months.
"I was getting up at 4.30am fighting with rats. And another real low point was doing promotional work handing out leaflets in Central Station.
"Other actors and directors you've worked with are walking past and you see mates you were at university with getting bigger houses and cars with their proper jobs.
"Even now I know that you can be riding on the crest of a wave and then it can stop with the click of a finger."
Back then Jordan's goals were six months, then a year, of getting enough acting work that he wouldn't have to be polishing glasses behind a bar and watching out for rodents.
Now, though, his priorities have changed and that's largely down to the fact that's he's a dad of two.
"When I was single, the only person not working affected was me, whether it meant not getting a new pair of trainers or eating beans on toast," he says.
"But I don't want my kids to sacrifice anything because of my career. I can't have them having no pennies because dad's got a silly job.
"That's what gives me the drive and determination to succeed at this career.
"It used to be about ego, now it's about providing for my family."
Marley, who's four, and Piper, who's two months, are the delights he goes home to each night along with choreographer wife Karen.
He was at both births, with Piper's recent arrival nearly coming surprisingly early when Karen went into a false labour more than a week early.
"I was on set at River City when she phoned to say she was in hospital having contractions.
"I like to think I'm a cool, collected person but I went to pieces. I went into the production office and I could hardly string a sentence together.
"I just remember someone saying to get me a glass of water. The chief exec, producers, everyone was brilliant and got me a car to get to the hospital.
"They said real life was more important and we'd pick the scene up another time.
"It was probably just as well as I couldn't even think of my lines.
"It all settled down as it turned out and Piper arrived a week later, bang on time and just after we moved into the new house, which was perfect."
The scene was actually a key one, part of the big Sheldinch storyline we've met to chat about.
This week sees Alex and Dawn Steele's Annie finally get to their big wedding day.
Jordan teases that, in the best soap tradition, he doubts very much whether everything will go smoothly.
"In Alex's last wedding, to Kelly Marie, his mother turned up and set the cat among the pigeons. She was a right wrong 'un, an archetypal soap baddie.
"The wedding was called off during the day and then was back on again.
"This time the wedding's more explosive and there's certainly more danger involved.
"Alex is out of his depth with the people he's been mixing with and he's a Murdoch, after all."
And while Alex's a bit of a bad lad, Jordan says there's more to his on-screen alter ego.
"People stop me every day to talk about him and I like to think that's because Alex's a character viewers love to hate.
"In soaps there are real horrible baddies who are evil and have no redeeming qualities. But I try and play him as a bit of a rogue.
"In the supermarket I tend to get a bit of wagging of fingers and told to behave myself rather than abuse.
"And I get a few tweets from women who like the BMWs and nice suits. And because he's Lenny Murdoch's son.
"I think they'd want to use me to get to him.
"Lenny's the real favourite and they say, 'I love you – but I much prefer your dad'."
Being such a central part of River City has, Jordan admits, been utterly life-changing.
It has fulfilled his acting ambitions, given him that much-needed degree of financial security and allowed him to be home each night, not on the road.
And that home life is something cherished as never before.
"Family is what I live for now. I used to love a party, a selfish actor out drinking all the time.
"Now I just love being with the kids. Piper's a bit wee yet, but Marley's such a laugh. If you could bottle that there would be no ills in the world."
Karen's on maternity leave at the moment but when both are working childcare and domestic duties are happily shared.
They met in panto 12 years ago, Karen as a dancer and Jordan as Dandini in a production of Cinderella.
Love at first sight, then?
"It was on my side but she tells me it wasn't," laughs Jordan.
"She says I was too young for her – she's 41, she's going to love me telling you that – and too much of a lad.
"She obviously failed to see the cultured actor that was bubbling underneath."
Jordan cut his acting teeth in the acclaimed stage play Black Watch.
He was an original cast member in the first National Theatre of Scotland production to be performed internationally.
It took Jordan to America a decade ago and they are days he'll never forget.
"It was a once in a generation thing and I'll probably never have those feelings again.
"It was a phenomenal experience taking it to New York and Los Angeles.
"You were treated like a film star, getting standing ovations every night.
"And I was lying on a beach in LA during the day before going to work. It was like a dream.
"You'd almost have to pinch yourself and think there surely had to be a catch somewhere.
"I remember calling Karen, who was my girlfriend then, and saying I was going to treasure it. I'm bad for everything being better in hindsight and I was determined to soak up every second.
"I did – and the only regret about the whole thing was that I didn't go to Las Vegas on my day off.
"Maybe Karen will take me for my 40th."
River City, 8pm, Tuesday, BBC1 Scotland.