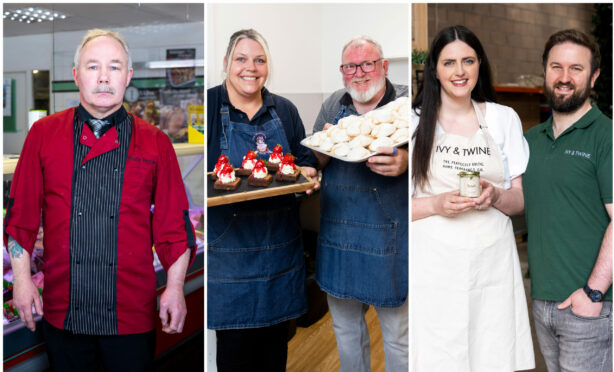 Nine out of 10 High Street shops have seen the price of doing business soar under the mounting pressure of the cost-of-living crisis, according to the Federation of Small Businesses.
The rise in costs for retailers comes as the number of people visiting shops in April remained 14.8% lower than that of April 2019, before the Covid pandemic struck.
Last week official figures showed the number of Britons buying less food due to soaring inflation has increased over the past month, putting more pressure on stores.
The FSB is now urging Scots to support their High Streets by shopping locally.
Its public affairs chief, Stuart Mackinnon, said: "The cost-of-living crisis means that many consumers are counting every penny. That is why it is so important when people are choosing where to spend their money, they should choose local businesses on their doorstep."
Businesses are not protected by rising costs as much as households are, due to the price cap not being applied to them, meaning local companies are crumbling under energy costs.
The FSB is now urging the government to protect smaller businesses, which do not have the same buying power as larger companies.
Andrew McRae, FSB policy chair for Scotland, said: "Local firms and local authorities will be crucial to building both momentum in the recovery and resilience for future challenges. Councils can get behind firms on their doorstep by spending more with them. Councillors can drive diversity back in the local economy by backing local entrepreneurs."
Figures released earlier this month by the Scottish Retail Consortium showed a 14.8% fall in shop footfall in April compared to April 2019, worse than the UK decline of 13.1%. In shopping centres the fall was even steeper, at 20%.
A new cost of living survey, released by the Office for National Statistics on Friday, found that 41% of adults reported cutting back on their grocery shop between April 27 and May 8 due to rising costs.
About 88% of adults have reported a rise in their cost of living over the past month, the ONS said. The survey said the rising cost of living was primarily driven by more expensive food, with 92% of people reporting an increase in the price of their food shopping.
Meanwhile, a report by the National Institute of Economic and Social Research (NIESR) last week warned that 1.5 million households across the UK would struggle to pay for their food and energy bills.
It also warned that more than 250,000 ­households would "slide into destitution" next year, pushing the total number in extreme poverty to about 1.2 million.
This comes as more pressure is being put on the Government to deliver an emergency summer mini-budget, amid fears a drop in consumer spending will push the UK economy into a recession.
SNP Westminster Treasury spokeswoman Alison Thewliss said: "The new report by the NIESR makes for grim reading – with stark warnings that 1.5 million households will struggle to pay for their food and energy bills and around a further quarter of a million households at risk of sliding into destitution."
Chancellor Rishi Sunak said the UK's ­recovery was being disrupted by the war in Ukraine and other global challenges.
---
The cost of living crisis is hitting both families and firms suffering as spending on supplies and transport climb in a perfect storm of rising prices.
To find out how Scotland's High Streets are faring, BROOKE DAVIES went to Glenrothes, in Fife, to meet a butcher, a baker and a candlestick maker, well, candles at least.
The butcher
Everything is going up. I am not sure how long we can last now. Maybe not the year
Scott Burns, owner of J Hastie butchers, has already been forced to raise prices and is fearful of the future.
He said: "The price of everything is going up. I am not sure how long we are going to be able to last, maybe not the year. The war in Ukraine has made everything more difficult, because the price of grain and animal feed is going up.
"Sausage guts have gone up 100%, a beef cow now costs £1,800, a box of chicken has doubled from £20 to £40. Even taking produce to the market has become much more expensive. It would just be cheaper to get the sheep a taxi at this point."
Even without the soaring costs of produce, J Hastie butchers has been left vulnerable to rising energy costs.
Burns said: "The cost-of-living crisis has had a terrible impact on me. My energy bills have almost doubled.
"It cost £321 to just maintain the refrigeration for my display cabinet, and my electric has become much more expensive."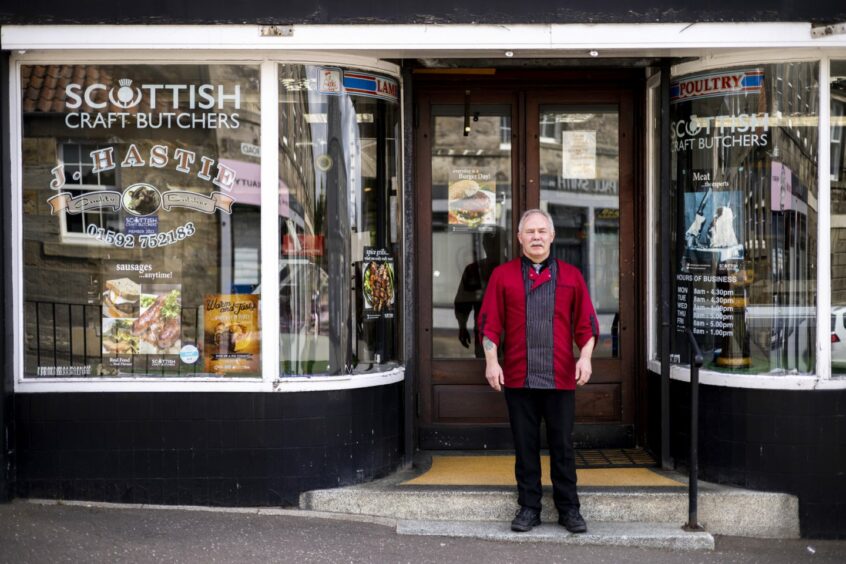 The cost-of-living crisis combined with the effects of the pandemic means the shop has seen a slump in customers over the last year.
"During lockdowns, we were at some of our busiest times like a lot of butchers were across the country," said Burns. "But now that things have opened up again, we have seen a lot fewer people.
"Last week we actually had our quietest week ever – footfall has dropped massively."
The downturn has forced Burns to adjust how he manages the business, including being forced to implement a deposit scheme if people fail to collect ordered cuts.
He explained: "Through the pandemic, I had to start taking deposits because Covid was affecting how many people were coming to pick up their preordered cuts, and we were starting to lose out.
"I was, however, given £3,000 by the Government to help struggling families in a voucher scheme. They would come in with their vouchers, and I would give them what it was worth.
"But it's terrible that we even need a voucher scheme in the first place."
The baker
The pandemic hit us and now costs are rising. It's very hard on a family business
Bakers are also preparing for the worst as the price of ingredients soars.
Colin and Kelly Duncan, owners of the Madhouse Bakery in Glenrothes, have said that not a single item has remained at the same price, having a detrimental impact on their business.
Colin said: "The cost of eggs has gone up by about 25%, coffee beans are up 30%. Sugar and flour have also gone up, and butter has had a 20% increase, even the cost of side salads has gone – there is not a single ingredient that has stayed the same price.
"I'm holding off on upping our prices for as long as I can, but we can't do it forever."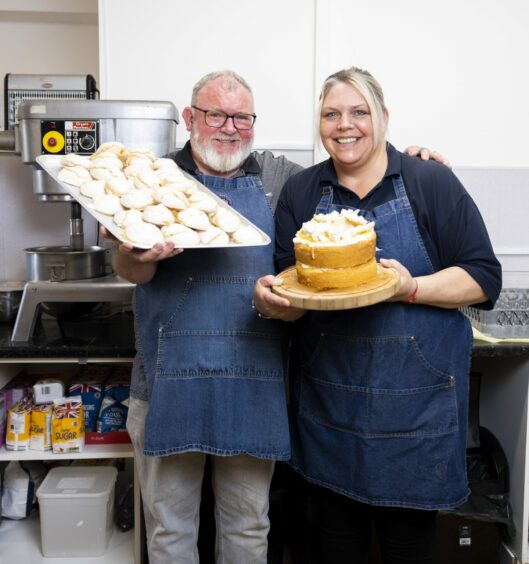 Both the pandemic and the cost-of-living crisis coincided with the bakery, which runs as both a shop and a cafe, opening a second site, adding to their losses.
"We opened a second shop which cost about £20,000, and we had less than one week of trade before the country went into lockdown," said Colin. "Covid has been very hard on us. And now we are coming away from it, there's the cost-of-living crisis."
Madhouse Bakery has also seen a dramatic drop in the number of customers, due to households having to save every penny they can.
Kelly said: "People do not have the same disposable income, which makes the fact that we have got to put our prices up worse because even more people may not want to come in. Because of Covid we reduced our capacity in the café as well, but we feel no need to raise it back up again at the moment because we don't have the same level of customers coming in as they were before the pandemic. Turnover is down probably 20% to 30%."
The bakery is now beginning to prepare for a serious energy price change. Colin said: "Our four-year deal with the electric company ends in August, so I'm expecting a big jump in price. I'm expecting it to be 50% to 60% higher.
"We are a family business, and Madhouse bakery pays our household bills, which are also going up."
The candle-stick maker
Wax, shipping, packaging. Everything is up across the board and we are not where we thought we would be
Candle company Ivy & Twine was going from strength to strength until the cost-of-living crisis.
Husband and wife Gordon and Georgina Robertson, who are both directors, have worked hard to keep prices down but admit it is a struggle as the cost of supplies keeps rising.
Gordon said: "The cost of living has impacted us massively. Across the board price averages have gone up 20 to 25%.
"One of our biggest issues has been getting our wax, which we can only get from the US, and obviously shipping costs have gone through the roof.
"There's also been a huge increase in the cost of packaging as there is a shortage of cardboard because people weren't recycling it properly over the pandemic."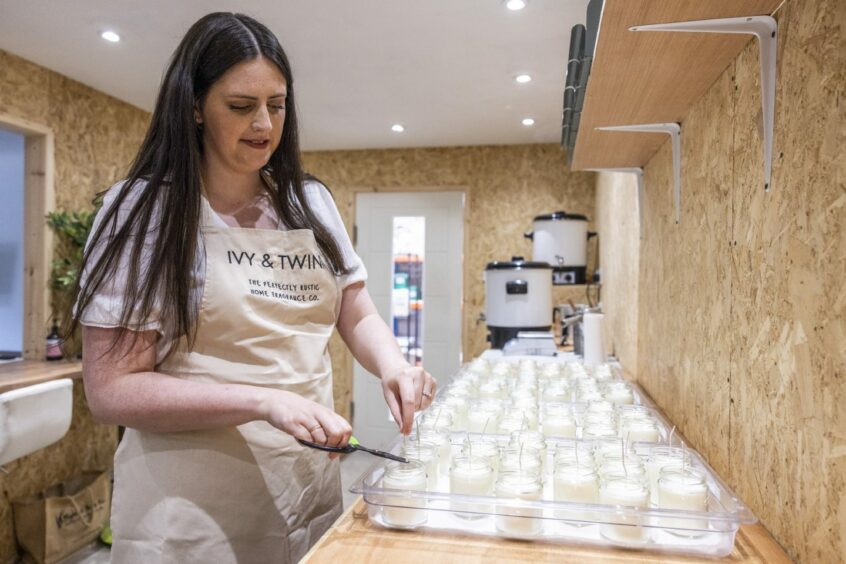 Ivy & Twine creates quality candles which are shipped across the country. Gordon said: "We have had to work really, really hard against a huge plethora of supply chain issues to get our prices to stay the same.
"Because of this we are not quite where we thought we would be.
"We thought that, as the business grew, we would be able to make better margins but that has not been the case."
Although Ivy & Twine has managed to not raise prices, the couple have had to consider cancelling future business plans.
Georgina said: "We have had to re-evaluate our growth plans, and we are trying to weigh up what the right thing to do is. Unfortunately, we don't have a crystal ball.
"The cost-of-living crisis has made us re-evaluate bringing in another brand to the company. We have got an idea in place but I am not sure if it is something that would be responsible for us to do.
"It's a Catch-22, because if we do decide to bring it in it might be good for the long-term but it's a huge amount of money to try and get it off the ground."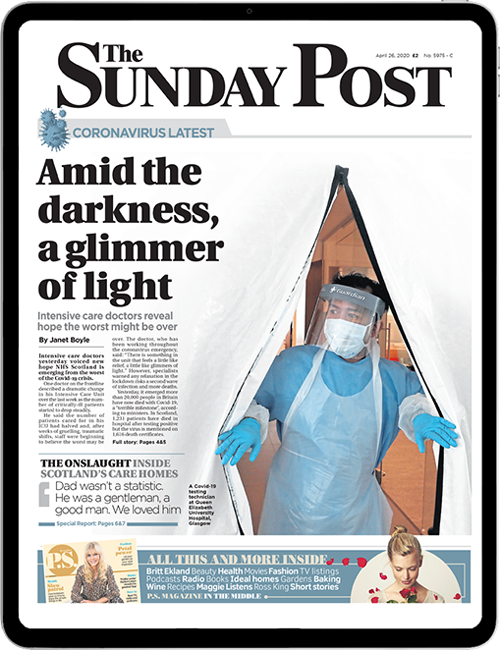 Enjoy the convenience of having The Sunday Post delivered as a digital ePaper straight to your smartphone, tablet or computer.
Subscribe for only £5.49 a month and enjoy all the benefits of the printed paper as a digital replica.
Subscribe