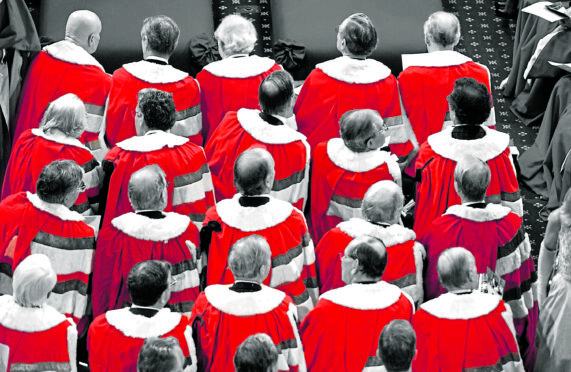 The House of Lords should be scrapped and replaced by a slimmed-down and elected Senate, according to Sir Malcolm Rifkind.
The former Cabinet minister, who served as an MP in Scotland for 23 years, has urged a more federal Britain, including radical reform of the Lords, an unelected second chamber that critics claim is an anachronism in a modern democracy.
It has more than 800 unelected peers charged with scrutinising proposed legislation, including 92 who inherited their seats, and Boris Johnson's resignation honours list is expected to inflate the numbers further.
Rifkind, who declined a seat in the House of Lords offered by Sir John Major in 1997, said the number was far too high because "foolish governments have appointed too many peers".
He was speaking as a leaked report revealed Labour is considering adopting the recommendations of Gordon Brown's forthcoming constitutional commission in its next election manifesto, including the abolition of the House of Lords and its replacement with an upper house representing the nations and regions.
Rifkind, who served in Margaret Thatcher and Major's cabinets from 1986 to 1997, believes reform is necessary. He said: "My own thinking is that this is the time to think of a reformed upper house, which could be called Senate, which should at least have a significant elected element.
"It might be a mixture of elected and ­unelected members, but it would be a chamber that, as in other countries that have either federal or quasi-federal constitutions, emphasises the need for the interest of the four nations always to be taken into account in matters that affect the country as a whole."
Rifkind suggested that some unelected Senate members could be appointed for a set number of years and be appointed on merit. The House of Lords Act 1999 under Tony Blair's Labour government abolished hundreds of hereditary seats and Rifkind described the remaining 92 seats as "no longer justified".
Rifkind, who was also chair of the Intelligence and Security Committee from 2010 to 2015, said the division on Scotland's constitutional future would remain a serious challenge until a majority of Scots identify as much with the parliament at Westminster as it does with Holyrood.
He said: "The existence of a Scottish Parliament is now a given and nobody seeks to weaken its powers. Everyone recognises it plays a very important part, not only in the government of Scotland but as part of the wider framework of the United Kingdom. The question is whether there is anything further that can usefully be done within that framework.
"One of the points that increasingly strikes me is that we still are required to refer to the Scottish Parliament as a devolved parliament. Technically it is correct but it is a rather tired, bureaucratic expression about something which is much more important than simply administrative efficiency. What I've been trying to address is the question of whether we need to modernise the United Kingdom and that includes looking at the language we use.
"One of the things that emerged ­during the pandemic, with health issues devolved to the Scottish, Welsh and the Northern Ireland governments, was the term four nations, which used to only apply to international rugby matches but suddenly became fashionable.
"Nobody took objection to it and, in a sense, it's a modern way of envisaging the United Kingdom.
"If that it is the case, it should not just be reflected in the existence of the parliaments in Edinburgh, Cardiff and Belfast, but how we run the Houses of Parliament in London, reflecting those aspects of policy which affect the whole of United Kingdom. That is where the House of Lords offers an opportunity."
The Sunday Post view: Unelected Lords have no place in any self-respecting, modern democracy
In July, Scottish Labour leader Anas Sarwar also called for the Lords to be scrapped, saying it had no place in the 21st Century and for it to be replaced with a "senate of the nations and regions".
Rifkind said a new Senate should have far fewer members than the House of Lords, currently the second-biggest legislative body in the world after China's People's Congress.
He said: "The numbers at the moment are far too great, but that is because foolish governments have appointed too many peers."
Tony Blair appointed 374 peers during his 10 years in office, Gordon Brown 34, David Cameron 245 and Theresa May 43.
Boris Johnson proposed halving the ­number of members in the House of Lords to 400 before he became prime minister. Instead, he nominated 86 people for peerages, including his brother Jo Johnson and Evgeny Lebedev, the Russian-born businessman and son of a former KGB officer.
Earlier this month, days before Johnson's resignation, he appointed Harry Mount, author of The Wit And Wisdom Of Boris Johnson to the Lords Appointments Commission, which is vetting new members of the House of Lords.
Labour constitutional review suggests abolishing House of Lords
His resignation honours list could ­reportedly include former Culture Secretary Nadine Dorries, billionaire Conservative donor Michael Hintze, former Daily Mail editor Paul Dacre and former Downing Street press secretary Allegra Stratton, who joked about holding a banned Christmas party at No 10 in leaked footage.
Rifkind voted in 2012 against Lib Dem deputy prime minister Nick Clegg's push for a reformed House of Lords, which would have seen elected members serve single terms of 15 years.
He said: "I broke a three-line whip when David Cameron's deal with Nick Clegg resulted in a poorly thought-out reform of the House of Lords. What they were actually offering was a woefully inadequate way of reforming the upper chamber, and I, along with others in the Conservative Party who disagreed with what was being proposed, voted against it and it all collapsed."
Rifkind, who stood down as an MP in 2015, also said he had no desire to sit in a new upper chamber. He said: "I'm not contemplating a return to a parliamentary role. When John Major ceased to be prime minister, I was offered the opportunity to go the House of Lords at that time and politely declined. I have no reason to reconsider that decision whatever name the upper chamber might be given.
"I was at parliament for over 35 years. Like people in prison, sometimes for good ­behaviour you get let off the full sentence."
The constitutional review by former prime minister Gordon Brown, which has been seen by Labour MPs and shadow cabinet ministers, recommends devolving new economic powers – including over taxation – and creating new independent councils of the nations and for England and is intended to reform the devolution settlement and strengthen the Union.
After seeing a leak, The Guardian last week reported the report has been subject to intense internal debate and several shadow cabinet ministers have privately expressed scepticism about some of the proposals, which are far-reaching. They are expected to be revealed in full within months with opposition parties, including Labour, being urged to adopt them as election pledges.
Its recommendations include new tax ­powers, possibly including stamp duty, for some devolved authorities; powers for mayors on education, transport and research funding; powers for local people to promote bills in parliament via democratically elected bodies.
Brown's review also recommends a ­crackdown on standards in central government and parliament, including a jury of ordinary citizens, selected by ballot, being able to rule on complaints against MPs and ministers via a new integrity and ethics commission.
---
Expert: No place in a democracy for secret meetings between King and PM
Major constitutional reform change should be considered after the coronation of King Charles, expected next year, according to a constitutional law expert.
Jeff King, professor of law at University College London, suggested the weekly meetings between the prime minister and the monarch to discuss government matters could be reviewed.
Queen Elizabeth held a private audience with Prime Ministers every week during her 70-year reign. King said: "The succession is not the best time to contemplate major constitutional reform.
"The best time is probably once the occasion is over and it isn't seen as crass to count the financial costs of the institution, consider its symbolism and democratic credentials, and to contemplate more seriously the significance of King Charles having a confidential weekly one-to-one with the prime minister getting his views on matters of state."
King said weekly meeting between the prime minister and the monarch have "no appropriate place in this day and age".
He said: "The monarch may have a wisdom, but if it's wisdom you are after then I don't think it should be appointed on a hereditary basis."
He also suggested there should be a codified British constitution. He said: "I think that a process of constitutional reform that directly involves the public would be appropriate because it would be more democratic.
"I think a Bill of Rights, given a firm legal footing in a constitution, is appropriate so that it can't be tampered with it by ordinary legislation."
Vernon Bogdanor, professor of government at King's College London, said Britain should have a written constitution.
Bogdanor said: "We're one of three democracies without one. The other two are New Zealand, which has a population half the size of greater London, and Israel, which is working towards one.
"People ask should we have a constitution, but maybe the real question is what is special about Britain that we don't have a constitution.
"The answer is the sovereignty of parliament, which would obviously have to be limited if we had a constitution, which I think would be good. But we are not going to get that in the near future.
"I think the immediate future and quite an urgent need is to have a charter, which lays down the relationships between Westminster and the devolved bodies, the rights and duties of each laid out in statute."
---
SNP: Taxpayers are right to feel angry about the unelected House of Lords. It is a stain on our democracy and should be abolished
The House of Lords is a "stain on democracy" and should be abolished, according to the SNP.
Peers can claim £323 a day tax-free, plus travel expenses, to take part in parliamentary proceedings but some have gone years without speaking.
The SNP published a report last year revealing Scotland's 83 peers claimed £2.3 million in 2019-20 as the party suggested peers are unrepresentative of the country's political views, gender balance, social background and age.
The 20-page report found that 69% of Scottish peers were aged 65 or over and only 17% were women.
SNP MP Tommy Sheppard said: "Taxpayers up and down the country are right to feel angry over the bloated House of Lords and the unelected peers who do little to represent them while happily raking in their hard-earned cash.
"Its very existence is a permanent stain on our democracy, one that can only be wiped by abolishing the institution. It's sadly just one part of a broken Westminster system however and something unlikely to change anytime soon, with the Tories content on maintaining this relic and Labour consistently falling silent on the issue despite its previous commitments to scrap it.
"Scotland is on a different, more democratic path, and with each passing day Scots are forced to suffer the House of Lords, it's made clearer that the full powers of independence are necessary."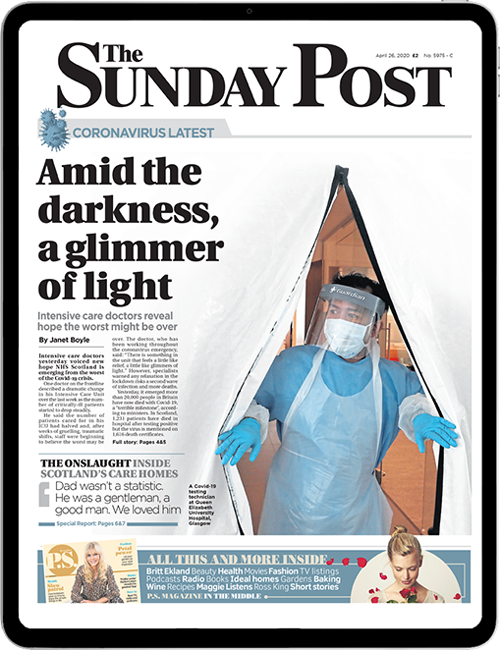 Enjoy the convenience of having The Sunday Post delivered as a digital ePaper straight to your smartphone, tablet or computer.
Subscribe for only £5.49 a month and enjoy all the benefits of the printed paper as a digital replica.
Subscribe