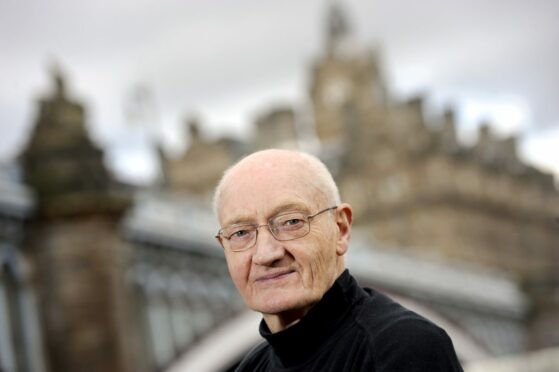 He is 87 now and looking back on a life of conviction and doubt, of faith found, faith lost, and faith recovered, and, as he reflects, celebrating the written words, the poetry and prose, that were his constant companions and guiding lights.
Throughout his life, Richard Holloway has turned to writers to help answer the big questions, and for comfort and guidance during time of doubt and difficulty.
In his latest book, The Heart Of Things, the former Bishop of Edinburgh and Primus of the Scottish Episcopal Church shares his personal philosophy and the poems and words that have steered him through a reflective life pitted by controversy.
He wrote this book, his 33rd, after reflecting on his own life, from being one of the most radical figures in the Church to losing his faith and, in a fashion, finding it again as an agnostic.
"Life is infinitely complex, I can't not think about it. When you get to my age your thoughts are about life and its meaning, and of a sense of time passing, knowing that every summer ends and every life ends," said Holloway, who was brought up in Alexandria, Dunbartonshire.
He said his new book was a "collection of other people's flowers from other gardens". They are poems that have meant much to him over the years, at moments of crisis.
Poetry gave him courage when he lost his faith and felt "God was abandoning me, or I was abandoning God".
He resigned from his positions as Bishop and Primus in 2000 but still attends Old St Paul's Scottish Episcopal Church in Edinburgh, where he was rector for 12 years.
"I was never thrown out – I think that the Church accepted my turbulence and eccentricity," said Holloway. "I had a kind of sabbatical from it. I had grown tired of the Anglican Church's anti-gay and anti-women stance. I was tired of the way religion produces so much that's wonderful but so much that's awful.
"But gradually I found my way back to the Lady Chapel at Old St Paul's because I obviously still have a need for what that gave me."
He believes it's the institutional side of religion that can go badly wrong, adding: "I have a mellow, relaxed, compassionate, agnostic relationship with the big mystery of life. Who is to say what it all means? But let's all be kind to each other while we're here. I think we should try to live a good life for its own sake, as if there were no God. And if there is a God behind this universe, you'll be fulfilling God's will.
"I'm agnostic about the possibility that there's an ultimate meaning in the universe. I suspect that we humans are the meaning-makers because we find it impossible not to think there's a cause behind every effect."
He said that people needed certainty, but the trouble came when our certainties collided with others' and led to conflict: "It's one reason why religion has been such a disruptive element in human history.
"I'm a compassionate agnostic – life is a mystery, and we don't absolutely know what it means. But let's live it as well as we can, and if there's something on the other side, that's when we'll find out."
People find it hard to accept the harsh reality and finality of dying but Holloway is not dismayed by death and not knowing if it's the end or there's an afterlife. "That is why we have not only invented euphemisms to soften its impact, but we have gone further and denied its finality by persuading ourselves that death was not an end, it was a door to another room," he said.
"Our beloved dead have not left us forever. They have passed on or passed through this life to another life beyond, where we will meet them again when our own time comes.
"It takes a mean spirit and a narrow heart to deny the bereaved the comfort of this kind of hope. There is a tinge of uncertainty in the word hope that is defiantly banished in the Christian funeral service, in the words intoned over the body as it is lowered into the ground: '…earth to earth, ashes to ashes, dust to dust; in sure and certain hope of the general resurrection in the last day and the life of the world to come.'
"Can hope be 'sure and certain'? It seems like a contradiction to me, but whatever the answer, it is a phrase whose denial of the absoluteness of death continues to give comfort to millions. But if you do not possess this faith and hope, if you think death is the absolute extinction of a life bound closely to your own, then the passing of one you love is experienced as a loss beyond any conclusion."
He confesses to having a melancholic disposition as he looks back over his life and at the inexorable passing of time.
"The thought of time widening behind us like the wake of a ship and diminishing in front of us as we draw close to port, can prompt the kind of reflective sorrow we call melancholy, the mood that invades us when we realise how time is drifting away from us into the past," said Holloway.
There's a poem he likes by the Irish writer Eavan Boland about her daughter suddenly growing up, that sums up his own regret for lapses of concentration when his own children were young.
"I've lived with such speed and intensity of purpose that I haven't looked round enough and enjoyed life for its own sake," he admitted. "Isaiah Berlin said that you can spend your life so purposefully that you don't relish it while it's happening. I just wish I had the capacity to slow down and smell the roses."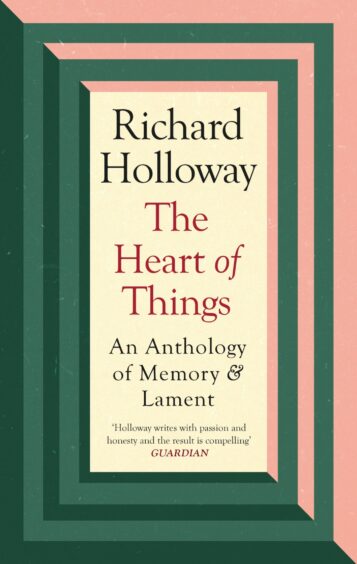 Holloway remains optimistic and grateful despite these regrets, his doubts about faith, and his sadness about the conflicts that have beset the world from time immemorial.
"We are the most violent animal on the planet," said Holloway. "I compulsively read newspapers and watch the news and it's a story of endless violence, war, famine, oppression.
"We're still sending young soldiers to their death every year. But humans are contradictory. We are also astonishing animals – we've built cathedrals, we've written symphonies, we've painted amazing works of art, we've created music. So, even if there's nothing beyond this life, what we have made of it is stunning."
He may be agnostic, but he turns to the Gospels for their words about forgiveness, which he believes releases us from hatred and our warring natures.
"Jesus thought the unforgiven and unforgiving life were not worth living," said Holloway.
"The great thing about forgiveness is that it puts an end to the kind of thinking that robs us of the joy of the present moment because it is always looking back in anger or forward to revenge."
He ends the book with his own poem, a song of praise:
"Now as my own life

spools its last reel,

I'm still not sure

if Someone was behind it,

like the projectionist

in the old picture houses

I went to and loved as a boy.

Maybe at The End, somehow,

I'll know.

But wasn't it great,

the show, I tell myself,

as the lights come up

and the curtains

start to close?

It was, it WAS!"
From the book
A great city lost a little of its soul along with its tenements as planners chased a high-rise dream
In his book, The Heart Of Things, Richard Holloway writes of his love for Scotland's tenements, like the one where he grew up, and laments the urban clearances of the 1960s that demolished them to be replaced with high-rise flats.
The old tenements could have been renovated and improved, he writes, but remembers how planners "opted for what they called comprehensive redevelopment." He continues:
As the term suggests, this meant the complete flattening of a district and the erection of an entirely new street and housing pattern. It was an astonishingly violent concept and once a district was sentenced to it, a deadly blight descended on it. It was putting a whole neighbourhood on death row for decades before muscling it on to the electric chair. Edwin Morgan, Glasgow's Poet Laureate or Makar, caught the misery of it in Glasgow Sonnet I.
---
A mean wind wanders through the backcourt trash.
Hackles on puddles rise, old mattresses
puff briefly and subside. Play-fortresses
of brick and bric-a-brac spill out some ash.
Four storeys have no windows left to smash,
but in the fifth a chipped sill buttresses
mother and daughter the last mistresses
of that black block condemned to stand, not crash.
Around them the cracks deepen, the rats crawl.
The kettle whimpers on a crazy hob.
Roses of mould grow from ceiling to wall.
The man lies late since he has lost his job,
smokes on one elbow, letting his coughs fall
thinly into an air too poor to rob.
---
Had some organising genius been able to magic the scheme into immediate realisation it might have worked, but it was piecemeal and sporadic in its approach. Stumps of decaying tenements were left standing in the rubble of partial demolition, pierced by twenty-storey tower blocks erected to contain some of the displaced population.
Basil Spence was knighted for his contribution to the desecration. Skyscrapers can be good places to live, if the towers are carefully and safely designed, as they usually are for the wealthy in places like Manhattan. The poor design and low-quality construction of the Gorbals towers led to serious health problems for many of the inmates.
With the black humour that characterised the area, it was said of Spence's Queen Elizabeth Arcade that "if you sneezed at the entrance you would have pneumonia by the time you got to the other end.
---
The Heart Of Things by Richard Holloway is published by Canongate on Thursday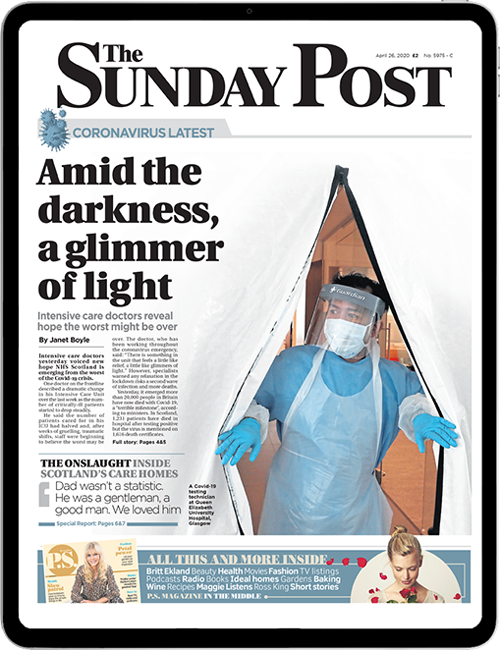 Enjoy the convenience of having The Sunday Post delivered as a digital ePaper straight to your smartphone, tablet or computer.
Subscribe for only £5.49 a month and enjoy all the benefits of the printed paper as a digital replica.
Subscribe