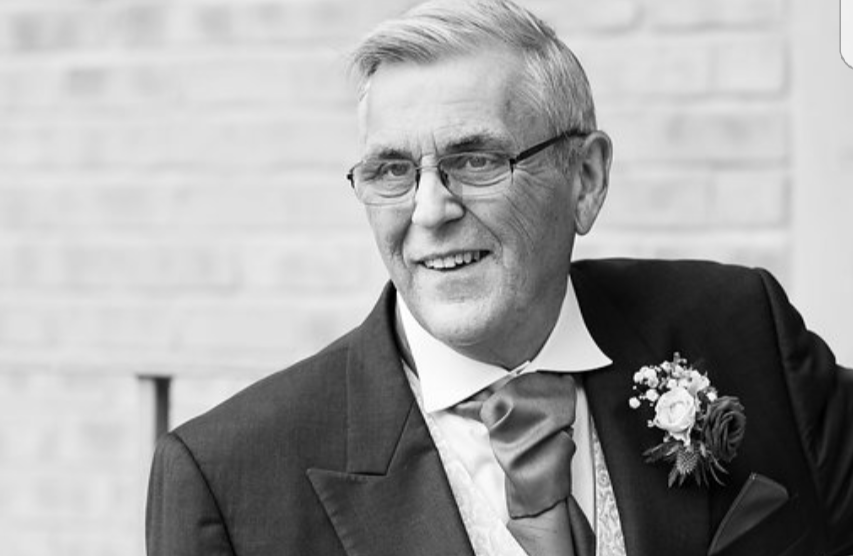 THE first victim of a double transplant tragedy, who died after getting cancer from his new liver, can be revealed today.
Tom Tyreman, 63, died after getting an organ from the same donor who gave a kidney to Pauline Hunt, 49. Since his death, she has been diagnosed with the same lethal cancer.
Mr Tyreman's family were not told his new liver had given him a terminal illness until weeks after his death in February. Surgeons initially insisted he must have already had cancer.
However, a post mortem on the dad of two revealed he had contracted cancer from the liver donated by a 57-year-old woman. His widow Judy, 63, said: "Until then, we'd been repeatedly told that Tom must have had bowel cancer before his operation.
"The surgeon insisted Tom must have had the cancer even though he'd been taken into the hospital to undergo three days of testing and been given a clean bill of health before the transplant could take place."
Mr Tyreman's daughter Emma said: "We were told dad must have had cancer before he got his transplant, or it was some kind of terrible coincidence, but that wasn't true."
The truth emerged after Judy called the Newcastle Coroner's Office several weeks after the post mortem.
She said: "They told me that DNA tests carried out at Tom's post mortem proved the cancer cells were female and had come from the liver donor. During all the meetings we had with the surgical team and transplant team, nobody suggested there was a possibility of this happening.
"We were told years down the line Tom might be more susceptible to cancer, not that he could die within weeks of the procedure from cancer passed on by the transplanted liver.
"It was supposed to give him a new lease of life, but it killed him," added Judy.
---
READ MORE
---
Mr Tyreman's family were only informed he had cancer two days before he died on February 5, at the Freeman Hospital in Newcastle, two months after his transplant.
They chose not to tell him as he was too ill by that time and they wanted to spare him more anguish.
After an inquest at Newcastle Coroner's Court in September, his death certificate records that he "contracted cancer from the donor liver which metastasised aggressively and caused his death".
His family were never told that another transplant patient given an organ from the same donor had also contracted cancer.
They only learned about Pauline, from Ayrshire, last week when they read her story in The Sunday Post.
The two families are now in contact and determined to establish what happened and ensure lessons are learned.
Judy added: "We'd been together for 44 years, always at each other's side. Tom was always a hard worker, and loved his job running a go-karting circuit, where he was manager.
"But the real joy in his life came from our family."
Dad to Jonathan, 33, and daughter Emma, 30, his life was turned upside down two years ago when, after feeling unwell for several weeks, he was diagnosed with a fatty liver.
Judy said: "It was a serious illness, but for some reason Tom received no treatment.
"A year ago things worsened. He was told he had cirrhosis and needed a transplant.
"Tom was only on the transplant waiting list for three weeks when we got a call saying a liver was available.
"I'll never forget him joking when he signed the consent form. He said: 'I don't know if I'm signing my own death warrant here'. In fact, he was.
"To think we'd all been elated thinking what a miracle he hadn't had to wait too long for a transplant when that would be what killed him."
Like Pauline Hunt, Tom seemed to thrive for the first few days following the transplant but within a couple of weeks, warning signs began to appear.
Tom was in terrible pain, breathless and coughing.
Judy said: "We called the Freeman only to be told to take him to our local A&E, despite having been warned to keep Tom away from other people to prevent him getting infections.
"We were incredulous, and called the transplant ward and ICU to point out this could be dangerous.
"Instead of acting on our concerns, both departments told us to go to A&E despite the fact nobody would know him or be expert in transplants or what to look for if a transplant went wrong.
"The A&E registrar told us Tom must have a virus and sent us home.
"Tom was supposed to be seen weekly after the transplant by his specialist, but because it was over Christmas and New Year, even those clinics were reduced to every fortnight."
Unfortunately, by early January, Tom's condition had deteriorated significantly. He was in grave agony and his family rushed him back to the hospital.
Judy said: "He was so bad, after being sent back to A&E, we took his hospital bag with us, convinced that this time he'd be kept in. Despite our concerns, he was sent home once more.
"I'm convinced it was a case of the hospital being full over the weekend. By the Monday, Tom was so ill and in so much pain, the only way we could get him into hospital was in a wheelchair.
This time the hospital admitted him. He never came home again."
Two weeks later, his family were finally told he had cancer.
Tom's sister, Jane Bird, 57, said: "The transplant consultant insisted Tom must have had bowel cancer before the transplant took place.
"There was certainly no suggestion or even consideration that he could have contracted cancer from the donor's liver. Within two days, our Tom was gone."
Judy said: "We have never been given an explanation over why it took them two whole weeks to even discover he had cancer. Surely that's unacceptable in this day and age?
"There was an inquest in September when we asked whether anything could have been done to save Tom's life if the hospital had identified that he had cancer sooner.
"But an inquest does not apportion blame, and of course Tom's transplant surgeon refused to accept that it could have made a difference."
Pauline Hunt, who has been diagnosed with lethal cancer after getting a kidney from the same donor, said: "We can't help Tom's family bring him back but together we can fight to make sure this doesn't happen again to any other family."
Pauline has been told she is too ill for chemotherapy and says she has asked doctors not to tell her how long she has to live.
She said: "I have lost loved ones to cancer. I don't want to know."
"Dad had been so determined to walk me down the aisle on my wedding day… I stitched a picture of him into my dress."
The daughter of Tom Tyreman, who died after his new liver gave him cancer, has revealed how he did not live to fulfil his dream of walking her down the aisle.
Her mum Judy took his place at Emma's wedding in April, two months after her dad died.
Heartbreakingly, she had stitched a photograph of her dad inside her dress so he would be beside her on her big day.
Emma said: "It was a joy to have mum by my side but nothing can make up for not sharing that moment with dad.
"He had been so very ill as we were planning everything. But he was so determined to be there on my wedding day, I'm convinced that kept him fighting his illness. Even in hospital it was foremost on his mind.
"We all lived in hope that our dreams would come true and he would make it.
"Family was everything to dad. He was so proud when my brother Jonathan married last September. The photographs taken of mum and dad together that day are very precious because they look so happy.
"But by the time my own wedding came round, dad was clearly very unwell."
Emma revealed how they had all been upbeat about the news that Tom would get a transplant.
"As a family we had been delighted when we got the call that he was getting a transplant after waiting just three weeks," she said.
"I think dad hoped it would give him a new lease of life and he'd be so much better by the time he was due to walk me down the aisle."
But the dreamed of recovery never came and within a short couple of weeks, Tom's frantic family could see him going even further downhill.
To keep her dad's spirit's up, Emma took her wedding rings to him as lay fighting for his life in Newcastle's Freeman Hospital critical care ward.
She said: "It's so sad that by that time his eyesight was beginning to go. He struggled to see them. But I was able to put them in his hands so he could feel them."
Despite the shattering blow of losing her dad in February, Emma and the family knew Tom would have insisted on her wedding going ahead.
She said: "It's a huge comfort to me that because I'd bought my wedding dress before dad went into hospital, he at least got the chance to see me in it.
"I'm so glad I didn't keep it a secret and we had a special moment when he saw me as a bride. I won't ever forget the look on his face when he saw me in my wedding dress.
"I cherish that memory. He was so proud."
Determined Tom would still be close to her heart on her wedding day, Emma and her mum took material from his favourite shirt and cut it into a heart. Along with a photograph of her dad and the flower she had wanted him to wear in his button hole, Emma and Judy stitched the special tribute to Tom inside the wedding dress.
On her wedding bouquet, she carried a much-loved photograph of father and daughter taken when Emma was a toddler.
Emma said: "We knew as we walked together, that dad was with us, our special tribute to him hidden inside my dress, close to my heart."
But the loss of Tom, as a father and husband, from their lives is a wound which will never heal.
Judy said: "Tom would have loved to be a grandfather. That was taken from him. It was taken from all of us. He was a great dad and he would have been a wonderful grandfather too."
NHS: Only two patients were given organs from donor
The NHS transplant service yesterday said no other patient received organ or tissue from the donor whose organs gave cancer to two transplant patients.
Tom Tyreman died in February after his new liver gave him cancer while Pauline Hunt has been diagnosed with the same disease after receiving a kidney from the same donor.
Pauline and husband Gordon, who got married while she was in hospital, only knew another transplant patient had died because surgeons in Glasgow had to rush to remove her new kidney.
Mr Tyreman's widow Judy said: "Pauline and Gordon knew about us, but we did not know another family was involved until the inquest in September. We only learned it was Pauline and Gordon last week. We were kept in the dark. Completely in the dark."
Professor John Forsythe, medical director for Organ Donation and Transplantation at NHS Blood and Transplant, said every possible test was done on donated organs in the time available.
Yesterday, the NHS Blood and Transplant service said no other organs had been transplanted from the donor.
A spokesman said: "Our research has found the risk of transmission of a previously undiagnosed cancer from a donor to a recipient is less than 1 in 2,000 organs transplanted.
"We can confirm that an investigation found all processes were followed correctly in this donation."
Andy Welch, medical director for Newcastle NHS Foundation Trust, which runs the Freeman Hospital, said Mr Tyreman's family's concerns were being investigated, adding: "This investigation is currently on-going and the full outcome will be discussed with them on completion."