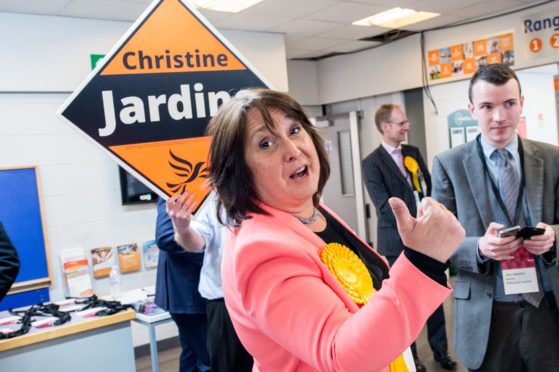 It has been three years since Christine Jardine became a Lib Dem MP. Since then, her party has endured two leadership contests but, as another looms, she is ready to go for it.
The 59-year-old former journalist and government special adviser, her party's home affairs and women and equalities spokesperson, has not yet formally announced she will run to replace Jo Swinson but is resolutely not ruling it out.
She was a familiar sight at Ms Swinson's right hand during the General Election when the Lib Dem leader lost her East Dunbartonshire seat by 149 votes after a campaign she started by claiming she was a viable candidate to be Prime Minister.
Ms Jardine declines to confirm she will run for leader but admits the vacancy at the top of her party is unexpected. She said: "I expected Jo to be leader for the next 10 years. It's an incredible loss for us as a party that she's not going to be at parliament for the foreseeable future."
Within weeks of Ms Jardine winning the Edinburgh West seat in June 2017, Tim Farron stood down as leader and was replaced unopposed by Sir Vince Cable.
She said: "Being leader is a mammoth task that needs experience and I didn't have it at the time. Then, two years later, when there was a leadership contest between Ed Davey and Jo, I backed Jo. I wanted Jo to be the leader."
But, despite telling voters she could do a better job than Boris Johnson or Jeremy Corbyn as Prime Minister, Ms Swinson, elected leader just five months earlier, lost her seat in the biggest shock of December's General Election.
Ms Jardine said: "I think the problem we faced was that we went into an election before the public had time to get to know Jo.
"In the party we all know her. We all know how talented and committed she is. But we didn't give the public time to get to know her and appreciate her and see what we saw. And still see."
Nominations for candidates for the Lib Dem leadership open in May and the ballot closes in July. Ms Jardine said: "Voters need to know the next leader understands their concerns and empathises with them. It needs to be someone who has been through what they have been through.
"They know how difficult it can be to pay your mortgage if one of you has been made redundant, the stress of being a parent with a young family trying to balance childcare costs with working, and understand the difficulty of caring for elderly parents who have a debilitating condition."
Ms Jardine has called for a change in the law on assisted dying, and led a debate on the issue at Westminster last month.
She said: "I would like to see legislation come to parliament, at both Westminster and at Holyrood, that would make it possible for people who have a terminal illness, who are in the end stages of that illness and mentally capable of making a decision, to have the choice.
"I've had several different lives – I have been a journalist, a mother, a university lecturer, and now I'm a politician – but I will only have one death. I might not get the choice of when it is. It might happen suddenly. But if I'm in the situation where I have a terminal illness, I would like to have the choice to say, 'This is the time I choose for me. For my family. For everybody else'.
"I wouldn't impose that choice on anybody else. But I feel we should all have the right to choose."
Ms Jardine said she was inspired by the work of the late independent MSP Margo MacDonald, who brought forward an assisted suicide bill that was rejected by Holyrood in 2015.
"The work she did had a profound effect on me. She made me, and I think a lot of people of my generation, aware of the issue and made us think about it.
"That achievement is Margo's alone but she started a ball rolling that those of us who are in parliament now, either at Westminster or Holyrood, must keep rolling."
Ms Jardine is also campaigning for medical cannabis to be prescribed on the NHS. Edinburgh mum Karen Gray has battled for cannabis oil to be made available on the NHS to her seven-year-old son Murray, who suffers from a rare form of epilepsy. Karen has spent thousands on private prescriptions.
Ms Jardine said: "It's very difficult to get medicinal cannabis on the NHS. You need to get funding for private prescriptions and that's proving a nightmare for a lot of people.
"When I saw Murray after he'd been on medicinal cannabis for a while, the difference in him was phenomenal. He was just a happy wee boy.
"But then you realise there's still the issue of getting him medicinal cannabis and families are having to pay for private prescriptions, which is completely unsustainable.
"Parents accept we don't know the long-term side effects of medicinal cannabis. That is something I fully accept the medical profession has to be aware of.
"But we're seeing the difference it's making to people's lives. People who have spent years in pain with conditions like multiple sclerosis and arthritis."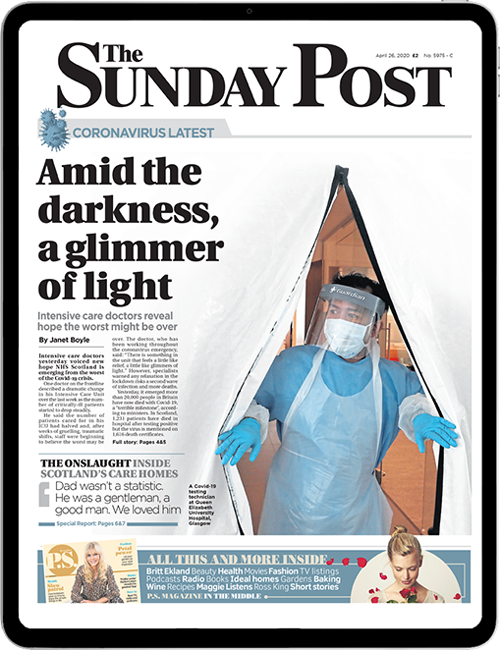 Enjoy the convenience of having The Sunday Post delivered as a digital ePaper straight to your smartphone, tablet or computer.
Subscribe for only £5.49 a month and enjoy all the benefits of the printed paper as a digital replica.
Subscribe