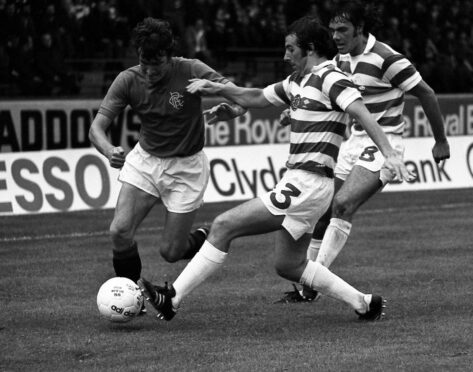 The first Old Firm game of the season taking place with no TV cameras to witness it may sound unthinkable in these days of wall-to-wall football.
No live coverage, no highlights, no clips on the news.
That's exactly what happened in 1977.
The TV blackout occurred during a period of soul-searching for Scottish football which meant that not a single kick from Ibrox was accessible to armchair viewers.
Here was a season that started like no other.
Celtic opened with a goalless draw at Parkhead against Dundee United on August 13 following the departure of Kenny Dalglish for £440,000 to Liverpool.
Aberdeen striker Drew Jarvie scored two goals and earned himself a new two-piece suit for his man-of-the-match display which helped down Rangers 3-1 at Pittodrie.
What followed next was a vote on the future of Scottish football.
Opponents of the 10-team Premier Division argued that it wasn't measuring up to its original pledge to make Scotland's top-flight more competitive and wanted change.
The vote would take place on August 18.
What was Morton's masterplan?
Morton chairman Hal Stewart's plans for a two-division set up with a 16-team top league with 22 teams in the second-tier would replace the 10-14-14 three divisional structure.
The existing 10-team Premier Division had only came into force in 1975 because the old two league system was deemed outdated.
If the vote was passed there would be no relegation at the end of the coming season with six teams instead being promoted from the First Division to form a new Premier League.
Each club would then play each other only twice with three clubs going down.
To make up the fixtures the Premier League Challenge Trophy would be introduced as a new tournament in February 1979 which would take the same format as the old League Cup.
There would be four sections of four teams, giving clubs an extra three home games and three away games with the four section-toppers then going forward to the semi-finals.
In all, teams in the Premier League would therefore play a minimum of 39 games throughout the 1978/79 season (including a minimum of two in the League Cup and one in the Scottish Cup).
As manager of the only part-time club in the Premier League, Ayr United's Alex Stuart gave the proposals his backing to bring some excitement back to the domestic game.
He said: "Playing against Rangers and Celtic four times a season is just a bore. That's not just my opinion – it's the fans' view. They have voted that way by staying away in large numbers.
"The Premier League has failed and I welcome any proposed change in the set-up."
Celtic chairman Desmond White was however against turning back the clock.
He said: "The new proposed set-up is practically a reversion to the old set-up of two years ago, which was unsatisfactory as far as football in Scotland was concerned.
"Whereas it must be acknowledged that the Premier Division, the First Division and the Second Division have not been quite as successful as we had hoped, as far as we are concerned, we have reversed the downward trend of gates in Scottish football.
"In conclusion it is the viewpoint of Celtic Football Club that two years has not been a sufficient testing time for the three-league set-up.
"To alter it as suggested would, in effect, be putting the clock back, with too many matches of no importance."
Those inside Ibrox were keeping tight-lipped but privately were thought to be against it.
At a special meeting of the league clubs in Glasgow on August 18, 23 of the 38 overwhelmingly voted against Morton's plan for a 16-22 two-division set-up.
So it was back to business on the park.
Wallace coat on a shoogly peg?
On August 20 Rangers were defeated 2-0 by Hibs at Ibrox which prompted a section of the home support to stay behind at the end and call for manager Jock Wallace to resign.
Celtic were also humbled.
Jock Stein's side was defeated 2-1 by Ayr United at Somerset Park and Johnny Doyle was sent off before trouble broke out on the terraces with cans and bottles thrown.
Celtic and Rangers hadn't won in each of their opening two games.
New signing Gordon Smith helped steady the Rangers ship with two goals in a 4-0 win against Partick Thistle at Firhill but things got worse for Celtic against Motherwell.
A 1-0 defeat at Celtic Park left the Parkhead faithful far from amused.
Celtic got revenge when they negotiated a two-leg League Cup tie against the Steelmen while Rangers defeated St Johnstone 6-1 on aggregate in the same competition.
During the League Cup break there were talks behind the scenes between the SFA and the TV companies which centred round the sponsorship being carried on Hibs' jerseys.
Hibs were the first club in Scotland to have a shirt sponsor in 1977 and the size of the Bukta lettering led to the announcement of a TV blackout from the BBC and STV.
Until an agreement was reached, both the BBC and STV said it would be making alternative arrangements for their Sportscene and Scotsport highlights programmes.
Neither could increase the amount of time given to English football as they were limited to 20 minutes which meant other sports would received more coverage including rugby.
Due to the TV blackout, armchair spectators wouldn't see the Old Firm match on September 10 but would instead see the Manchester derby in the English First Division.
A poor substitute even for a certain Lou Macari!
The Manchester United and Scotland midfielder said: "I might be playing in this game, but, for me, there's no question of which fixture holds more excitement.
"The Rangers-Celtic match, with its huge, highly-biased crowd, is much more of a needle occasion.
"There's more intensity all round, which gives the game added bite and appeal.
"I know from past experience, for instance, that the players involved seldom speak to each other during the week of the match.
"When it comes to a Manchester derby, the same unwritten rules do not apply.
"The same life-or-death aspect doesn't exist in a City-United clash."
Scotsport was at Knockhill instead
Tickets were 80p-£2.50 for this all-ticket clash at Ibrox.
Davie Cooper and Gordon Smith would be making Old Firm debuts for Rangers.
Strangely enough although he once gave up playing football to follow Rangers all over the country, Cooper had never seen his boyhood heroes playing against Celtic.
He said: "The truth is, as a kid, my mother would never let me go to an Old Firm game, because of the possibility of violence.
"In a way however I feel that could be the perfect grounding for me as I come into this first Old Firm match."
Smith was itching to get out there.
"Packed terracings and the excitement that goes with them – that's the stuff to add sharpness to your game," he said.
"Also Davie and I have been on the opposite side against both Celtic and Rangers too often to be intimidated by anything that goes on this weekend. It's still a fact that we just don't know how we will react to the special atmosphere."
At half-time Celtic led 2-0 through two Edvaldsson headers but Rangers rose from the dead to stage one of their greatest fightbacks at rain-soaked Ibrox.
Derek Johnstone started at centre-back but was thrown up front in the second-half following an injury to Derek Parlane to form a deadly partnership with Smith.
Rangers went on to score three for no reply in the second half.
Smith scored twice on 53 and 81 minutes and Johnstone himself on 65 minutes.
Not that anyone bar the 48,788 paying punters saw this Old Firm classic!
BBC's Sportscene boasted no Scottish football at all while STV's Scotsport on Sunday came from Knockhill in Fife where the Scottish Motorbike Championships were held.
The Sunday Post in September 1977 warned Scottish football would be poorer to the tune of around £250,000 if a compromise couldn't be reached with TV companies.
That was the approximate sum the BBC and STV would fork out in royalties for coverage of league, League Cup, Scottish Cup, international and European games.
Fans breathed a sigh of relief when the dispute ended and football returned after Hibs arranged with Bukta to use a change strip when their games were shown on TV.
All was right with the world again.
Rangers would sweep everything before them domestically to give Wallace the second treble of his Rangers career.
Celtic finished 19 points behind Rangers in fifth place and Jock Stein stepped down at the end of the season and recommended his replacement was Billy McNeill.
Wallace himself was also gone but the reasons for his departure were never revealed.
It was a remarkable end to a truly remarkable season.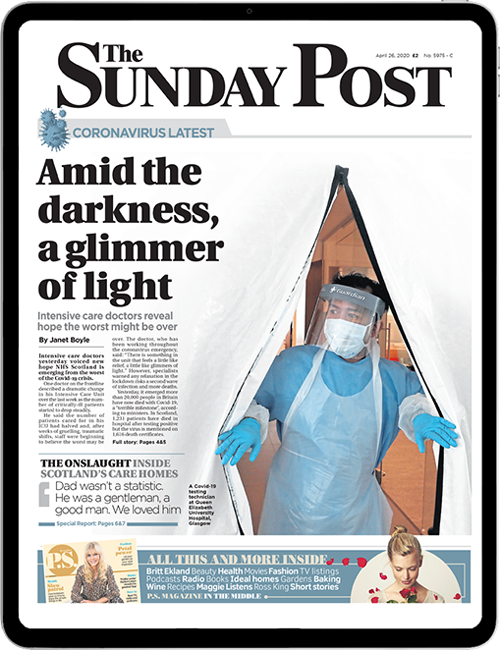 Enjoy the convenience of having The Sunday Post delivered as a digital ePaper straight to your smartphone, tablet or computer.
Subscribe for only £5.49 a month and enjoy all the benefits of the printed paper as a digital replica.
Subscribe