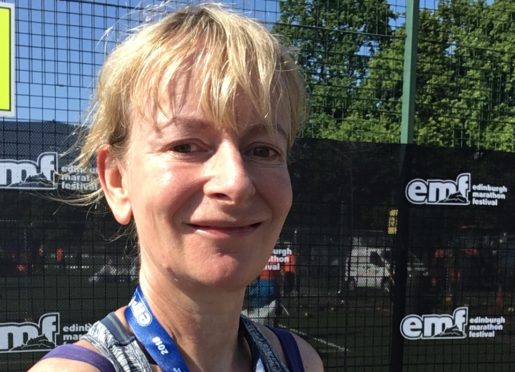 Music is pumping from enormous speakers. Thousands of us have gathered at the start of the Edinburgh Marathon.
At 53, I am about to run 26.2 miles. I'm still not quite sure what's come over me.
From when I left home at 17, I led what you might call a pretty unhealthy existence. My perfect holiday involved reading on the beach with a packet of ciggies to hand, then hitting the bars for copious cocktails. In fact, I spent most of my 20s in the pub.
I lived in London, and whenever my mum arrived on a visit from Scotland, it was not unusual for me to meet her off her sleeper train at Euston straight from the dancing.
It was parenthood which finally knocked some sense into me. My husband Jimmy and I had twin boys, followed by a daughter, and by the time they were teenagers it had dawned on me that my neglected body needed a little care.
But what to do? In my younger years I'd had a raft of gym membership cards stashed in my purse, unused and triggering waves of remorse. Team sports filled me with horror.
"What about running?" my friend Tania suggested. "I'll do it with you if you like." We started jogging together along a disused railway track near Biggar, where Jimmy and I had settled into family life. It was quiet, away from traffic and, crucially, other people who might point and laugh.
Our distances improved, and within a few months we were running 10ks. I had discovered something amazing: that I didn't completely hate running. It required no planning. I could just pull on my trainers and go. I was feeling leaner, less stressed and more energetic.
Our children left home and Jimmy and I moved to Glasgow, craving city life again. By now, he had started running, too. Annoyingly, he took to it far more seriously than I had; no measly 10k races for him. Within months he had run the Loch Ness Marathon.
It was maddening. Like me, he had been fond of the pub in his youth. Now he had a cluster of clanking medals and seemed to be forever swigging a sports drink or reading up on trainer technology. Unwilling to be left out, I started to train for the 2018 Edinburgh Marathon. Jimmy offered to train with me, and would enliven our almost daily runs by telling me I was going too fast, too slow, not moving my arms correctly or slapping my feet down too hard.
It was like being given a driving lesson by a partner, and we all know how that tends to end up.
Gradually, as the marathon loomed, I got over myself and was grateful for my husband's encouragement and, OK then, superior knowledge.
So here I am – on race day. I can hardly believe what I am about to take on. For the first ten miles or so I jog along, reasonably calm and positive. The crowds help. Whenever my energy dips, a random stranger cheers me on or holds out a bowl of Jelly Babies.
As we pass the 13-mile mark I feel terribly proud of myself. If only I'd taken up exercise as a younger woman I could have been Paula blinking Radcliffe!
Things become tougher, naturally, as the miles rack up. By mile 18 I am feeling desperately tired. I plough onwards, assuming it has started to rain – but no, those are tears falling out of my eyes. A choked sob bursts out. How much longer to go? I estimate an hour, which doesn't seem like much when you're sitting watching TV – but now feels interminable.
Somewhere towards the end, my spirits start to rise again. There's a palpable sense of relief and joy all around me as I "dig deep". And that's what I do, remembering all the tips I've been given: just keep going, mile after mile, one foot after another.
By now, one thought is looping in my head: "You have run a marathon." Yes, you, you lardy-bottomed slacker!' I am filled with a pure, unadulterated elation.
The finishing line is in sight, and I'm properly crying now – sobbing as a medal is draped around my neck.
I've done it. It's been brilliant but so, so tough – and I vow I'll never put myself through such unnecessary torture again.
That is, until I managed to grab a place in next Sunday's London Marathon. And I can't wait.
---
Fiona's new novel, The Mum Who Got Her Life Back, is published by Avon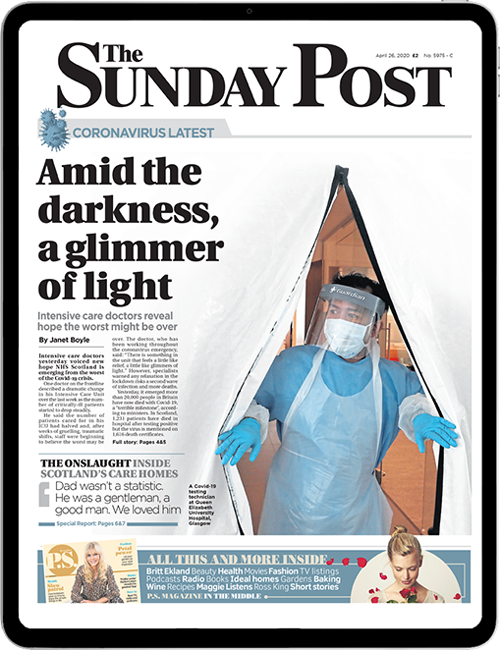 Enjoy the convenience of having The Sunday Post delivered as a digital ePaper straight to your smartphone, tablet or computer.
Subscribe for only £5.49 a month and enjoy all the benefits of the printed paper as a digital replica.
Subscribe