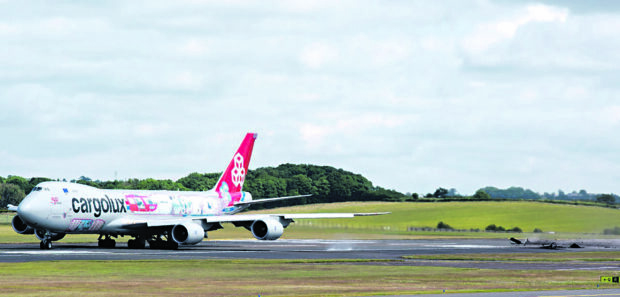 A cargo plane's jet engines ripped up the asphalt on the runway at Prestwick Airport prompting a safety alert before world leaders are expected to arrive in Scotland for a major climate change summit.
Witnesses told how the Cargolux jet "blew up" the runway as it prepared to take off earlier this month, leaving a trail of potentially disastrous debris. The incident closed the runway for the rest of the day as airport staff removed the rubble.
Prestwick Airport yesterday said the incident involved a small amount of asphalt, happened on a "hard shoulder", had been properly reported and investigated, and had no wider safety implications. Management said the runways are inspected regularly and meet all safety standards.
However, sources claim an internal management report two years ago flagged the need for remedial work on the runway but the repairs have not yet been commissioned. They said the work should be done before world leaders and their staff are expected for the COP26 ­climate summit in November.
The incident on July 7 involved a Cargolux Boeing 747 bound for the US. Callum Risk, an amateur photographer and plane spotter who was there, said: "As it started powering up its engines, I noticed out of the corner of my eye a large part of debris being blown away.
"At first I thought the plane's engine had blown up, then I realised the runway was disintegrating. I zoomed out and started to take some pictures.
"The Cargolux then powered down the runway not knowing what it had left behind. At first there appeared to be confusion, then maintenance and other cars raced towards the runway, which was immediately closed. Aircraft had to circle or, in the case of a Jet2 that was doing pilot training, return to base."
Prestwick Airport was bought by the Scottish Government for £1 in 2013 after former owners Infratil failed to find a buyer and ministers have since handed over about £43m of taxpayers' money to prop up the facility. Transport minister Michael Matheson announced in February an unnamed preferred bidder had been chosen to buy the airport but sources close to the process say that deal has stalled.
A source said the report two years ago had highlighted work needed but not actioned, adding: "This is an effort to push the costs of a full refurbishment out as far as possible. For a full resurface, you're looking at £10m upwards. The runway was due for a full refurbishment the best part of 10 years ago.
"The report had a red, amber, green colour coding on various parts of the runways and costings attached to it, which showed how much remedial work would cost.
"It suggested work was needed on the runways. There are safety implications, particularly for COP26. A large number of heads of state could be arriving on to a runway that might be ripped up by a departing aircraft.
"Let's say one of the heads of state's aircraft took off and caused damage, the rest of the heads of state could be stranded until the runway is patched up. It wouldn't be a great look for the UK.
"The incident on July 7 should be an alarm call before COP26. It calls into question the state of maintenance of all the infrastructure at Prestwick, particularly the aprons where the aeroplanes park. The north side aprons, where Air Force One would normally park, are in poor condition.
"The government has spent millions on the airport but on what? It does not appear to have been spent on infra­structure like the runway."
Prestwick Airport is ­regularly used by the military and has previously been used by aircraft carrying world leaders, including presidents and prime ministers attending the G8 summit at Gleneagles in 2015 and former US president Donald Trump when he visited his golf resort at Turnberry.
COP26 organisers confirmed last week Prestwick is one of the airports that will be used to receive leaders arriving for the climate summit in November.
Former RAF pilot David Learmouth, now an aviation journalist, said: "Prestwick has a very long main runway – longer than the one at Glasgow Airport – and it has a standby runway. It has an extraordinary microclimate which means it is never closed by fog when all around it are shut down, and its rural location makes it easy to protect if it is to be the arrival and departure point for world leaders – as it soon will be for COP26."
Cargolux said its aircraft was not damaged in the July 7 incident and it immediately alerted the Civil Aviation Authority (CAA), which issues safety licences to airports.
The CAA said details of ­incident reports are protected from public publication in order to maintain complete transparency from those ­reporting problems.
Prestwick Airport said: "On Wednesday, July 7, during the take-off of a B747, a small area of asphalt lifted from a hard shoulder area, which is not used for aircraft taxiing or passing over. In keeping with our procedures, we closed the runway for a brief period while inspections and repairs were completed and reported the matter to the CAA, as per regulations. The runway is monitored daily to meet standards required by the CAA."
The airport added: "The sales process for the ­airport is ongoing and the Scottish parliament will be updated at the appropriate time."
The Scottish Government said: "This incident is an operational matter for the airport's management team. Glasgow Prestwick Airport is operated on a commercial basis and at arm's length from the Scottish Government, in compliance with our obligations under the Trade and Co-operation Agreement between the UK and the EU.
"As previously stated, we have committed to updating parliament on the sale process at the appropriate stage."
---
This can happen but more often in developing countries
by David Learmount, aviation expert
The pictures show a Cargolux Boeing 747 jumbo jet at the start of its take-off run, close to the end of Prestwick's runway.
Having acknowledged their clearance to take off from air traffic control, the pilots push the four power levers forward and the aircraft's engine thrust begins to increase, rising to a crescendo.
As the engine blast reaches take-off power, huge chunks of runway tarmac behind the aircraft are peeled off and blown into the sky as if they were leaves.
Needless to say, this is not supposed to happen. Sometimes it does – just rather more often at airports in developing countries than in the UK.
The risks involved with debris of any kind on runways are taken very seriously by airlines and airport management.
At Paris Charles de Gaulle airport in 2000 an Air France Concorde, during its take-off run, ran over a small piece of metal that had dropped from an aircraft taking off before it, causing a main wheel tyre explosion so violent it burst a wing fuel tank that caught fire. The aircraft crashed and no-one survived.
Increasingly runways are monitored by special sensor radars that scan the surface. Where these have not been fitted, airport managers send vehicles several times a day to drive the runway length and check it. Pilots report debris if they see it but, by then, they may be at high speed, committed to take-off, and just have to hope damage from hitting the object is not serious.
Usually hitting debris is not as disastrous as it was for Concorde, but it can cause serious damage if sucked into the engines, or kicked up by the tyres to hit the aircraft's wings, belly or tailplane. This sort of damage is normally very costly, and can cause the pilots control problems.
David Learmount is consulting editor at FlightGlobal.com and former RAF Hercules pilot who flew into Prestwick many times.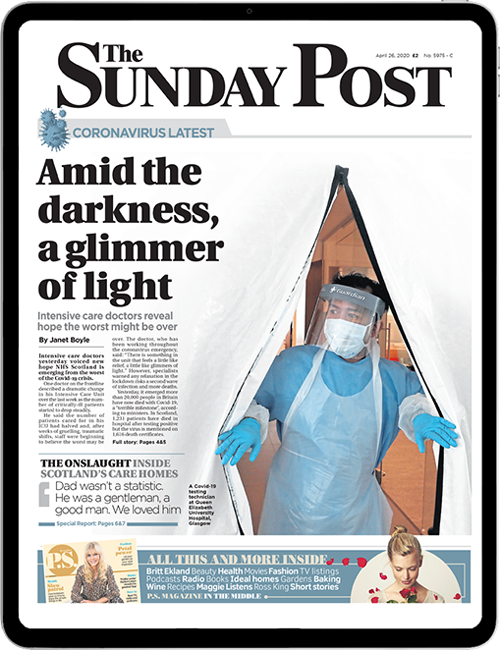 Enjoy the convenience of having The Sunday Post delivered as a digital ePaper straight to your smartphone, tablet or computer.
Subscribe for only £5.49 a month and enjoy all the benefits of the printed paper as a digital replica.
Subscribe