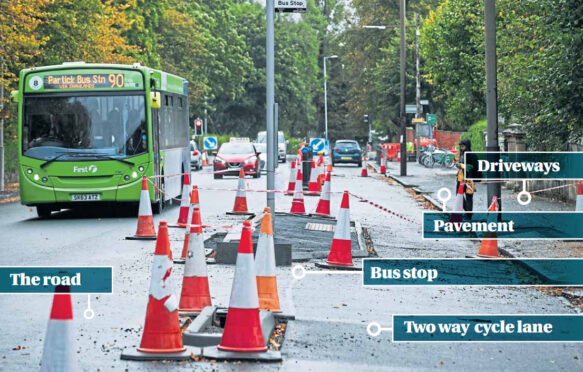 Behind endless lines of traffic cones, Scotland's roads are undergoing dramatic change as cycle and bus lanes are built to encourage greener transport.
However, leading charities fear users, from drivers and cyclists to elderly and disabled people, have not been fully consulted or properly informed.
Last month, we reported around 7,500 roadworks were under way every week across the country, including creation of two-way cycle lanes in most cities, and campaigners for some of the most vulnerable people fear changes to road layouts are happening too quickly.
Adam Stachura, policy chief at Age Scotland, said older people were struggling to cope with the pace of the changes. He said it was not just the new cycle lanes that were proving difficult for older people to navigate but also streets being dug up for cabling and repairs. "Some older people hadn't gone outside much during the pandemic and since lockdowns have ended many have found their familiar landscape has now changed," he said.
"They are having to navigate dug-up roads, traffic cones and other obstacles that are leading to concerns about trips and falls. The works seem to be taking an interminable amount of time and now a big worry for them is trying to cross the street with bikes coming at them from every direction.
"A common complaint is that changes are not being communicated clearly enough in advance and older people are not being consulted enough about their needs."
Ian Buchanan, equality and access manager for Disability Equality Scotland, said recent alterations to city streets had proved particularly challenging for wheelchair users and people with guide dogs.
"Planners, councils and developers are simply not taking enough notice of the views of the people with actual lived experience of trying to move around a city with a disability," he added. "Too often the disabled are either left out of the discussions altogether or are simply part of a box-ticking exercise.
"The idea of active travel schemes is great but they are often exclusionary."
Some of the ongoing works are part of the Scottish Government's active travel scheme. It aims for walking, wheeling and cycling to be the most popular choices for shorter everyday journeys by 2030.
However, in Edinburgh "floating bus stops" – whereby people have to cross a two-way bike lane to board and alight the bus – have proved controversial.
The Royal National Institute of Blind People (RNIB) believes the bus stops create an unacceptable level of risk to people with impaired mobility. Similar stops have been created in Glasgow, with more scheduled for the city's suburbs.
The RNIB said that local authorities across the country had used lockdown to narrow roads, introduce cycle lanes and increase pedestrianised areas that disabled people found too challenging. Catriona Burness, the charity's parliamentary and policy manager in Scotland, said it now planned to set up a mock segregated cycling lane at Glasgow's George Square to demonstrate to councillors and planners how difficult it is to navigate these with limited or no sight.
"We will be asking the councillors to put on visors that mimic common eye conditions such as cataracts so that they can experience these difficulties for themselves," she said.
Roads closed or dug up once every four minutes last year as traffic disruption hits record levels in Scotland
Sustrans, the organisation responsible for developing and promoting the National Cycling Network in Scotland in partnership with roads and planning authorities, said it consulted rigorously with interested parties before changes to roads and streets were given the go-ahead. Sustrans also managed the Scottish Government's £33 million Spaces for People initiative to introduce temporary infrastructure across Scotland during lockdowns.
Carole Patrick, Sustrans Scotland's portfolio director, said: "As a standard, we insist that all designs have rigorous equality impact assessments. This is a condition of funding. We also advocate community engagement on projects. Designs that are done with the community, work for the community.
"We have learned a lot from the disabled community in Scotland and throughout the UK and we are continuing to learn. We have a strong working relationship with the mobility and access committee who advise the Scottish Government and parliament on disability inclusion.
"In so many ways, we all want the same things; places that improve our health and wellbeing, pavements and streets that are free of pavement parking and clutter, streets that are safe and that are not dominated by motor traffic, and sustainable transport that helps tackle climate change."
Cosla said councils were creating healthier, safer streets after consultation with the public and attempting to minimise disruption, adding: "We would be happy to meet directly with advocacy groups to ensure their needs are considered."
'Bus passengers crossing cycle lanes looks like a crash in-waiting'
It has been a woodland oasis of calm for decades, but some residents living near Pollok Park in Glasgow fear major roadworks will cause uproar.
Drivers have faced delays and disruptions for months as a two-way cycle lane is built, leading to one of the main entrances to the park in the city's Southside.
The changes at one of the city's busiest junctions and along St Andrews Drive in Pollokshields rank among the major roadworks across Scotland dramatically changing layouts for users, with charities warning of a dangerous lack of consultation.
The work will slice three metres off one side of the road while residents and visitors will no longer be able to park outside homes and many will need to reverse out of their drives across a cycle lane to reach the road.
In parts, so-called "floating" bus stops are being constructed, which will mean passengers have to cross the bike lane to reach their bus.
Neil Greig, director of policy and research at leading road safety charity IAM RoadSmart, has a number of concerns. "A two-way cycle lane is unusual in the suburbs and it will take some time for users and drivers to get used to it," he said. "I have a great degree of sympathy for residents, who will have to drive or reverse across the lane.
"Visibility is quite poor due to high walls and trees and it would be a driver's fault if they collided with a cyclist.
"Floating bus stops can lead to pedestrian and cyclist conflicts as people get on and off buses. Forcing bus passengers to cross a cycle lane seems like a crash waiting to happen. And for older people, disabled and sight-impaired it can be really stressful."
The segregated route is an extension of Glasgow's £7 million South City Way that will connect the city centre and the National Cycle Network with Pollok Country Park.
A £600,000 contract was awarded for the 1.4-mile lane, which was started in January. Greig said that, as with most cycle lanes, it was important it linked up with other routes to deliver a safe network. He said: "This scheme is fine if you want to go to Pollok Park but if you plan to cycle to homes, work or shops elsewhere in the area then the new cycle lane ends at Haggs Road, where cyclists are decanted back on to a fast and dangerous distributor road with no cycling facilities at all."
One resident whose driveway is on the side of St Andrews Drive, which hosts the new lane, said it would significantly impact the way she gets in and out of the house in her car.
"We are not looking forward to getting access to our homes made more difficult because of the two-way bike lane," she said. "You will need eyes in the back of your head to watch out for cyclists coming either way as well as other traffic."
The Safety Awareness Glasgow organisation, which runs cycling classes for vulnerable people, said that, while it welcomed new routes, it had concerns about safety for bike riders and bus passengers.
Co-ordinator Funmi Fajemi said: "We are having to adapt our cycling training to take in things like dealing with floating bus stops and people coming in and out of driveways in cars.
"People are confused by the speed of the changes and find it difficult to keep up with all the new signage and rules."
Glasgow City Council pointed out that work on the lane was not finished and said it would include a range of safety features that might not yet be visible.
It said: "Bus stops on floating islands will be accessible from the pavement by zebra crossings accompanied by standard road markings and tactile paving stones. Like any zebra crossing, pedestrians have priority and cyclists on the route should stop and give way to anyone crossing on foot."
The initial design for the route was independently audited by an engineering consultant, who raised no safety concerns. The council added: "A final, independent safety audit will also be undertaken by a consultant and the police when the route is complete and we will act upon any recommendations.
"Drivers emerging from a driveway have a responsibility to check for pedestrians and other road users when manoeuvring and are advised to avoid reversing on to the road."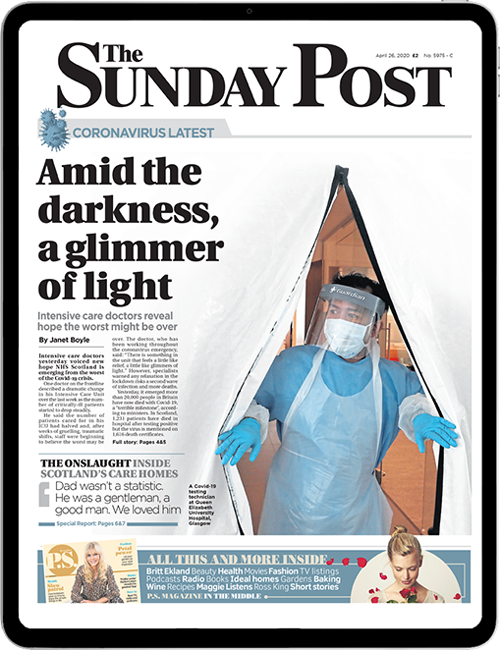 Enjoy the convenience of having The Sunday Post delivered as a digital ePaper straight to your smartphone, tablet or computer.
Subscribe for only £5.49 a month and enjoy all the benefits of the printed paper as a digital replica.
Subscribe