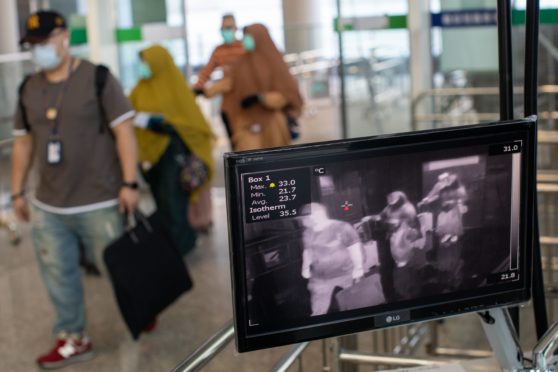 The Sunday Post is just one of the newspapers reporting the international crisis.
Here, we ask other Posts around the world for their latest news.
---
Hong Kong
Thomas Chan Ho-him, news reporter, South China Morning Post
In Hong Kong people have been ­adapting to a new normal during the Covid-19 pandemic. The lessons of 2003, when Sars (Severe Acute Respiratory Syndrome) rampaged through the city, remain fresh in the minds of most of the population, which has made mask-wearing a social norm.
Last week, work-from-home ­measures were re-implemented here after a surge of infected cases were reported. Most were imported, brought by thousands of Hong Kong residents returning from all over the world ahead of tough new border control measures.
Working from home has not been easy. But it is something most of us are trying to adapt to. It's the same for the city's 900,000 kindergarten, primary and secondary school students, who have resorted to online learning since schools closed in early February.
While many have rightly praised the city's healthcare system and medical workers, health officials have warned that, if the tide of new infections continues, the system could become paralysed.
Such simple acts as meeting friends and going out on weekends have been cut out of my life. Staying home and watching films will be our new lifestyle for the coming weeks, if not months. It seems a small price to pay.
---
South Pacific
Dan McGarry, Media Director, Vanuatu Daily Post
Vanuatu is one of the few countries in the world yet to record a case. Despite our good fortune, no one is taking any chances. People are extremely apprehensive that even a single person spreading the virus could lead to widespread problems.
The President of Vanuatu declared a 14-day state of emergency with curfews for non-­essential businesses and censorship rules requiring all media outlets seek approval before publishing any articles relating to Covid-19.
Our country is tiny, with barely 300,000 ­people. But we only have two respirators in the entire nation. Healthcare services are primitive or non-existent in remoter areas. We have no testing facilities. Tests must be sent to the neighbouring French territory of New Caledonia for analysis. It takes days to get results.
Store shelves are still replete. People took the imposition of a curfew in their stride, and ­ ­everyone was home with their family.
---
Sweden
Anders Tapola, design editor, Smålandsposten
Here in Växjö we have just had our first patient hospitalised after being diagnosed with coronavirus.
It feels like the big storm has not yet arrived. Stockholm and Malmö, the big cities, have more cases but we do not have many yet.
It might be there are many more we don't know about due to a lack of testing.  In Sweden, people trust the government and the authorities, and their decisions about coronavirus.
The government has prohibited ­gatherings of more than 50 people. We have not got the hard restrictions yet.
People are doing the right thing. They don't go out if they have a cold and they're not visiting older people. They're following advice to wash hands regularly.
If Swedes are sensible and listen to the advice, maybe we can push the curve down. That's what we hope but we don't know.
Most people are worried about it. People have been out shopping but they are not going to restaurants any more, they are getting takeaways or pizzas.
That's the trouble with this very strange time – the uncertainty. It is tough.
---
Canada
Rob Roberts, editor-in-chief, National Post, Toronto
In the Canadian province that bears the Latin name for New Scotland this week, Nova Scotia police were stopping travellers at a border usually marked only by a discreet row of flags.
Surrounded by water, save a thin isthmus connecting it to the rest of Canada, the east-coast province of a million souls essentially shut itself to visitors, hoping to largely spare itself a pandemic ravaging almost every corner of the globe. It will surprise no one they haven't shut out Covid-19, with 73 cases as of Thursday, but no deaths and only two hospitalisations.
It's not yet clear how Canada's population of about 37 million people will fare; its leaders were more pro-active than many of those in its elephantine southern neighbour but we all know the worst is yet to come.
We've had 4,000 confirmed cases, with a 1% death rate.
As of mid-week, hospitals appeared to be handling the early deluge but there was a sense of impending chaos.
Prime Minister Justin Trudeau – himself self-isolating after his wife tested positive after coming into contact with the virus – exits his official residence at 11.15 am every day.
He speaks in reassuring tones and announces ever-increasing spending measures to limit the economic damage.
Canada has chosen a path of suasion rather than coercion, and there is a sense it isn't enough, with photos last weekend of beach boardwalks and parks filled with strangers in close proximity.
Those scenes evaporated as ­cities began closing parks.
But along the main drags of Toronto, you can still buy pizza, and some people still run out to buy a single food item rather than do the recommended once-a-week shop or order online.
How long can that continue? Who knows?
---
USA
Brandon C Williams, editor, The Post, Texas City
As of March 24 our area, Galveston County, is under a 10-day "stay at home" order through to April 3. Thus far, our area has responded well and has kept travel at a minimum.
Perhaps the biggest impact is the lack of sports. High school sports is a way of life throughout the state of Texas. In our area, coronavirus has kept one of our area schools from playing for a state boys' basketball title. There is hope the season can resume but the opportunity these young men have worked hard for may slip away. This time of year is also filled with soccer, baseball and softball games during the week. Tuesday and Friday nights have been empty without them.
We have 22 cases in Galveston County, with one recovery. We are aware those numbers will change as the increase in testing will arrive soon. This will be a challenge for medical staff in our area, which is regarded as one of the best in the United States. There is a feeling this is a calm before the storm, but we are praying this disease will leave this earth.
This area is tough and will endure. We were hit hard by Hurricane Harvey in 2017 and endured a school shooting in nearby Santa Fe in May of 2018. We are a family and will continue to rise up and look out for each other.
Tim Knauss, reporter, The Post-Standard, New York
The city of Syracuse and the ­surrounding region of central New York state have been largely shut down, economically, since mid-March.
Local officials are trying to stem the spread of coronavirus. Infections have spiked in New York City, four hours to the south-east, and are overrunning that city's healthcare system.
Schools in this region closed March 16 and are expected to remain closed at least until mid-April. Every non-essential business statewide has been ordered closed. As of March 26, there were 111 confirmed cases in Syracuse and Onondaga County, which has a population of about 460,000. There were 16 patients in hospitals, a number that has risen by two or three per day.
So far, local officials are hopeful they can avoid a rapid spike in illnesses. Police are ­starting to ramp up efforts to break up any groups congregating on streets or in parks. A 9,500-seat sports arena is being prepared as potential extra hospital space if needed.
More than 80,000 claims for unemployment insurance were filed last week in New York state, a 520% increase.
---
Israel
Yaakov Katz, editor-in-chief, The Jerusalem Post
Our death rate might seem fairly low at the moment but keep in mind Israel is a small country, both by population and geography.
The concern is that, while the numbers might seem to be small, a large percentage of the population might already be sick.
One of the things the government has promised to do is significantly increase the testing, which has so far been limited, to try to get a feel for the real percentage.
The government, as of 5pm on Wednesday, imposed basically a complete lockdown on people's ability to go outside.
We have a diverse population in Israel. On the one hand we have a group of people abiding by the ban and the government restrictions. We also have around  two million Arabs and 600,000 ultra orthodox Jews and they are having more difficulty complying with the restrictions. They are very observant of religion, and it's hard for them to stop going to the mosques or synagogues.
This is an invisible enemy. That's what causes a greater sense of fear and fright.
Around the world, the democracy that has really dealt with crises and emergencies since its inception is Israel. But this is something new. There is no rule book.
---
Coronavirus: LIVE updates from our reporters across the country