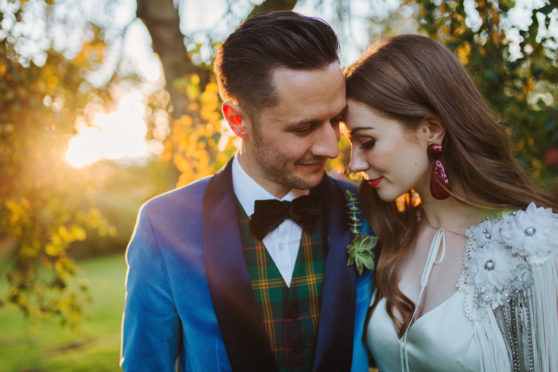 When you marry in June, you're a bride all your life – at least, that's how the old saying goes.
But for the first time autumn has overtaken summer to become the most popular time of year to get married according to new figures.
An annual survey of couples has revealed Scottish brides now prefer to get hitched in September, October and November.
In 2018, only 34% of weddings took place in summer, versus 37% of autumn ceremonies.
It's believed the rising cost of weddings is behind the trend –with an average ceremony now totalling £35,674.
The price of tying the knot has risen by £4,507 – an eye-watering 15% compared with last year – and the total almost doubled since the survey began in 2013.Planners suggest increasingly clement weather in autumn over the past few years has also encouraged more brides to choose autumnal ceremonies.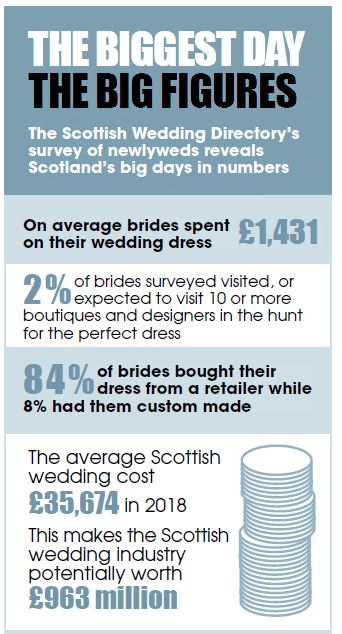 "We've definitely noticed an increase in the number of autumn weddings being sent to us by readers and photographers," said Natasha Radmehr, editor of Scottish Wedding Directory, who commissioned the survey.
"I think there are a few reasons at play here – our autumns have been milder in recent years. It can also be a little cheaper to get married at this time of year. And you can't bank on sunshine at a summer wedding anyway.
"And, in fact, your wedding photos can look even better in the low light of autumn – there's something very romantic about Scotland's landscapes on an overcast day, which fits with the current trend for slightly dark, under-saturated images.
"The colours associated with autumn weddings are really fashionable just now, too. Pastels have been replaced in recent years with richer tones, so we're seeing bridesmaids wearing forest green instead of mint green, and bouquets packed with red and burgundy flowers, which are in season at that time of year."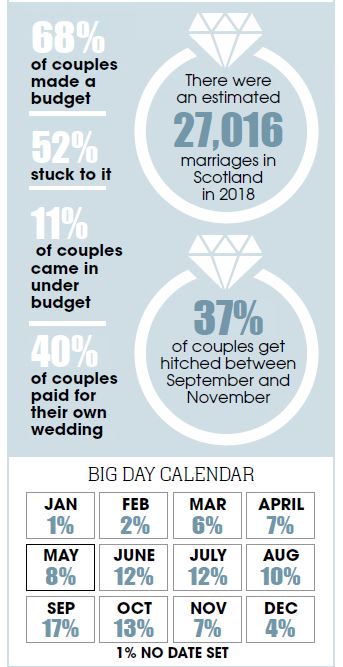 Spiralling costs are another factor in the move to September, October and November ceremonies. Would-be brides can save thousands, according to Natasha.
"It can be cheaper to get married in autumn, with some venues lowering prices from October onwards.
"The majority of venues will offer their most competitively priced packages between November and March. The discounts vary, but you could be looking at saving anything between £1,000 and £4,000."
But the taste for more extravagant weddings is also driving up prices – as is a desire to have a perfect Instagram-worthy day.
"This is something I've seen over the past couple of years," said Jordana Patrick, of wedding designer Jordana Events. "Couples are now keen to wow their guests with increasingly opulent arrangements.
"Floral walls and floral ceilings have become especially popular over the past couple of years.
"Social media has played a huge part in this – couples know their ceremonies are going to be appearing on Instagram for thousands of people to see."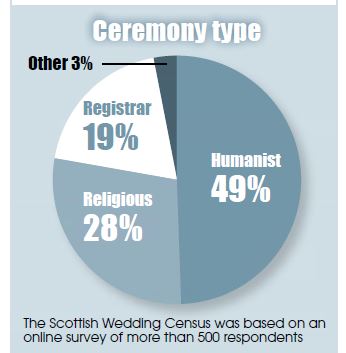 'I thought it would look amazing but was worried it might blow a gale'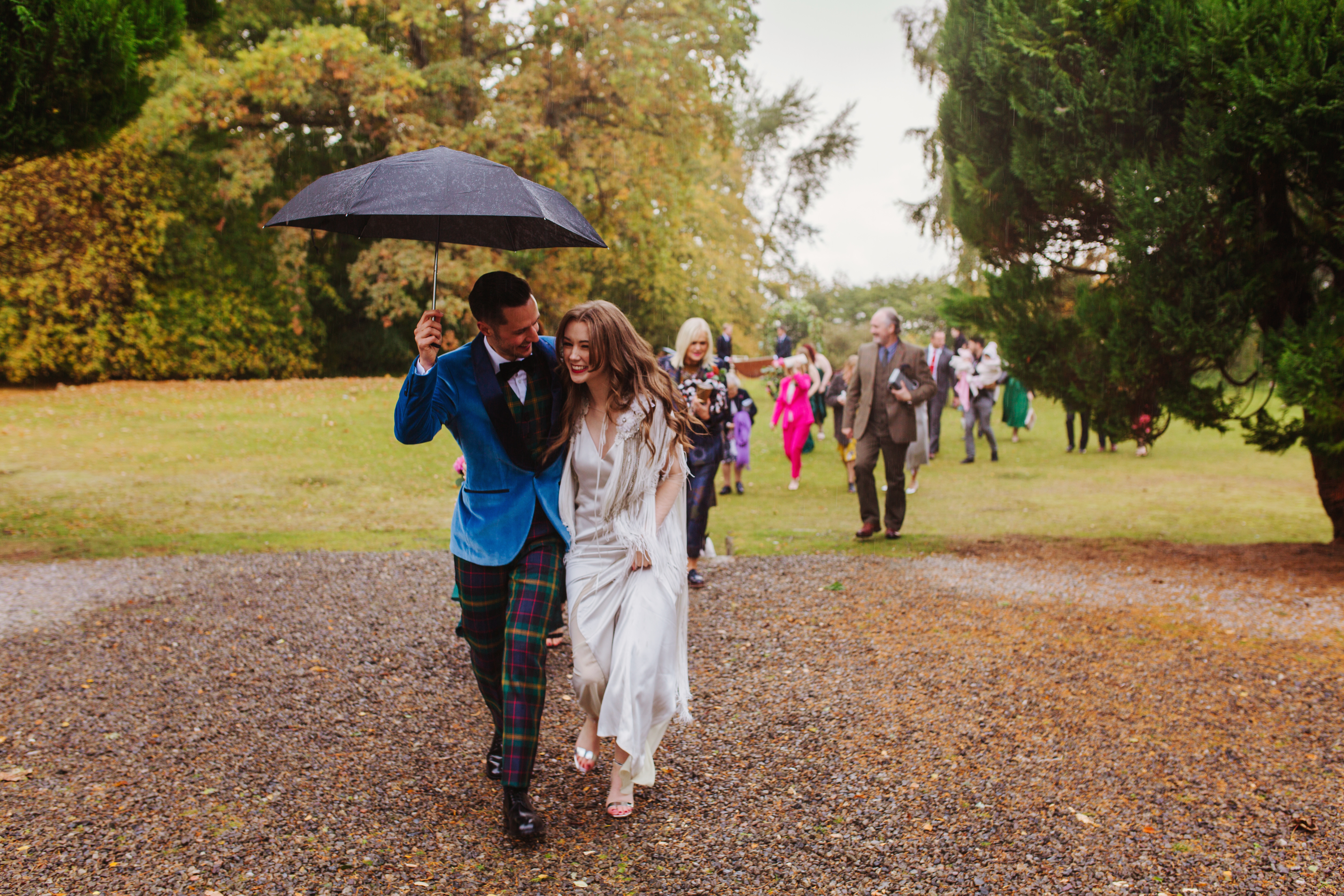 Not only did Eve Conroy, from Glasgow, and her fiancé Chris decide to tie the knot in October – they did it outdoors.
The pair are one of many couples who chose an autumn ceremony last year – at Pitcalzean House in Tain, Scotland's oldest royal burgh.
"We wanted a house where we could hold the ceremony and where all our family and friends could stay," said Eve.
"I also had my heart set on getting married outdoors in a nice garden.
"We checked but the prices were quite high during the summer months – but were around half price in October.
"We visited the house and I thought it would look amazing in October – the lovely trees would provide big, autumn colours.
"We did get a few comments from guests about it – and the bridesmaids asked if they could wear jackets. I said no!
"But I was slightly worried it would be blowing a gale."
During the wedding, held on October 6 of last year, Eve and Chris woke up to the dreaded drizzle."On the day, the rain was on and off," she explained.
"They put the chairs out for the ceremony, but had to keep bringing them back in because it would start raining – it happened three times.
"During the ceremony itself, a light shower began, but it gradually got heavier.
"So we made the decision to move the whole ceremony under a big oak tree – which was ideal.
"It ended up being really perfect."
Chris & Eve's wedding pictures were taken by Laura A Tiliman Photography
---
Wedding expert reveals how to set a budget for the big day and, more importantly, the secrets of keeping to it
By Natasha Radmehr, editor of Scottish Wedding Directory
My advice would be to make a list of "need to haves" and "nice to haves" first of all. What's most important to you? From there, work out a rough budget, and figure out how much you can afford to spend on everything on the list of "needs", using any leftover cash for the items that are less of a priority. I think couples run into difficulty when absolutely everything becomes an essential.
Sometimes you need to take a step back and ask yourselves what's actually a necessity – which is easier said than done!
In addition to marrying off-season, consider tying the knot midweek, as many wedding venues and suppliers will offer budget-friendly rates for non-weekend weddings.
When organising your wedding flowers, ask your florist how to repurpose them… perhaps the bouquets could be used as table centrepieces later in the day? Go to fairs or shows to book suppliers, as some will offer a discount if their services are booked that day. I'd advise chatting with your parents early on about whether or not they'd like to contribute to the wedding. Most parents do, and then you can see what you can afford with this extra cash. Yes, it's awkward and yes, lots of couples self-fund their wedding these days, but this is a special day for mums and dads too, and many will actually want to give you a wee something.
It's sensible to have that conversation early on so that you know exactly how much you need to save up.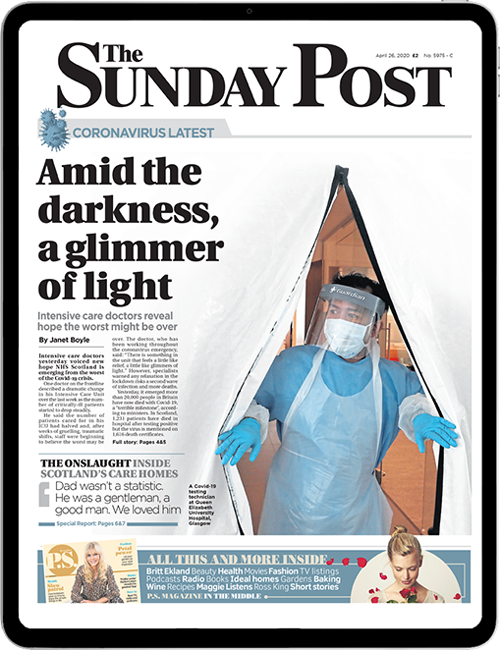 Enjoy the convenience of having The Sunday Post delivered as a digital ePaper straight to your smartphone, tablet or computer.
Subscribe for only £5.49 a month and enjoy all the benefits of the printed paper as a digital replica.
Subscribe