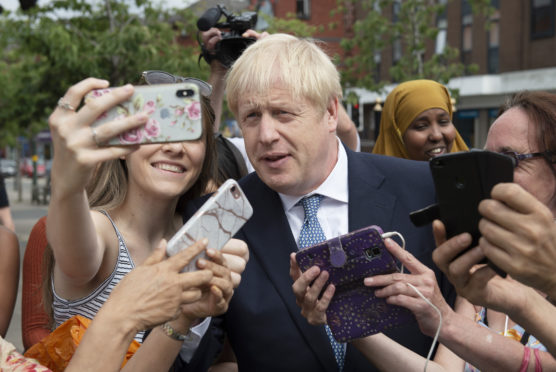 Boris Johnson will arrive in Scotland tomorrow but his inaugural nationwide tour is starting to resemble an election campaign, according to experts.
He will travel north of the border after a raft of big domestic policy announcements and spending pledges, fuelling speculation the new Prime Minister might call an election in October when MPs return from recess.
His team have already started online fundraising for an election campaign after he took charge in Downing Street on Thursday.
Johnson has ruled out an election before securing Brexit on October 31 but political experts suspect he may be planning to use events to justify going to the country before then.
Yesterday, political expert Matt Qvortrup said: "If it looks and sounds like a general election campaign, then it probably is a general election campaign."
The professor of political science and international relations at Coventry University said: "The main reason Johnson would want to call a General Election is that Labour is in disarray and in no state to fight one.
"Johnson also hasn't been tarnished yet by a failure to deliver Brexit. If he calls an election now, he can say he will act tough with Europe, which will limit the appeal of the Brexit Party.
"Promising to increase police numbers and a northern powerhouse indicates that he is on an election footing.
"It is the only chance he has of getting a working majority. It will be clear in the autumn that he is unable to get anything more out of Europe. If he gets an election over and done with, he won't be challenged by the Brexit Party."
He added: "It is not clear he would win an overall majority, but his best chance of achieving that is by doing it immediately. It would be very risky but I think he has no choice."
Former Downing Street special adviser Ramsay Jones said: "It would seem that the new Prime Minister is prepared to take a massive gamble that he can win a General Election while the Brexit Party is still a force. I used to think a Brexit deal was most likely. I now think it is less likely and the chance of an election is 50/50 at least."
Johnson is expected to visit Faslane submarine base tomorrow with the Scottish leg of his nationwide tour also expected to take in Glasgow and meetings with First Minister Nicola Sturgeon and Scots Tory leader Ruth Davidson.
Johnson will attempt to clear the air with Davidson following his sacking of Scottish Secretary David Mundell.
He ignored her request to keep Mundell at the Scotland Office, where he had worked for nine years.
According to Davidson, Mundell was a key figure in the Tories' revival in Scotland, and she even asked him to officiate at her wedding.
The biggest surprise of Johnson's Cabinet reshuffle was the appointment of political strategist Dominic Cummings as his chief of staff.
Cummings, famously described by David Cameron as a "career psychopath", masterminded the Vote Leave campaign, which targeted voters through social media.
Johnson has already started raising funds to prepare for a General Election by sending out electronic mailshots.
One includes a plea for donations to defeat Jeremy Corbyn in the next General Election.
The Conservatives have also been testing potential campaign messages on Facebook, including vowing to deliver Brexit by the deadline of October 31 and increasing public spending.
On Friday he promised to recruit 20,000 more police officers and yesterday on a visit to Manchester he promised to fund a new rail route between the city and Leeds, which he said would help "turbo charge" regional growth. He also pledged a £3.6 billion fund to support 100 left-behind towns.
Westminster went on holiday on Thursday and will not return until September 3.
But after just two weeks it will break up again for the autumn party conference season.
That leaves Johnson with less than a month to convince European leaders and MPs to back his Brexit plans, something Theresa May failed to do in three years.
Johnson said in his speech in Manchester that the country had to be prepared for the prospect of a no-deal Brexit.
He said: "On the risk of a no-deal Brexit, or the prospect of a no-deal Brexit, well, we have just got to get ready for it.
"I don't think that's where we will end up.
"But as I have told our European friends, we are going to prepare very actively for that eventuality in high confidence that this is an amazing country and we will get through it if we need to."
Johnson is expected to meet Nicola Sturgeon on his visit to Scotland.
Yesterday she was in Lerwick to launch the SNP's Shetland by-election campaign, which came about following the resignation of Lib Dem MSP Tavish Scott.
Sturgeon urged voters to send Johnson a message "to stop this headfirst rush to disaster".
She said: "Boris Johnson has formed a government of hardliners, prepared to push Scotland and the UK off the cliff edge of a no-deal Brexit.
"Shetland didn't vote for this. Nor did it vote for this Tory government or for Boris Johnson."
Scott, a former Scottish Lib Dem leader, won Shetland in 1999 at the first Holyrood election.
Sturgeon, who posted a photo on Twitter of herself on the campaign trail dressed as a Viking, added: "Experience tells us the Lib Dems would rather cosy up to the Tories, than stand up to them.
"Jo Swinson has previously indicated her party – deeply stained by austerity and the betrayal over tuition fees – could go back into coalition with the Tories. By contrast, when the SNP wins elections, Westminster sits up and takes notice."
---
This Cabinet could signal the end of the Tory party
by Andy Maciver, communications and political strategist 
The ascent of Boris Johnson, and Wednesday's extraordinary Cabinet reshuffle, escalates the Brexit crisis once again.
The overarching question is this: is it a Cabinet aimed at delivering Brexit, or a Cabinet aimed at winning a General Election?
Analysing this requires cool heads, which are not easy to find in Scotland when the topic of conversation is Boris Johnson.
My central feeling is that neither Boris Johnson, nor his new, most important adviser Dominic Cummings, have any real history of support for a no-deal exit.
When it comes to the crunch, therefore, I do not expect this government to deliver a no-deal outcome.
Instead, I expect that Johnson and Cummings think it is possible to force the EU to blink on the Northern Irish border, allowing the presentation of a deal roughly similar to that which Theresa May proposed, minus the backstop.
We should not rule out the possibility they are correct. The backup plan, thereafter, is more likely to be a General Election than a no-deal Brexit.
Labour's unprecedented twin woes of Brexit and anti-Semitism have left Johnson's strategists with the belief that they have nothing to fear from an election, and indeed that it could produce the silver lining of a majority to deliver the Canada-style free trade deal Brexit that they seek.
So I think the answer to my question is "both". It's a Cabinet to deliver Brexit, and, if need be, one to win a General Election as a Brexit party. What it's not, though, is a Cabinet to unite the Conservative party.
There are now three parties within one. There's the Brexit party. They're now in charge.
There's the Remain party, who have been purged and are primed to cause trouble at every turn, and ultimately threaten to bring the government down in a vote of no confidence.
And thirdly there's the Scottish party, angry at Johnson winning and furious that David Mundell was fired despite the best efforts of Ruth Davidson to save him.
This is a Cabinet which might deliver Brexit. And might win a general election. But whether the party will stay together for much longer is a different matter entirely.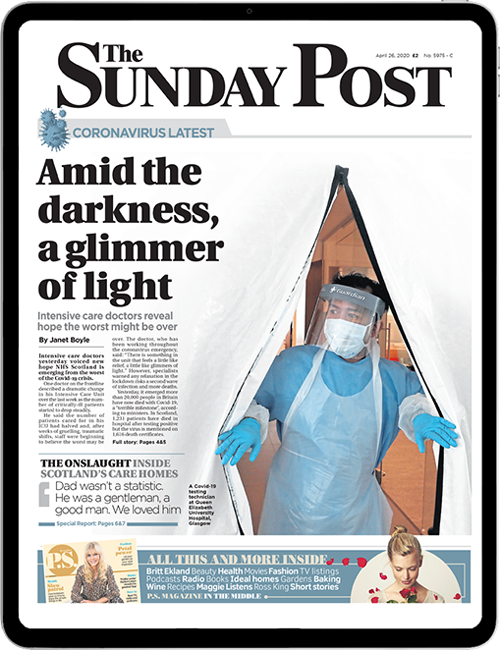 Enjoy the convenience of having The Sunday Post delivered as a digital ePaper straight to your smartphone, tablet or computer.
Subscribe for only £5.49 a month and enjoy all the benefits of the printed paper as a digital replica.
Subscribe