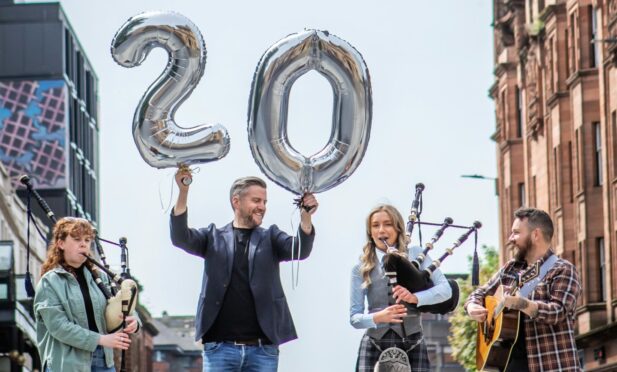 Musicians from Scotland and around the world will gather in Glasgow next week to share traditions that vary vastly in origins and styles but have one thing in common – a love of the bagpipes.
Piping Live organisers are taking the festival's 20th edition as an opportunity to look back on the inspirations and success stories it has provided across the past two decades, where the event has grown from about 50 events to 150 per year in venues across the city.
Following two years online, the 2022 event saw 19,000 people attend in person, with 22,000 more music lovers joining in online from around the world.
People have travelled from more than 33 countries, from Sao Paulo to Singapore and the US to Australia, to attend the lively programme of events, which have taken place in 49 venues since 2004.
In 20 years, the festival has added more than £15 million to the Scottish economy.
A landmark event
"It's a big landmark in our calendar," said John Mulhearn, one of the programme organisers. "The festival was growing and growing until Covid, where we had a couple of rocky years.
"We managed to sustain it even during that time, albeit in a couple of slightly modified forms, but this is probably going to be the year we're hoping to see a real bounce-back in terms of audience numbers and the number of events.
"It has been really quite incredible watching it grow over the years, but also how it has retained its heart and the fundamental objectives."
One of those is making sure events are accessible to everyone, and encouraging the next generation into the world of piping.
Across the years, it has hosted 1,477 free events – more than 50% of all programming.
"Our street cafe forms the hub for the festival and the programming there is entirely free," said Mulhearn, who runs the degree programme at the National Piping Centre. "It sits right at the heart of that ideal and it allows people to just wander up that are curious about all the sound.
"Thinking back to when I was a teenager in the early to mid-90s, growing up and playing the pipes, it certainly didn't feel remotely cool to be doing it then.
"Having programmes like the National Youth Pipe Band of Scotland have been quite important for giving young people a platform to perform.
"It's inspiring for them just being able to see the breadth of what piping is today compared to 25-30 years ago when there were really only one or two avenues for you to pursue a career in piping."
Success stories
Mulhearn cites bands like RURA, who had their first public performances at the festival, as great success stories for the event. They are now one of the most popular Scottish folk bands, and have scooped multiple awards.
The band's Steven Blake, who also now works at the Piping Centre, will never forget the opportunity the festival handed him.
"We were really lucky, we formed as a band to play a gig at Piping Live and that was our first ever concert," he said. "I really think you need that sort of framework, concrete opportunities as the impetus. There are so many bands that haven't seen the light of day from conversations in the pub. That gig existing kind of forced us to write that music and come together.
"We've always grown through the festivals like Piping Live and Celtic Connections and they've supported us as we go through different stages of being a band.
"Our first gig was at the street cafe, building up to a support slot at the Old Fruit Market. Years later, we headlined the big Friday night gig there. A festival able to offer different tiers of opportunity for bands to develop is really important."
Seeing other musicians from home and abroad also provides a great inspiration in attracting the next RURAs.
"It's incredibly inspiring to see musicians at the top of their game," Blake added. "It shows you that it's a real industry that exists. As a young person, that's very inspiring.
"Piping is quite often at risk of being quite tunnel-visioned, quite insular, and I think what Piping Live does is it connects us into this broader stream of activity.
"We quite often get into our own little things, but it shows there's this global network of all these sub-traditions and they're all connected. I can't think of another event in terms of piping that actually gives them that chance."
International appeal
That international element is one of the key factors the organisers shape the programme around, attracting acts from across the world.
While traditions differ for performers from outwith Scotland, it all centres around a shared love of the instrument and music.
Mulhearn said: "One of the fundamental ideas behind the festival is that's it's Glasgow's international piping festival, showcasing traditions from other parts of the world and helping debunk the idea that the bagpipes are a Scottish thing alone. The festival programme has always reflected that richness of bagpiping traditions in the plural.
"We're delighted to invite artists from around the world. They help to draw attention to the fact that Scottish Highland bagpipes are only a small part of the wider picture of a worldwide scene and traditions that are linked through a common denominator, a bag with a set of pipes to it.
"For instance, Cätlin Mägi is coming from Estonia – such a different place from our traditions yet we share a kind of common language through our passion."
Having been to the event several times before and forming friendships with the Scottish piping community, Mägi can't wait to head over for the festival.
Inspired by seeing an Estonian Eurovision semi-finalist on TV with a female bagpipe player when she was a teenager, she delved into the tradition and history behind the instrument in her country's culture.
"I'm really excited," she said. "It's like a piper's paradise. You see so many pipers, hear so much music and you're at the sanctum of the pipers. I'm really looking forward to it and so happy to be invited back again.
"I finished secondary school and thought it would be great to study traditional music, but in Estonia there wasn't a big tradition of women playing. But I saw on TV one woman played the bagpipes, and I thought: this is my instrument. I want to play it.
"That's my mission, to play and share that we really have a piping tradition."
---
The Big Bands: a riot of music to hit the streets of Glasgow
Piping Live! Big Band
The Piping Live! Big Band, a fan-favourite event, returns for its sixth showcase at this year's festival. 150 pipers, ranging from young learners on chanters to seasoned professionals, will gather in Glasgow's West End on August 14 and parade through the streets playing their instruments in unison. The event will support this year's charity partner Versus Arthritis.
Ceol Nua
Ceol Nua will take to Glasgow's Nice n Sleazy on Monday August 14, for a night of innovative and avant-garde piping. Fraser Fifield, Graeme Stephen, and Estonian piper Cätlin Mägi will take to the stage, presenting new music that pushes the boundaries of traditional sounds.
The Street Cafe
Located at The National Piping Centre on McPhater Street, The Street Cafe is back for 2023, hosting a range of events showcasing piping and traditional music acts.
Gig In The Gallery
Piping Live! returns to Kelvingrove Art Gallery and Museum this year with a series of free-to-attend concerts featuring international performers.
Pipe Idol
The eagerly anticipated Pipe Idol competition is back for 2023, featuring the best young pipers from around the world. Competitors showcase their skills in separate heats.
---
Piping Live! 2023, August 12-20, visit pipinglive.co.uk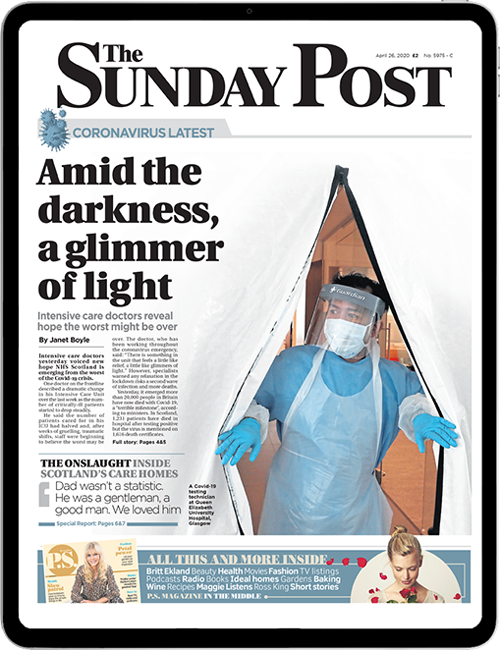 Enjoy the convenience of having The Sunday Post delivered as a digital ePaper straight to your smartphone, tablet or computer.
Subscribe for only £5.49 a month and enjoy all the benefits of the printed paper as a digital replica.
Subscribe