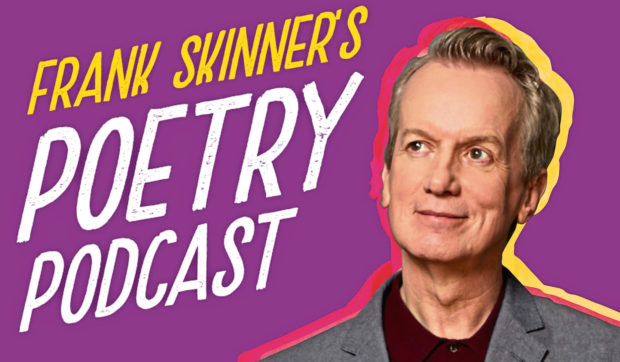 Comedian Frank Skinner's best-known prose might be a rhyming couplet about the English national team, but don't hold that against him.
The 63-year-old is as passionate about poetry as he is about football, something he is exploring in his new podcast.
The popular comic says he'll chat about poetry in the same way he does about the beautiful game in this podcast which launched last week.
So, while he's unlikely to give a reading of "Three lions on a shirt, Jules Rimet still gleaming. Thirty years of hurt, never stopped me dreaming", he will be exploring in detail his favourite poetic pieces, such as Stevie Smith's Not Waving But Drowning, and William Carlos Williams' Danse Russe, both of which featured in last week's debut episode.
In these troubling times, turning to thoughtful prose can have a calming, reassuring, effect, as Scotland's Makar Jackie Kay has been proving in the pages of The Sunday Post over the past several weeks.
Following the success of The Frank Skinner Show on Absolute Radio, the new series brings the comic's wry observations and relatable wit to the fore as he explores his favourite poems.
Reading extracts and analysing works, Frank will share and dissect the best verses of familiar and lesser-known poets in weekly segments.
Frank said: "I plan to talk about poems the way I talk about football. I'm passionate about both and believe there is a real space for something that brings listeners on board a literary journey, stepping stone to stepping stone, never stranded behind.
"I'll be like that guy who sits at an adjoining table in the bar at Euston Station, leaning across to tell you something amazing before leaving to get his train.
"It'll be direct, personal, urgent, funny and passionate, with me holding the listener's forearm until I've said my piece."
Frank Skinner's Poetry Podcast (Absolute)
---
Beatles City (Apple Podcasts)
Beatles City is the podcast that brings you the story of the band that shook the world from the place where it all began. It takes you on a journey along the sandstone-lined streets of John Lennon's childhood Woolton, into the living room-turned-recording studio where the Quarrymen cut their first record and down the steep steps into the Cavern's cellar nightclub. Listen to memories of The Beatles' early days told by he people who were there.
---
We Need To Talk About The British Empire(Audible)
Through six intimate conversations with a writers and historians, journalist Afua Hirsch tries to break through old cliches, and unpick the true legacy of this complicated and difficult inheritance.She speaks to leading figures in British culture today, discovering vivid family stories of the people who made the Empire what it was. And she hears how its ripples continue to shape our lives.