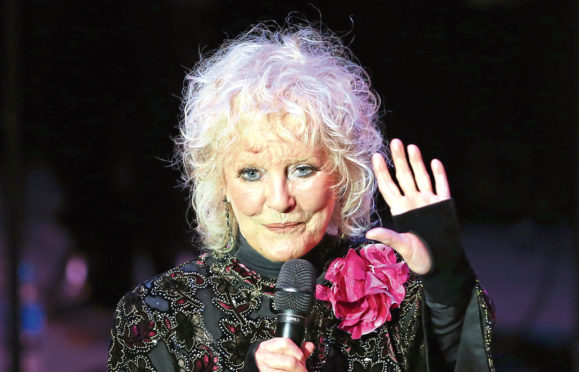 Petula Clark is returning to London's West End in a new live production of Mary Poppins later this year and that means another of her dreams has come true.
"I have always loved Mary Poppins both on film and on stage," said Petula, who's 86.
"I always thought how great it would be to play Mary Poppins but of course, it needs to be someone younger. That lovely cameo role of the Bird Woman in the beautiful Feed The Birds song is, for me, the next best thing."
Pet will be singing at least one other song too in what promises to be a spectacular show and, of course, she is no stranger to big productions on either the stage or the big screen.
"I can't believe it is 38 years ago I appeared in The Sound Of Music in the West End," she said.
"Then 24 years ago I was in Sunset Boulevard in London so it seems that these things come round only a little more often than an eclipse. It's going to be a great show, though, and I am very excited about it."
She really is too. You would think that a performer who has been everywhere and done everything would see it is just another engagement but Petula Clark has lost none of the joy and enthusiasm that she had when she was a little girl starting out on a fantastic career.
She first hit the headlines when she became a forces sweetheart at the age of seven.
"It was a different world then and we were in World War Two," she said.
"I used to sing for concert parties and then I was asked to do some radio and the next thing I knew I was entertaining the troops.
"It was all very exciting and everyone was very nice to me which made such a big difference. I loved singing and dancing and I just wanted to perform even at that age.
"I don't like to dwell in the past too much because the present is also exciting but you cannot help thinking back sometimes and I remember the victory celebrations in Trafalgar Square at the end of the war.
"I was asked to sing there and I will never forget the sea of thousands of happy faces. It was a wonderful moment."
There have been many wonderful moments in Petula Clark's life. Having made it in radio and on stage she was among the first to appear on television too.
"There was a show called Pet's Parlour which ran for a long time and had special singing guests and comedians.
"Having done radio, television and live shows I then went into the recording studio. Today they seem to do it the other way about but then it was different and I recorded Music, Music, Music.
"Later came Where Did My Snowman Go and The Little Shoemaker. They were popular songs. Can you imagine getting into the charts with songs like that now?"
Of course Pet is no stranger to the pop charts with hits like 1964's Downtown and I Know A Place the year after.
"They came after another big change in my life," she said. "I was invited to sing at the Olympia Theatre in France and it started two love affairs because I fell in love with France and its people.
"But I also met and fell in love with Claude Wolff who became my wonderful husband in June 1961.
"A lot of people were surprised that this English girl should meet and marry a lovely Frenchman but love knows no boundaries and life became even more wonderful for me.
"We had two daughters, Barbara and Catherine, and our son Patrick and of course they have all grown up and started their own families which is great."
Modestly Pet does not talk about the acclaim she received in France where they took to her like an adopted daughter and she still fills concert halls whenever she appears, as indeed she does in Britain, America, Canada and just about anywhere else her name appears in lights.
She has recorded sell-out seasons in such starry venues as Caesar's Palace in Las Vegas among many others.
"It is all quite unbelievable really," she smiled.
"You start off as a little girl having fun and the next thing you know you are looking at the massive audience in Caesar's Palace and notice Frank Sinatra sitting there! It is totally incredible when you realise he and others like him have made the effort to come to see you perform.
"It has been a big thrill but especially when you make films too and appear with people like Fred Astaire with whom I worked in Finian's Rainbow.
"A totally different film was Goodbye Mr Chips which I made with the brilliant Peter O'Toole. Peter was very different to Fred but just as great to be with, as fantastic an actor as Fred was a dancer."
When she appears in concert now, Pet selects a wide range of songs from the past and the present as well as hits from musicals, including The Sound Of Music and Sunset Boulevard.
"I always have to include Downtown because people still like it so much," she revealed. "It's become a classic and came at a good time for me.
"I was so busy with my work in France and French recordings as well as bringing up my family that I had not recorded anything in English for ages. Then Tony Hatch got in touch and said he had a song I might like. He came to visit, I heard it and I did like it – I still do and I still love to sing it."
Another big thrill has been Pet's appearances before the royal family.
"I have always been very patriotic, even when living in France and when I am asked to appear in a Royal Variety Show it is like being a little girl again because it is so exciting," said Pet.
"I was surprised to be awarded a CBE in 1998, presented to me by Her Majesty the Queen and I cherish that as much as any of my gold discs or other awards."
So how does she continue looking so young and beautiful?
"Thank you. I have always been busy and perhaps there is something in my genes that keeps me fit. I don't do lots and lots of exercises or eat nothing but celery. I like food and having lived in France for a long time and now Switzerland there are always great temptations on the table.
"I think that I have always been a very energetic person and that has kept me in fair shape all this time. I do feel good and I feel I can go on for years and years to come, just so long as I am still wanted. I am still planning concerts and recording sessions.
"I do relax of course and listen to music, go to shows, restaurants or play with the grandchildren. I like to read and there is nothing nicer than sitting in the garden on a sunny afternoon with a good book.
"I don't think I will ever give up performing though and I still like a variety of work. When the phone rang to ask me about Mary Poppins I thought – wow! That's what it means to me and I am looking forward to opening night. It will be terrifying of course but I am sure Mary Poppins will take care of things!"
Where can you get tickets? Downtown of course.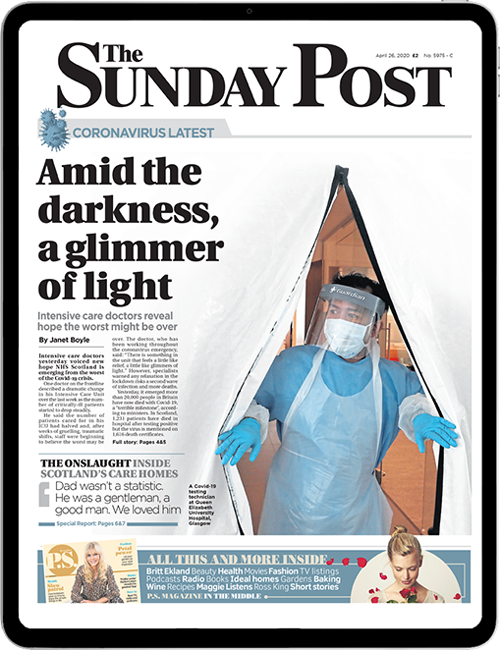 Enjoy the convenience of having The Sunday Post delivered as a digital ePaper straight to your smartphone, tablet or computer.
Subscribe for only £5.49 a month and enjoy all the benefits of the printed paper as a digital replica.
Subscribe