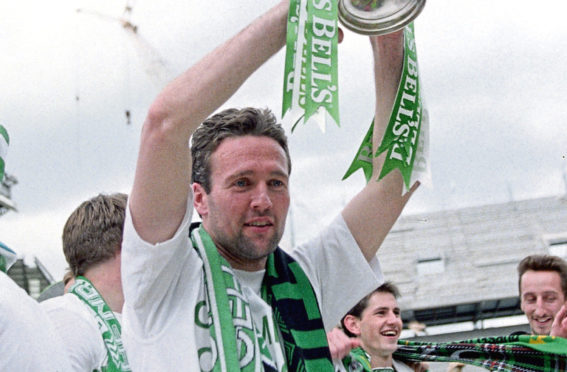 Back in 1998, Paul Lambert helped one half of the Old Firm prevent the other half from setting a new record of winning 10 consecutive titles.
Celtic pipped Rangers on the final day of a tense, nervy campaign to ensure that the achievement of Jock Stein's teams between 1966 and 1974 would not be surpassed.
The boot is on the other foot now, but Lambert – a boyhood Rangers supporter – doesn't believe that Steven Gerrard and his players will be able to halt Neil Lennon's march to 10-in-a-row.
He's now hoping that his former club set that new benchmark next season because he believes it could lead to football's biggest-ever fundraiser.
"The SPFL did the right thing by calling the Premiership season, and naming Celtic as champions," said the Ipswich Town manager.
"It was absolutely the right thing not to render it null and void.
"I'm sure the Celtic lads would have preferred to have completed the last eight games and won the title on the pitch.
"And everyone knows it would have been only a matter of time before they did that if they'd been given the chance.
"What I'd love to see happen next year – assuming that Celtic retain the title – is to have an exhibition game between the team which won 10-in-a-row and the side which stopped Rangers doing 10-in-a-row.
"The proceeds could go to charity, and you'd raise a record amount if that could be organised.
"Can you imagine how many people would want to go to that? You'd need to build another Parkhead on top of the existing one to accommodate the demand!"
Lambert believes that the way Wim Jansen's side managed to overhaul Rangers is a feat which, 22 years on, remains under-rated, partly because at the time the focus was more on Rangers' collapse than their greatest rivals' triumph.
"I've always said that the hardest title to win was in 1997/98," he insisted.
"That was entirely down to the amount of pressure we were under to prevent them from setting a new record.
"Rangers' players will be feeling the same way now. Are they good enough to stop Celtic from doing it? I'm not so sure.
"For us to be champions in 1998 was an unbelievable achievement, right up there with getting to the UEFA Cup Final in Seville five years later.
"We had a new manager in Wim Jansen, who'd never worked in Scottish football before, and he had to build a new team almost from scratch.
"We were also up against an astonishingly-strong Rangers team, managed by Walter Smith and with players like Brian Laudrup, Paul Gascoigne, Richard Gough, Andy Goram, Jorg Albertz, Stuart McCall and Ally McCoist.
"They were a really top side, and it wasn't until Martin O'Neill came in 2000 that we were as good as they had been.
"We ruled the roost between 2000-05, and we were the best team in Scotland by a mile, even in the two years Rangers won the league on the last day.
"In fact, we were the only Celtic team outside the Lisbon Lions era to reach a European final, which isn't bad.
"Now it's up to Neil Lennon and his players to make history of their own by making it 10-in-a-row next season."