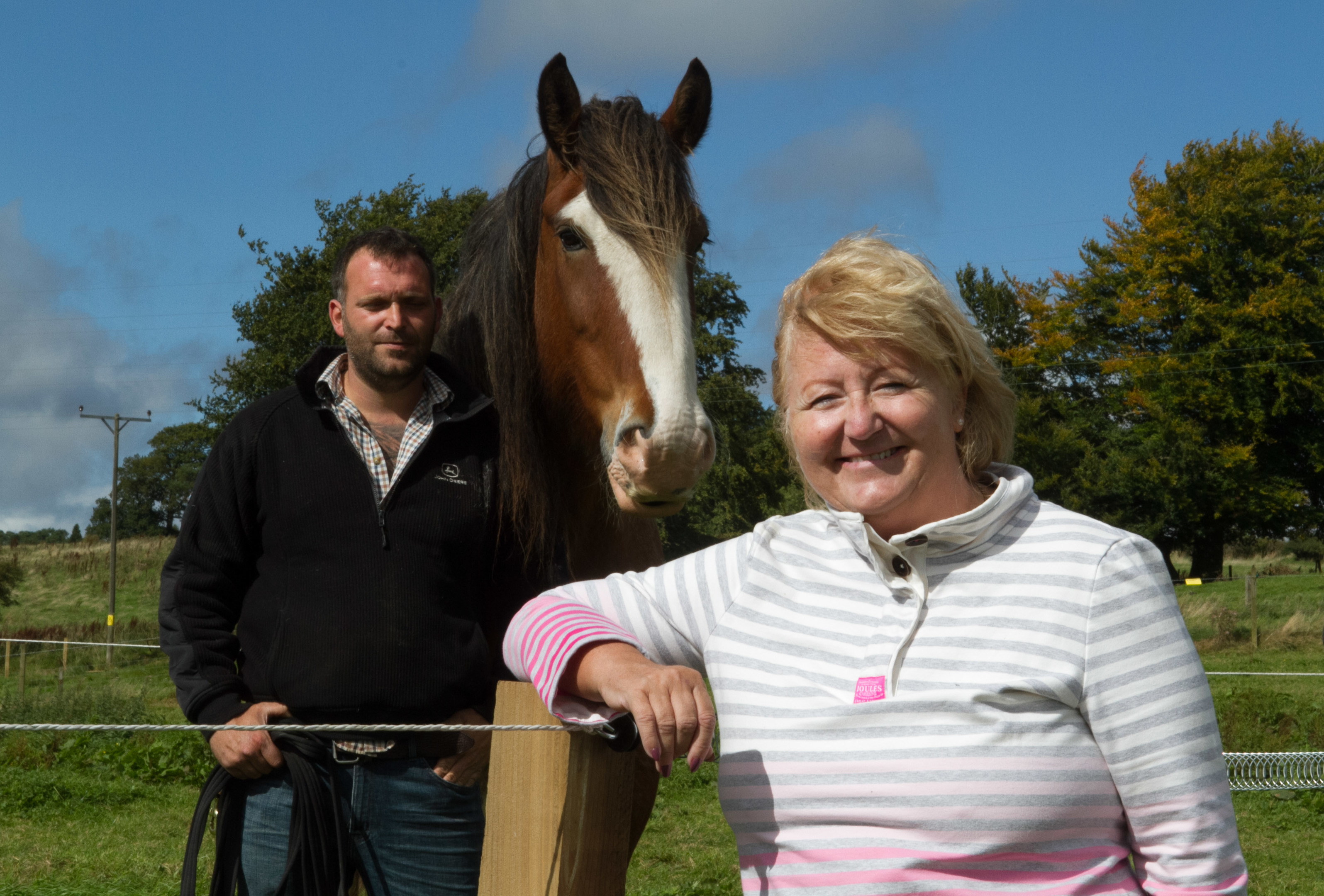 ELLEN CARROLL can't get the Friday night that changed her life forever out of her head.
Something about the conversation with son Thomas, 34, that evening troubled her and, unable to sleep, she got up and looked at his Facebook page.
She read his new post revealing how he'd stood on top of a cliff three years previously, preparing to throw himself off.
"There he was telling the world all about his suicidal thoughts and how he couldn't tell those closest to him," Anstruther gran Ellen, 60, told The Sunday Post.
"I asked my husband to tell me if was dreaming it or if it was some terrible nightmare.
"Even now I struggle every time I think of it. I blame myself for not knowing. What kind of mother doesn't know her son has reached that depth of despair? Did I blink and miss my son wanting to take his own life?"
Former squaddie Thomas had been driven to the brink by the post traumatic stress disorder (PTSD) after the horrors he'd seen during military service in Iraq.
Now he's desperate to help others – so he's setting up a horse therapy centre in Perthshire called Warrior Ranch. And Ellen and husband Harry are putting all their savings into the centre.
"We can't see him go back to that dark place," says Ellen.
"Crazy" and "loveable" are the two words Ellen uses to describe a young Thomas.
"He didn't like school and he always wanted things done his way, but he wasn't a bad lad. He'd give you his last 10 pence if he had it."
Dad Harry, 63, is now retired after a lifetime in the RAF and big brother Robert also joined the RAF. But it was the British Army that drew Thomas and he served for six years, including a tour of Iraq.
On leaving, he worked for the UN and then the US government, providing security for the first democratic elections in Iraq.
"All we ever wanted was for Thomas to go to college and get a good solid trade," says Ellen. "We wanted an electrician or plumber, instead we got James Bond."
His dozen years in the military and then private security saw Thomas face death time after time.
Ellen recalls talking to him on the phone only for the line to be lost as a massive explosion hit right behind him. She spent hours not knowing if he'd survived.
On another occasion he bent down to pick up a map he'd dropped at the exact moment a bullet hit a fellow soldier in the vehicle instead.
He was also blown up when serving with the Americans, suffering horrendous shrapnel injuries to his back.
"I came home and Harry opened the door and told me. My first words were, 'Is he dead?' When he said no, that he was badly injured, I knew we could cope with that.
"Thomas told us later that lying there he felt my mum, his Granny O'Neill, saved his life that day.
"She had always been a massive influence before she died and he said it was as if she was with him, wrapping a blanket round him, telling him he wasn't going to die."
For year after year, as Thomas put himself right in the front line, Ellen and Harry faced agonies at home.
"We never got a good night's sleep," said Ellen, who spent 20 years working as a manufacturing planner at Quaker Oats before taking early retirement.
"I went to sleep thinking about Thomas and woke up hoping nothing had happened to him.
"You'd hear a bomb had gone off in Baghdad and we didn't know if he was alive or dead. We've got Robert, too, so life goes on but it's not normal."
It was after he left his action-filled life that Thomas started on the terrible spiral of decline. Sleep was alien to him, too, as he struggled to adapt to a peaceful reality.
"He'd say he'd been used to having to try to sleep every night with a gun by his side, not knowing who might come in and who to trust.
"He couldn't let that go. It was terrible, he couldn't settle. His temper would flare up at the slightest thing.
"He was at boiling point and the anger was raging in him – and he had bad depression as well as the drink and drugs."
It got to that lowest of low points when he stood on that clifftop, ready to end it all.
Ellen is convinced that only the thought of the impact on his young son Heath, now four, and partner Hazel made him step back.
Out of nowhere, with no horse experience, he decided that getting a horse could make a difference.
Thomas sold up his house in Blairgowrie and bought an abandoned cattle farm near Powmill. He's now living in a caravan there with Hazel and Heath.
Over the past year, with Ellen and Harry's financial backing he has been taking courses with renowned "horse whisperer" Monty Roberts, learning everything he can about the animals' healing powers.
With the farm lying derelict, Thomas has been trying to raise funds to get it in shape to open as Warrior Ranch.
A roof needs to be put on an old barn to act as an inside ring.
Just £20,000, says Ellen, would be a godsend to get it up and running.
And the extended family rallied round yesterday, with about 30 gathering from all over the country to help with a massive clean-up operation. Ellen's commitment has been relentless, receiving a letter back from Prime Minister Theresa May just last week promising to look into the possibilities.
Applications for charitable status have been filed and other service personnel charities contacted to offer to work together.
"I'm not living in dreamland, I know everything isn't rosy in Thomas's world," adds Ellen.
"He's found a new focus in life but we know he's still got a long way to go in his recovery.
"I know Harry and I will have to keep investing. We're not rich but if we can't make this work, he's lost everything.
"We'll plough in everything. Even if we have to sell our house.
"It's all very well having a nice house and money in the bank, but that means nothing when you have a son who has thought about taking his own life and still needs us."
Thomas knows the backing of his parents has been invaluable and he's driven by the desire to save others from desperation.
"There are thousands of veterans out there suffering," said Thomas.
"As an ex-combat veteran I can help these guys and girls get out of the maze that is PTSD with the power of the horse leading the way to recovery."
To donate, visit www.justgiving.com/crowdfunding/tamcarroll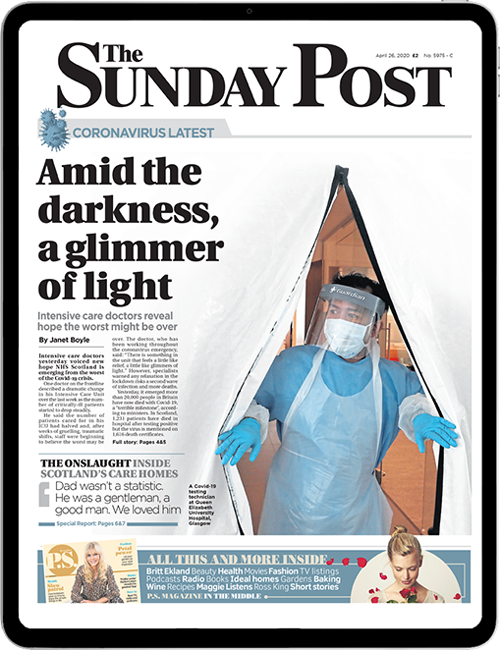 Enjoy the convenience of having The Sunday Post delivered as a digital ePaper straight to your smartphone, tablet or computer.
Subscribe for only £5.49 a month and enjoy all the benefits of the printed paper as a digital replica.
Subscribe