MORE than 1100 patients need fresh blood tests following the mass cyber attack which paralysed the NHS.
They will have to give fresh blood samples after the attack rendered previous specimens useless.
Feeding the extra tests into the system may lead to delays across the country, it is feared, with many anxious patients potentially waiting longer than anticipated for test results.
The large-scale computer hack – the biggest in the NHS's history – caused "significant problems" with IT systems and telephone networks.
Eleven health boards were affected across Scotland, but the impact was felt hardest at NHS Lanarkshire, where the edict to redo the blood tests has been issued.
Judith Park, director of access at NHS Lanarkshire, confirmed the ransomware attack had left them unable to process some "full blood counts and B12 and folates that had been sent from GP practices to our laboratories".
"Our laboratory and clinical staff worked through the weekend to restore services," she said. "All specimens which had been labelled as urgent were processed.
"Laboratory services are now at full operational capacity and patients who required repeat tests to be carried out have been contacted directly by their GP."
Margaret Watt, of the Scotland Patients Association, said: "Of course people will be worried about this. Whoever did this was not thinking about people's lives.
"It will have a big knock-on effect. It knocks everybody out and puts everything back. Patients will not be happy – it's only the patients who suffer. It's totally unacceptable.
"Waiting lists are long enough, without having to be put back by some irresponsible people.
"Cancer patients could be among these tests. Do they realise they have put people's lives in jeopardy?
"The people who did this are wicked. The sooner they catch them, the better. How dare they do that to patients? Some day it might be them.
"I'd stick them on a desert island and throw away the key."
Some of Scotland's 32 local authorities are still using dated technology which could leave them vulnerable to attacks.
Clackmannanshire Council told The Sunday Post a "small number" of its machines still use the 15-year-old Windows XP operating system, but insisted they were "managed carefully".
And Orkney Islands Council confirmed one Windows 2003 server was still in use, but will be turned off "as soon as possible".
A spokeswoman said it had "accelerated" planned security updates on the back of the latest cyber hack.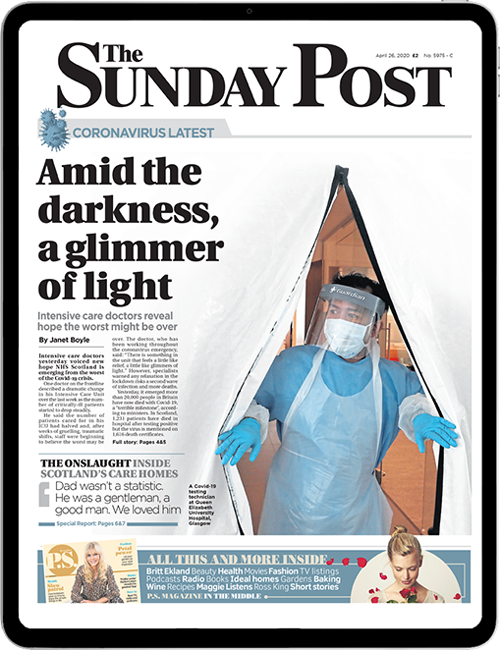 Enjoy the convenience of having The Sunday Post delivered as a digital ePaper straight to your smartphone, tablet or computer.
Subscribe for only £5.49 a month and enjoy all the benefits of the printed paper as a digital replica.
Subscribe