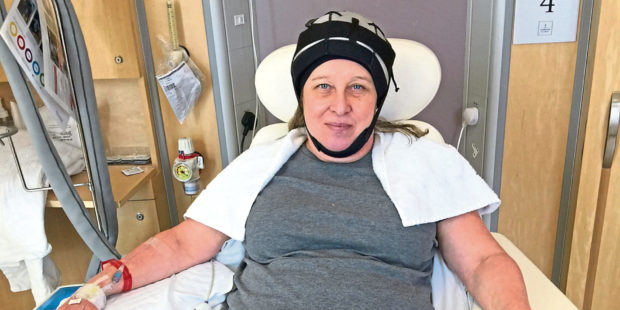 Jenny Cooper knows just how lucky she is.
She was diagnosed with Stage IV ovarian cancer but, after lengthy and harrowing treatment, she's cancer-free.
"To go from that diagnosis to where I am now is almost a miracle, though the doctors would say there's no such thing," laughs Jenny, 55.
"When I was diagnosed, I didn't actually think I wouldn't be here now, but I think if I'd had an earlier diagnosis my prognosis would be a lot better."
Despite the fact one in 50 women will develop ovarian cancer and 11 women a day die of the disease, diagnosis is often delayed and for too many that proves fatal – hence ovarian cancer being nicknamed the "silent killer".
Symptoms vary, can be subtle and can be mistaken for any number of things and many women wouldn't recognise them as ovarian cancer symptoms because it's not on their radar.
Common symptoms include bloating, pain, feeling full quickly or change in bowel or urinary habit.
There can also sometimes be a change in periods in pre-menopausal women, post-menopausal bleeding or pain during sex, while you can also get non-specific symptoms common to many cancers such as feeling very tired, or losing weight for no obvious reason.
It took Jenny several months to get to the bottom of her symptoms and she says: "It's one of the main problems, and why I came out of the whole experience thinking, 'I don't want this to happen to anyone else.'+
"I actually didn't ever get a diagnosis, even though I did end up on a gastro ward, until I was diagnosed with ovarian cancer.
"Until then I always felt they weren't really sure, though obviously every diagnosis has to be a process of elimination.
"They thought what I had was a liver-related problem, which is quite unusual when you end up with an ovarian cancer diagnosis.
"I didn't know anything about ovarian cancer, and I'm surrounded by quite a big peer group of women who are also fairly clued-up on their health, but nobody mentioned it as a possibility.
"I knew it existed, but I had no idea of the symptoms. I had a lot of fluid in my abdomen which is quite common, but again not everyone gets it.
"IBS was mentioned to me. I did have some history a long time ago, so I could see where the connection was made initially.
"In hindsight, it's easy now to look back and recognise all the symptoms I had, some of them long before I became every ill, and I could tick all the boxes by the time I got to the oncologist.
"Looking back, I definitely had all the symptoms, but they were quite spaced out and not happening simultaneously.
"Something I think is important is to promote the CA 125 blood test, which measures the amount of a certain protein and is a good indicator of ovarian cancer.
"I appreciate it's not an exact science, it's not like having a smear, but it wasn't offered to me until a long way down the line.
"They were focusing on a gastro/liver situation, so my bloods were the thing they were looking at then because I was admitted under that umbrella.
"Obviously, ovarian cancer was completely off their radar at that point, but luckily it was on somebody's and she probably saved my life.
"The CA 125 test is pretty simple, I think you can have it at your GP's surgery, and it's relatively cheap. If you're going to be tested for something else, they might as well tick that box as well.
"There are a million things your symptoms could be, but you have to take in things like age and everything else. It's just helping join up the dots for them."
Jenny, an office manager from Essex, says: "After being diagnosed I had three cycles of chemo, but unfortunately one of them contained platinum, and apparently I'm allergic to platinum, so when I had my very first chemo I had an anaphylactic reaction.
"So they decided I had to have one chemo every three weeks, but this one every week so I'd become desensitised.
"I had three cycles of that and then a radical hysterectomy with debulking surgery. It was all a bit traumatic at first because after that I had another three cycles of chemo and then 18 doses Avastin which I was given intravenously.
"My surgery was very successful and although I was allergic to the chemo, I think my body reacted very strongly to it, so it sounds crazy but maybe that was an advantage.
"By the end of the treatment I got CT scans and had no sign of cancer at all. I was given the Avastin to help keep it away.
"So although I didn't have a great start to my treatment, I feel pretty lucky to be alive, to be honest.
"I'm monitored every three months for at least a year, and they'll let me know after that, but so far, so good."
March is Ovarian Cancer Awareness Month. For more information visit www.targetovariancancer.org.uk
If you are worried or just need someone to talk to, call Target Ovarian Cancer's Nurse Advisers on 020 7923 5475.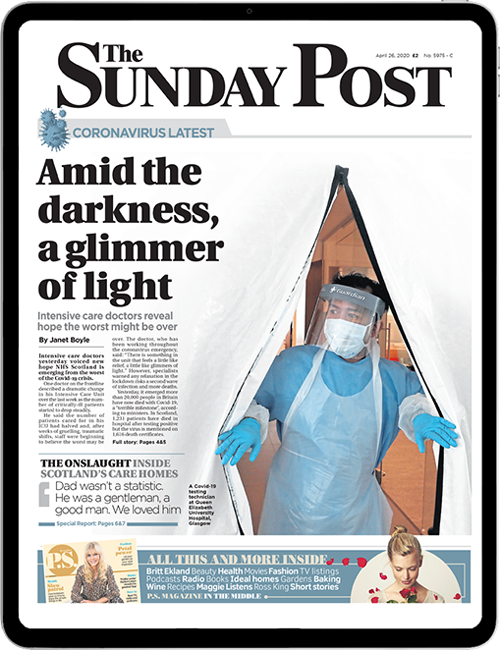 Enjoy the convenience of having The Sunday Post delivered as a digital ePaper straight to your smartphone, tablet or computer.
Subscribe for only £5.49 a month and enjoy all the benefits of the printed paper as a digital replica.
Subscribe