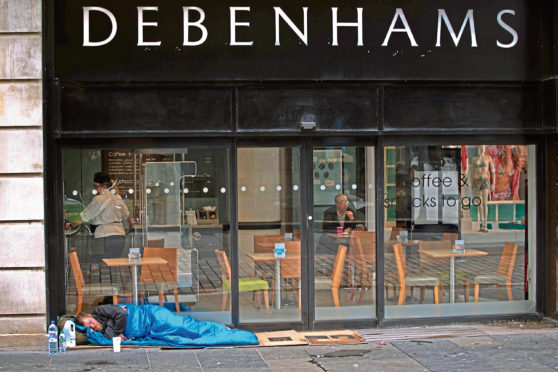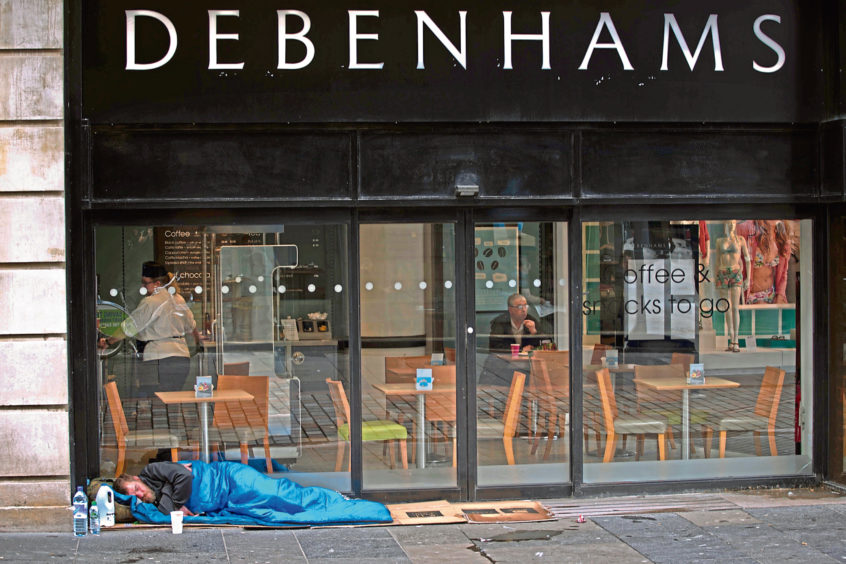 Campaigners have called for an urgent plan to ease the crisis of homelessness amid fears the end of lockdown will prompt a fresh emergency.
New safeguards for those at risk of becoming homeless and more social housing are being urged by experts warning of a "tsunami" of homelessness when Covid-related restrictions ends.
A report from the Scotland Prevention Review Group due out later this month on preventing homelessness is also expected to recommend more responsibilities are placed on local authorities to check people have a place to live.
There are also calls for more to be done to stop people becoming trapped in unsuitable temporary accommodation for long periods because of its potential to harm mental and physical wellbeing.
The Scottish Government last week published two "calls to action" on homelessness to give people the legal right to a safe, accessible home.
But there are concerns that pressure on support services could increase if people lose their homes once measures aimed at "holding back the tide" come to an end.
Homelessness organisations fear many people will have to endure lengthy stays in accommodation intended as a temporary measure. Restrictions limiting the length of stays in unsuitable temporary accommodation to seven days had been due to come into force last month and have now been put back to June.
Families with children and ­pregnant women are already protected by the time limit. But the Scottish Government has pledged that no one will lose the right to a safe place to stay after lockdown ends.
Already numbers of rough ­sleepers have begun to creep back up after being all but eradicated at the start of the pandemic, and frontline workers are trying to establish if there is a link to unemployment.
Relationship breakdown is the leading factor in homelessness, and lockdown restrictions may also have made it more likely that couples will split up.
Michelle Harrow, hub manager at Shelter Scotland in Dundee, said the surefire way to end homelessness would be for the Scottish Government to meet the charity's demand for 37,000 social housing properties over the next parliament. She added: "There's real uncertainty about what's round the corner post-pandemic, not just housing but employment, health, everything.
"It's so frightening. It must be awful not to have that safe, secure space to call home. Housing is a human right. What the pandemic has flagged up is that home has never been as important as it is right now. A hotel room is not a home.
"The pandemic has shown that good housing really is a matter of life or death, but it has also exposed the deep inequalities that exist within our housing and homelessness system. That needs to be addressed and rectified because if we don't it won't be long before we're on the receiving end of the fall-out of all of that.
"We're expecting a tsunami of people needing our help and going into homelessness and it's going to put even more pressure on an already pressurized system. We're going to be firefighting for a wee while yet."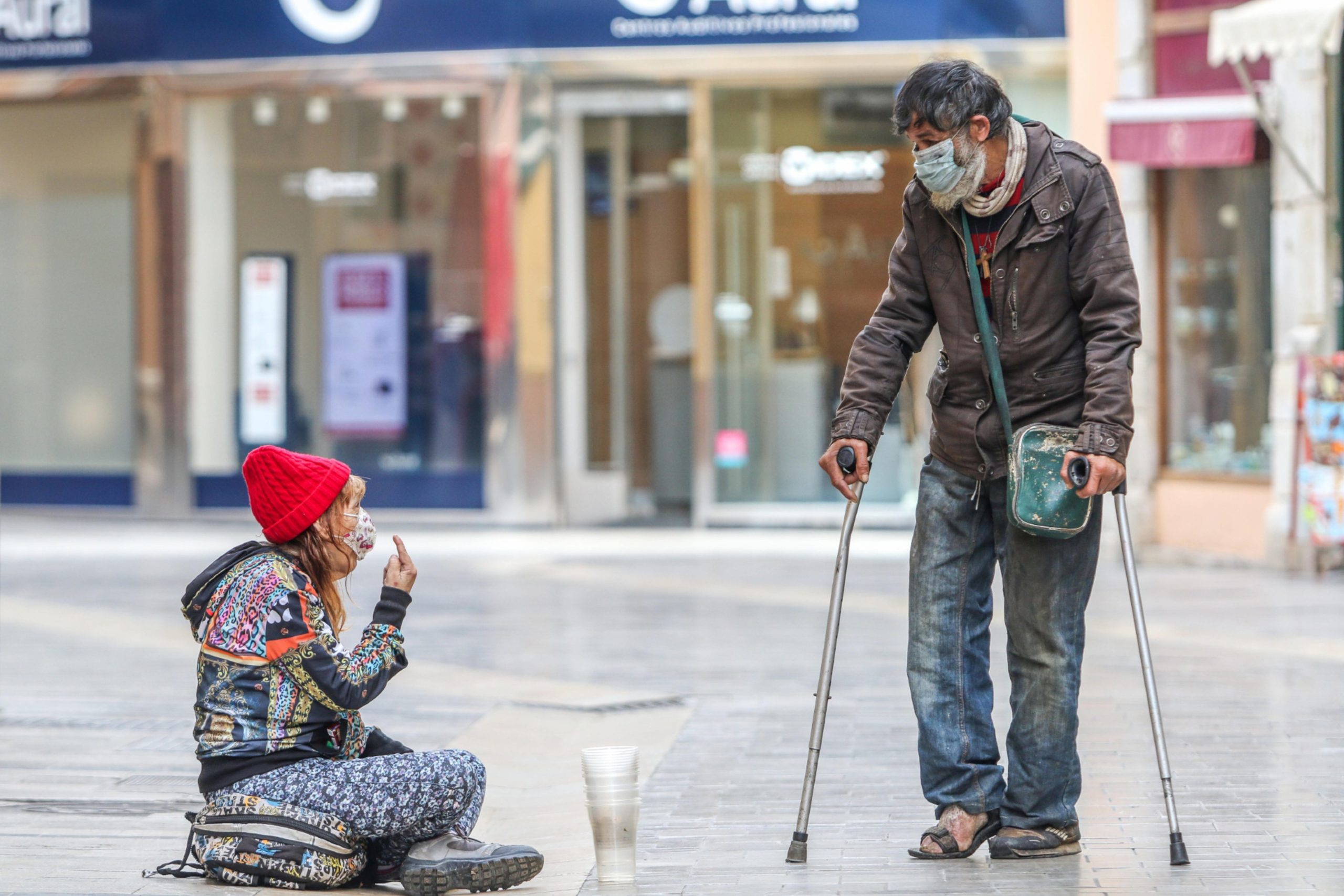 The charity Crisis has also studied the harm done by a "life in limbo" in temporary accommodation, where people have a roof over their heads but struggle with insecurity and fear of catching Covid-19 where they have to share cooking facilities.
Five Scottish "pathfinder" ­cities have trialled a system called Housing First, where priority is given to providing people with complex needs with safe accommodation first then ensuring they have the right support. It has been backed by the Homeless Network Scotland and Crisis Scotland, which believes that, in combination with prevention, it could help provide a way of ending homelessness.
A healthcare-style approach of flagging up people who are at risk when they come into contact with public-sector or support organisations is also being advocated by Crisis, much like NHS campaigns highlighting the importance of early diagnosis of illnesses.
Crisis set up the Scotland Prevention Review Group in 2019 at the request of the Scottish Government and is due to deliver its findings and recommendations this month. Among the themes examined by the group were housing and homelessness duties for improved prevention and the role of health and social care. Grant Campbell, director of Crisis Skylight Edinburgh, said: "We're nervous about the increase in unemployment, what will happen to our benefits system, people struggling with the loss of jobs or their hours are cut or wages are reduced. Undoubtedly, for those who are just closer to the edge of poverty it will have a knock-on effect and you may then see a move towards homelessness on the rise, which would be utterly tragic.
"It's the just-about-copers, if you're just about managing to make ends meet.
"Prevention must be key to all of this. It is always argued as by far the best thing you can do, not least because of the emotional and physical impact it has on people if you can prevent homelessness from happening. Also for the public purse, I think there's an argument that prevention is better than cure.
"The people we have worked with have had a touch point with some public body long before they became homeless and we didn't spot it early enough.
"Without doubt local ­authorities will have that question, that struggle, that ask over what money is going to be available.
"If we were to argue our corner hard with local authorities, even if things were squeezed we would still be trying to make the argument even with a reduced budget that it's still better to spend that money on prevention. That's better than the long-term human impact and economic impact of seeing an increase in homelessness."
Housing minister Kevin Stewart said the Scottish Government updated its "ambitious strategy to end homelessness last October and had committed £37.5 million to help councils implement rapid rehousing, including Housing First. He said: "Preventing ­homelessness is about more than finding somewhere else to live. People also need to be given the support and opportunities to move on with their lives, whether that's through mental health support or assistance connecting to the digital world.
"This requires a joined-up approach. The relationship between the Scottish Government, local authorities, the third sector and other public bodies has never been stronger, allowing us to target support at people at risk of ­homelessness much sooner."
---
Homeless people in Scotland's biggest cities are among those being put up in hotels during lockdown after Glasgow City Council moved to secure temporary accommodation.
Here, one of the homeless residents being put up at a Travelodge in the city described day to day during lockdown and his uncertainty about the future.
"I used to go on holiday like everyone else and I've stayed in hotels many times. I never thought I'd end up living in one. Not like this.
"It's surprising what you miss the most – a proper meal with a proper knife and fork on a proper plate. We're only given plastic knives or disposable plates and everything is heated in a microwave.
"I keep my room clean. They'll give you cleaning products or a loan of the vacuum cleaner. I try to take pride in the space I've got, but it's not much.
"The bed is comfortable but you can't get a good night's sleep. It's too noisy and there are people who are addicted to drugs or alcohol. Some of them trash their rooms or are abusive. You're always thinking something might kick off and sometimes it does.
"The staff check on you twice a day. It's supposed to be at 10am and 10pm, but it can be later if they've been sidetracked running around. People with addictions in here seem to get special attention. If you don't answer the door then they use a master key to come in and check you're all right. We call it the death check.
"People have collapsed from overdoses, and there have been deaths – not all down to drugs, a lot of people aren't in good health.
"I don't look too far to the future, I just try to get through each day but every day is the same. It's about survival and that's no way to live.
"It'd be easier to deal with if there was a time limit on it, but some people have been here for months.
"It's the darkest side of the city. It can sometimes feel like we don't exist as humans, just numbers, just forgotten numbers."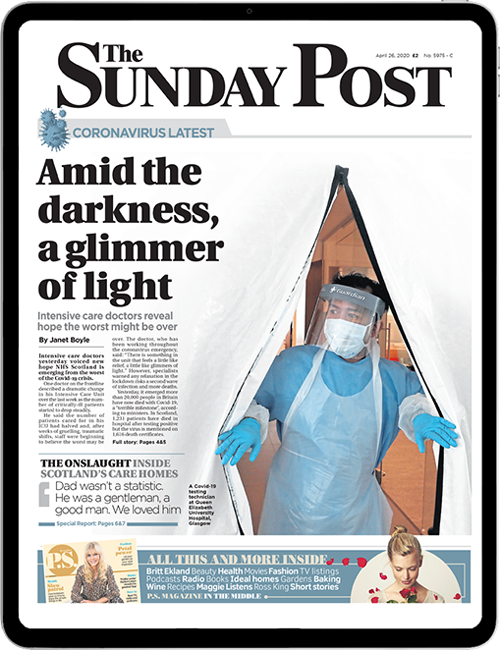 Enjoy the convenience of having The Sunday Post delivered as a digital ePaper straight to your smartphone, tablet or computer.
Subscribe for only £5.49 a month and enjoy all the benefits of the printed paper as a digital replica.
Subscribe