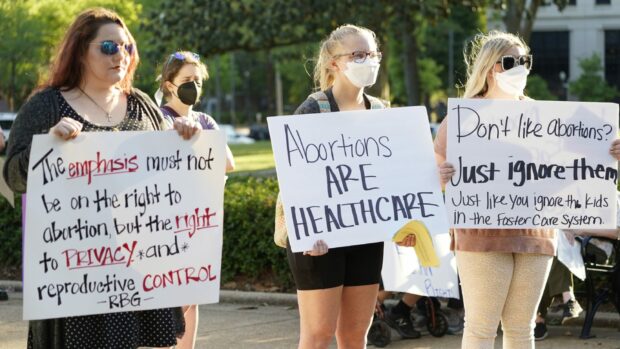 Five years ago I had an abortion. There was no hand-wringing or crippling guilt. I didn't feel ashamed or stymied by conflict. I didn't want to have a baby, and so made the decision not to dramatically and irrevocably alter my life while introducing a new one into the world.
The clinic nurse dispensed two tablets and within hours I was no longer pregnant. Relief flooded my bones. I have never once regretted it.
Isn't that as straightforward as it should be? Anyone who finds themselves pregnant but does not want to have a baby deserves access to the same, safe medical procedure.
Yet if – as a leaked draft opinion suggests – the US Supreme Court overturns the Roe v Wade ruling, which guarantees a person's freedom to obtain an abortion without undue restriction, millions of Americans could be denied essential reproductive healthcare. It's a sickening assault on what should be a fundamental human right: to control what happens to one's body.
And make no mistake, these draconian measures are entirely about control. I don't for one second believe those who seek to impose anti-abortion laws care about anything other than punishing sexually liberated women.
In fact, "anti-abortion", like "pro-life", is too anodyne a phrase for this. So how about we call it what it is? It is forced pregnancy, it is forced birth, it is – for many – forced parenthood. How can we possibly be here in 2022?
I say "we" because, when a global superpower is on the precipice of removing women's autonomy, the rest of the world sits up and takes note. Tarah Demant, Amnesty International's interim national director for programmes, advocacy and government affairs, has warned other countries could be inspired by America to adopt new restrictive laws or, in the case of places such as Poland where abortions are practically banned, to legitimise their pre-existing policies.
"You're looking at an emboldened anti-rights movement," she said.
Not that these forced-birth advocates require emboldening. We have already seen an increase recently in anti-abortion protestors picketing outside hospitals in Glasgow and Edinburgh while the Scottish Government has so far done nothing to stop them, despite calls for buffer zones to shield patients from offensive chants and placards.
"We choose life," read one, conveniently forgetting the embryo or foetus only exists because of the human sustaining it. So what about the life of the person seeking the abortion?
I'm not just talking about their mortality, though childbirth carries the risk of death, as does unsafe abortion where fatalities are common in countries where it is outlawed. I'm talking about what makes a life worth living: health, happiness, freedom and agency. When a person is forced to have a baby against their will, aren't they stripped of all these things?
Some anti-abortionists, such as the MP Jacob Rees-Mogg, are willing to make concessions for those who could die during childbirth. How generous. Others soften their stance for people whose pregnancy was a result of rape.
Even those who are pro-choice have a tendency to cite worst-case scenarios that would lead someone to a termination. Last week, the writer Caitlin Moran posted: "Here are the reasons why women seek abortions: 40%: lack of financial resources; 31%: abusive/non-supportive partner; 19%: emotional/mental health; 12% 'want a better life for the baby than she could provide'. 5% of all pregnancies are from rape."
Yes, for some people, one or more of these reasons apply but sometimes, for what I suspect is a silent majority, none of them do. One in three women in this country will have an abortion in their lifetime and not a single one of them need to feel they have to make their decision more palatable with a traumatic back story.
I had an abortion because I'm in charge of my own body. No other justification is required.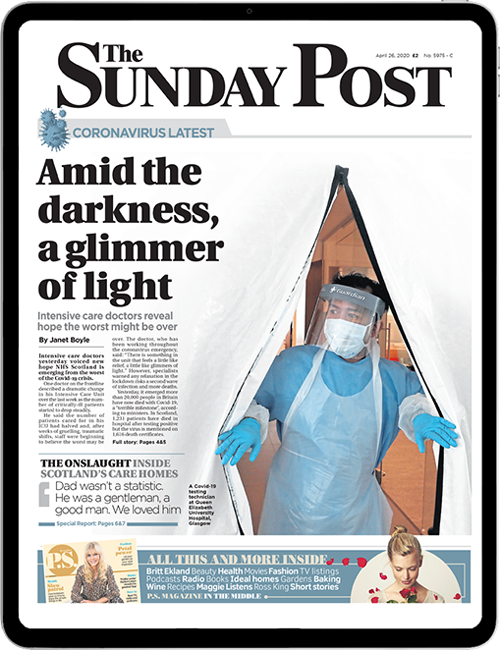 Enjoy the convenience of having The Sunday Post delivered as a digital ePaper straight to your smartphone, tablet or computer.
Subscribe for only £5.49 a month and enjoy all the benefits of the printed paper as a digital replica.
Subscribe