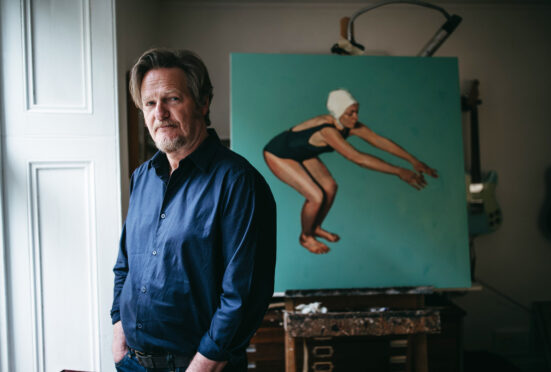 He has become a lost legend, a talent and voice silenced too soon after his death in 1997 at just 39.
Now an unheard song written by Billy Mackenzie, the singer of much-loved band The Associates, is to be heard for the first time, a quarter of a century after his death.
The lost tune had been partially written by Billy and his bandmate Alan Rankine in the 1990s, but was never finished. It will now, however, be heard for the first time on a new album by Steven Lindsay, former singer with The Big Dish.
Lindsay is to release his first new music in 14 years with new band Interlopers after stepping away from the record business to build a successful career as an artist, and the deeply personal song by the late, much-loved Mackenzie is the cornerstone of his new record.
Lindsay said: "Alan and Billy started writing this song a long time ago, but it was never finished. Alan and I had been working together on songs for a while, and he played me this song called Twins Of Gemini. They'd only written the first verse and the chorus, and it sounded great, but it was something they never finished. I told Alan I'd love to do something with it, so I wrote another verse and produced it."
The song, deeply personal to Mackenzie, who took his own life, now features as one of 11 on Lindsay's new album, giving The Associates' pairing of Billy and Alan another release, 32 years after their legendary band's last record.
"They're big shoes to fill," said Lindsay, at his home in Glasgow. "It was a challenge to try to do a good job with it, and I think we did. Billy's family have heard the song and like it.
"It's quite a personal song, and I'm trying to get the message and tone right. But I think we did, and Alan was pleased with it too. It's potentially tricky ground, but I think we did it justice. The Associates were my favourite Scottish band so I felt privileged to contribute to it."
As the frontman of The Big Dish, Lanarkshire-raised Lindsay's music career saw him live the dream, dropping out of Glasgow School of Art when things took off for his band, before spending five years writing and recording, releasing three well-received LPs and singles, including Miss America.
"One minute I was sitting in the house in Airdrie," said Lindsay, "and the next I was in [legendary Rolling Stones producer] Glyn Johns' house and he's producing a record with me. I was 22 and from Airdrie, so it was all a wee bit weird. But looking back, it was all great fun.
"Most of the memories from that time are positive, but you look back and wish you'd done some things differently. But it was a great thrill, even just to be walking up Ladbroke Grove in London to the Virgin offices knowing this was the building that XTC, the Sex Pistols and Magazine came to, and here we were part of that."
After The Big Dish split in 1991, Lindsay released two solo albums, Exit Music and Kite. He collaborated on songs with the likes of Lloyd Cole and contributed vocals to the recordings of Oscar-winning movie composer Craig Armstrong, a one-time Big Dish bandmate.
But he drifted away from the music industry, picking up a paintbrush and returning to the world he started out in. Lindsay said: "I went to art school when I left school, and that was a bit of a dream come true. But, looking back, we weren't really taught much, more left to develop. It was a great experience being there and being in the Charles Rennie Mackintosh building, but some of it was disappointing.
"When it came to record cover designs I was always involved in the artwork, always drawing and painting. It was maybe around 12 years ago that I started painting a wee bit more. My work ended up in a few exhibitions and it took off quite quickly and I ended up in exhibitions in places like Singapore, New York and Hong Kong. Before I knew it I was painting all the time, and hardly doing any music. It happened at a good time, because it was hard trying to make a living out of music when downloads started, maybe even more than it is now."
Lindsay was at art school with renowned Scottish artists like Alison Watt and Stephen Conroy and has now found himself invited to exhibitions of his oil paintings around the world, but admits he's "not very good" at schmoozing in art circles, a trait that has helped inspire the name of his new band.
He said: "I have a painting called Interloper and I always liked that imagery. I do feel a bit of an outsider, even in the art world. Maybe it's just me, maybe I never fitted in.
"Art is a similar discipline to music, when you think about the process of composition, and I like the idea of coming up with names of paintings the same way as coming up with names of songs. Music's more fun, don't get me wrong, you can tap your toes to it, but it's similar."
Lindsay will play his new songs live this week, with Interlopers supporting Deacon Blue at their gigs in Glasgow's Hydro and Aberdeen's P&J Arena. Early incarnations of Deacon Blue saw singer Ricky Ross work with musicians who would go on to feature in The Big Dish, and Lindsay notes the circularity.
He said: "When Ricky asked us to support Deacon Blue it was a great opportunity. They're a great live band, so I don't feel as if there's too much pressure on us, because we're not going to outdo them. But it'll be good to play in front of people and make them aware of the new songs. We'll play a couple of Big Dish songs, too. They still sound pretty good, so maybe we did something right."
---
Interlopers self-titled LP is out on May 27. The band support Deacon Blue at P&J Arena, Aberdeen, and OVO Hydro, Glasgow, on Friday and Saturday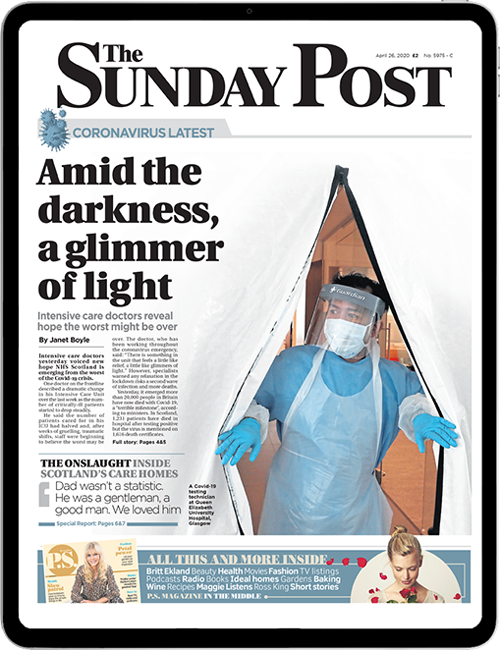 Enjoy the convenience of having The Sunday Post delivered as a digital ePaper straight to your smartphone, tablet or computer.
Subscribe for only £5.49 a month and enjoy all the benefits of the printed paper as a digital replica.
Subscribe