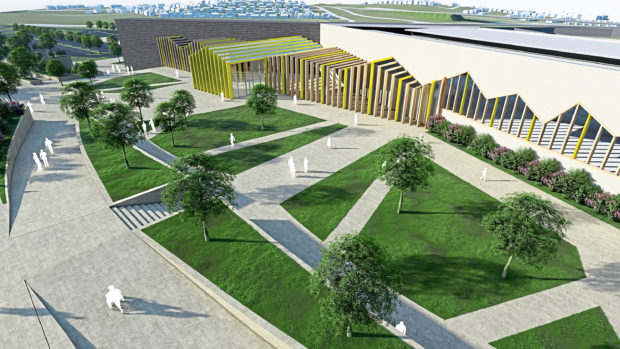 It could be mistaken for a ­college campus or business park, but this is the first picture of Scotland's new state-of-the-art super prison.
Due to open in five years, the sprawling complex in Glasgow will hold up to 1,500 criminals and include football pitches, tree-lined pathways, park benches and a cycle track.
The cells will be similar to budget hotel rooms, and communal education and activities areas will resemble a students' lounge.
The facility will replace HMP Barlinnie, which opened in 1882. Patching up the Victorian prison costs taxpayers thousands of pounds a year.
A new perimeter security system, new cell doors and frames, new showers and water tanks, and new boilers and heating systems are among the upgrades at Barlinnie planned for this year alone.
Scottish Conservative shadow ­justice secretary Liam Kerr said: "This shows the crumbling state of our prison infrastructure. A huge sum needs to be urgently invested in Barlinnie just to keep it fit for use. We need prisons to be fit for the 21st Century."
The Head of Corporate Affairs at the Scottish Prison Service, Tom Fox, said there has been record investment in the prison estate, with ­several jails refurbished or rebuilt.
He said: "We've seen a new Low Moss, redevelopment of Perth, Glenochil, Polmont, Shotts, Edinburgh. We're redeveloping Cornton Vale. All of those facilities are now fit-for-purpose 21st-­Century accommodation.
"Now, should Barlinnie have been tackled earlier? I suppose, in retrospect, yes it probably should have. But we need to keep it running for the time it will take us to go through the planning process for HMP Glasgow and to let the contractor build it."
A planning application is expected to be submitted to Glasgow City Council by the end of August, with a decision expected by the end of the year.
Barlinnie is expected to be bulldozed and the land sold to housing developers to offset costs.
The new prison is estimated to cost more than £100 million, although the Scottish Prison Service said it is too soon to put a final figure on it.
Mr Fox said: "There are issues around contractors' willingness to commit to prices for contracts where they're going to be doing work a year from now, or two or three years from now because of uncertainty in the marketplace about the prices of goods and services.
"I think a lot of these uncertainties will resolve themselves one way or the other once we know what Brexit looks like, but we don't know what it looks like at the moment."
The site, to be bought from National Grid, sits beside Provan Gasworks and includes the Grade B-listed gas towers. The iconic structures will be unaffected by HMP Glasgow.
The new prison will have a capacity of 1,200, but some bigger cells will give prison bosses the option to double up.
Barlinnie currently holds almost 1,500 criminals, many who are doubling up in cells designed for one person because the building capacity is just less than 1,000.
Mr Fox said: "What we're proposing here is a 1,200-place facility with a bit of flexibility to up that maybe by two or three hundred should we need it."
Planner Holly Gillingham, of Colliers International, said the building will be similar to a modern school or college, with soft lighting at the entrance and a cycle track on the perimeter.
She said: "This approach normalises the facility for both prisoners, visitors and the wider community."
Mr Fox added: "It's going to look like a college campus."