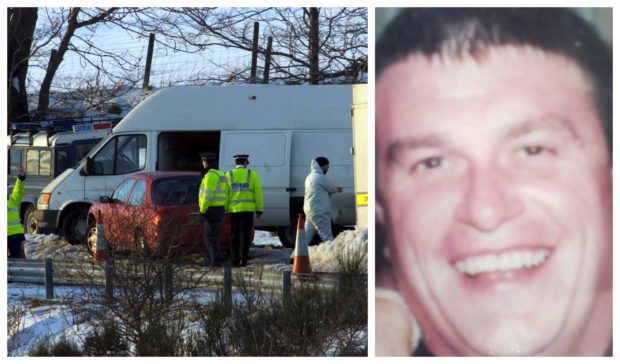 It was a lonely place to die.
At the bottom of an embankment beside a bleak stretch of the A96 in Aberdeenshire, the man's body lay undiscovered beneath a blanket of snow for nearly a week.
He had a gunshot wound to the head and nearby was the weapon that had killed him.
The grim discovery in February 2001 sparked an investigation shrouded in secrecy that touched upon the police in both England and Scotland, and involved some of the most feared gangsters in the UK.
Detectives at Grampian CID would eventually conclude the man had driven his 2.9-litre red Ford Scorpio nearly 600 miles from his home in East London to Cairnie, Aberdeenshire, and had taken his own life.
But it is only now The Sunday Post can reveal the full story – and the explosive claims from his family that he would never have taken his own life.
A secret report by police intelligence revealed the dead man was John Donovan, a 37-year-old gangster said to be involved in delivering cocaine from London to Scotland and who had close links to a notorious underworld crime syndicate.
But he was also, according to those closest to him, a happy ­family man who would never have contemplated suicide.
A cherished family photograph shows him beaming for the camera alongside his beloved wife Deana, who described her time with him as the "best time of my life".
Donovan's stepson Lee Armstrong said this week his family had always been convinced he had been murdered.
The 36-year-old, of Tower Hamlets, East London, said: "John was like a father to me.
"I was 18 when he died and him and my mum had been together for nine years, so we were very close. He was a great guy.
"He was well respected and I really looked up to him.
"I was devastated when he died. We knew back then he had been killed.
"It was never suicide. John was not the sort of person to do that. There's no way he would have done that. He enjoyed life.
"There was no malice in John. He was just him. He was a very nice person and his family meant everything to him."
Another family source added: "It's never been thought that he took his own life. I don't think Deana ever thought that.
"Nobody believed it."
But Donovan was associated with some of the most hardened criminals in Britain in the run-up to his death.
A secret Metropolitan Police intelligence report called Operation Tiberius featured both his name and death and revealed he was connected to a notorious crime gang, who at the time ruled the underworld in London's east end.
It stated that Donovan was involved in taking consignments of cocaine from London to Scotland with a violent gangland enforcer who was "believed to have ready access to firearms" and who was later shot in an assassination bid.
The top-secret document, which also detailed the corrupt links between the Met and organised criminals, was drawn up in 2002 and an unredacted copy was published online earlier this year.
And, crucially, it stated that, while detectives at Grampian CID were investigating Donovan's death, they were unaware he was on the radar of the Metropolitan Police's Special Intelligence Section (SIS).
The first officers on the scene on Friday, February 9, 2001, had been alerted after Donovan's car had been left in a layby for several days.
The red Ford Scorpio Ultima saloon, registration P366 CJB, was parked facing south, towards Aberdeen, beside a deserted stretch of dual carriageway.
On the other side of the road, 100 yards from the car and at the bottom of a treacherously steep slope, lay the bloodied body.
A sawn-off shotgun was found nearby. It proved to be untraceable and had not been used for any other shootings.
There was no note and there were no fingerprints on the gun, not even Donovan's.
One former senior officer at Grampian Police said the wintry weather at the time wiped out any forensic evidence at the scene.
The ex-detective said: "My recollection is that there was absolutely no evidence, physical or forensic.
"It had been wild, seriously wild. The conditions were so bad on that slope we were doing risk assessments to let people down. We even had to get the mountain rescue team in to get the body out."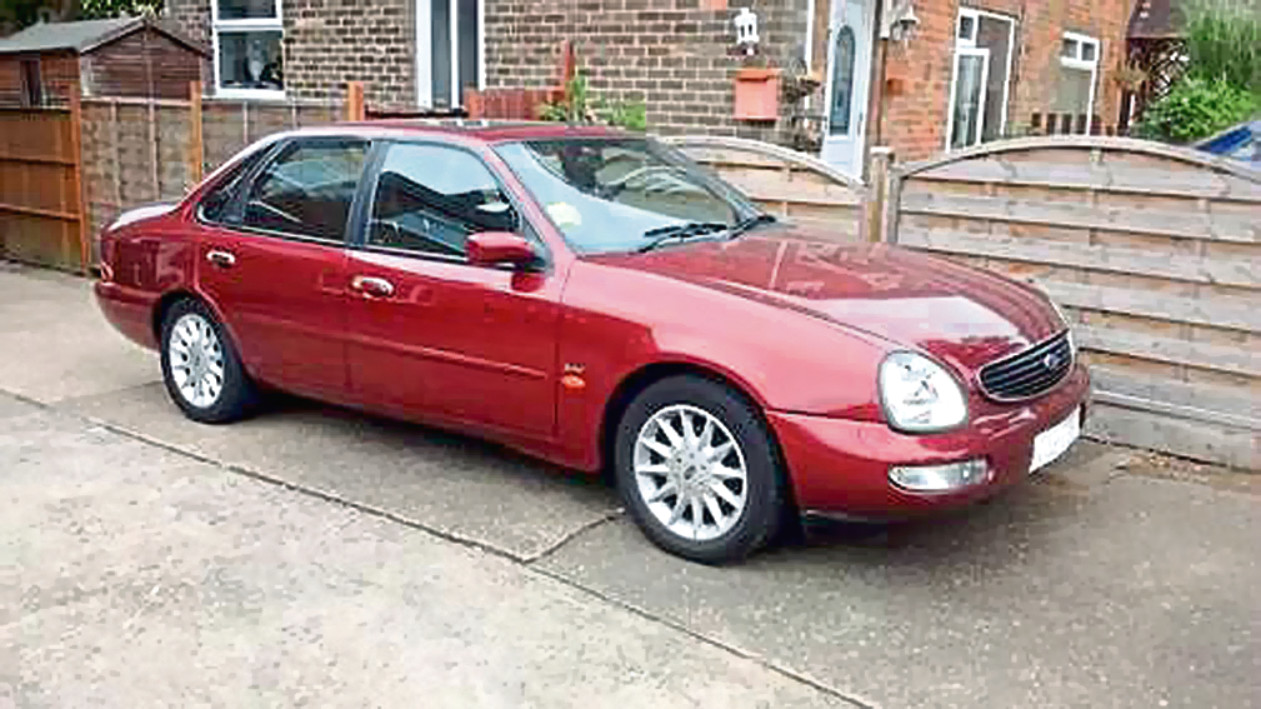 Appeals were made in local newspapers about three vehicles – a silver saloon, a red VW Golf and a blue Rover – sighted at different times in the layby near Donovan's car.
Police were also puzzled by the dead man's last movements. At the time police said he had been reported missing from his home the weekend before his body was found, and they were baffled by the remote location more than 40 miles north of Aberdeen.
Detectives from Grampian CID also travelled to London, where they found Donovan's widow to be "upset but quite pleasant".
They went to a gym connected to the crime gang and spoke to management, and also interviewed the underworld enforcer who had been linked to Donovan.
The Operation Tiberius report stated Scottish liaison was handled by a detective constable at the Met and Grampian officers "remain unaware of SIS interest in these matters".
It went on: "It is understood that Grampian CID eventually wrote off the incident as a suicide."
There is little further mention of Donovan in the report, though one throwaway comment states he "was shot dead near Aberdeen".
For those who worked on the case at Grampian Police, it still rankles due to a number of unknowns but they still feel it was suicide due to the lack of any evidence to say otherwise.
The former Grampian detective involved with the probe into Donovan's death said they had been aware of an organised crime link but had believed he was a "gofer".
Donovan was not known to police for dealing cocaine in the north-east of Scotland, and the drug itself was still uncommon there in 2001 compared to substances like heroin.
But the ex-officer said all theories would have been exhausted and no evidence had been found to point to his death being murder.
He said: "If he's had domestic issues, if he's getting grief because he's due someone a heap of dosh or lost drugs or whatever, yeah, maybe he did just kill himself and where better to do it?
"His mate was shot coming out of his house. Are they going to chase him (Donovan) to the back of beyond? Nah.
"There was just no evidence to even suggest there was a murder. There wasn't any evidence and if there isn't that then there's nothing you can do. You have nothing to investigate."
---
Mobsters' drug link to Aberdeen
The organised crime syndicate where John Donovan worked ruled London's East End underworld back in 2001.
The family-run mob ran a "large and ruthless criminal empire" with contacts across the UK, Europe and the Far East.
It was one of eight crime gangs named in Operation Tiberius as having associations with corrupt serving and former Metropolitan police officers and staff. Tiberius was a top-secret operation launched in October 2001 "to determine the extent of police corruption and its links with organised crime within East and North East London".
The 189-page dossier was published in 2002, and caused huge shockwaves when it was leaked first to newspapers and then online. It detailed how the gangsters linked to Donovan ran a boxing gym in East London. But they were also involved in large-scale drug importation, high-value lorry hijacking and money laundering.
The head of the clan was said to have well established links with drugs networks in Aberdeen and Glasgow, as well as the north and east of England.
The gang employed three men – John Donovan, Christopher Pearman and an unnamed man who was their "main enforcer" – to deliver drugs to Scotland. Just six weeks after Donovan's death, the violent enforcer was lucky to survive being shot outside his house in Tower Hamlets. Two .32 calibre bullets hit him in the face and neck, lodging in the roof of his mouth and against his spine.
Pearman was jailed for life in 2007 for a gangland assassination where a man was shot dead in front of his children.