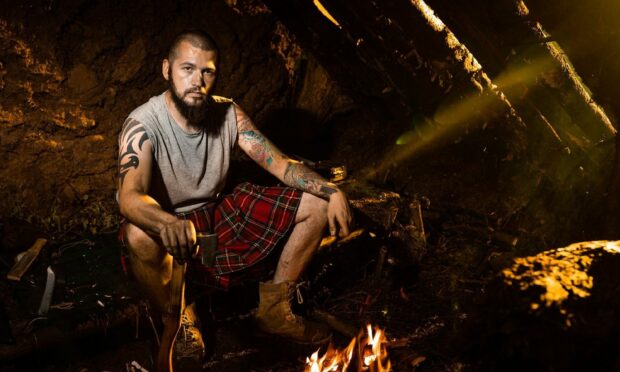 He cuts a lonely figure on Guyana's Rupununi River. Wearing only a kilt, Scots lifeguard Jamie Frizzell, 29, paddles his canoe deep into the South American jungle – one of the least-populated places on Earth.
Dropping his Stewart plaid to the bottom of the boat, he steps off and into the dense undergrowth, entirely naked and alone. With little more than a machete and a bow drill for fire, Frizzell must survive 21 days and nights with deadly snakes and man-eating big cats for company.
The bushcraft expert is the first from the UK to take on Discovery TV's Naked And Afraid challenge. In previous shows he has, with partners, already survived the African bush and experienced the worst the Peruvian Amazon could throw at him.
But, this time, viewers will see him do it alone. Naked And Afraid: Solo premieres in the UK on Friday. Frizzell's toughest challenge yet, it sees him comes face to face with a jaguar, right, endure flesh-eating insects and risk death from hypothermia.
In the competition to discover who can last the distance with the highest survival rating, the former Ayr Academy pupil and social media star – dubbed "the Wildman" – is pitched against seven other experienced survivalists struggling to endure three weeks in extreme locations alone, and relying entirely on their own abilities and will to survive.
Frizzell – who had to quit the Peruvian jungle challenge after just two days having fallen ill from dangerous insect bites before the solo expedition – is now back home by the beach in Ayr, where he lives with his disabled mum and greatest supporter, Joanne.
He laughed: "She even has posters of me on the walls! But my late great-granny Sadie Stewart Frizzell would be proud too. I wore the Stewart tartan going into the jungle in her honour. She would have been thrilled to see me doing this."
The bushcraft instructor tells viewers as he enters the Guyana jungle that he is there "to get redemption from Peru".
But even greater tests of his nerve and skill were to come. Reliving his night-time encounter with the jaguar, he told The Post: "I was lying by the fire and I heard a growling. Then I saw two glowing eyes. It must have been less than 30 feet away. I turned my camera on to look at it with the night vision. The jaguar was staring right at me. It knew exactly where I was. It could have taken me out in a second. I believe animals can pick up fear, so I wasn't scared and just stayed as quiet as I could, but I took my machete out so that I could defend myself, if need be. Ultimately, though, I just enjoyed the moment. I love animals, so I sat there and embraced the encounter.
"My scariest time came a couple of nights before the end of the challenge when it rained the whole night. The rain came right through my shelter and flooded the whole area, submerging the fire and putting it out."
Frizzell was lying on saturated ground in about 12 inches of water. His camera caught the whole experience.
"The rain was bouncing off me and the camera was still filming," he explained. "The next morning, I didn't remember much of it, but the producer, as he did every morning, came to take my diary-cam away and check the footage. A couple hours later, he came back and told me off. He said watching the footage was like witnessing someone in a submarine at the bottom of the ocean with 0% oxygen giving their last message to their family.
"He told me it was the scariest thing he had seen in any Naked And Afraid challenge and that I shouldn't have woken up that morning. I wasn't getting any warmth and I could have died from hypothermia. I should have radioed (for help). The team are always on hand in case of problems and take the health and safety of contestants extremely seriously."
After having his vital signs checked by medics, he was able to continue the challenge. However, he admitted: "I had been stupid. I didn't want to quit, I didn't want a repeat of Peru. But the production crew didn't see it like that. They were more worried about my welfare."
The competition, though, had its highs. "The greatest was when I caught a big fat catfish," he recalled. "I was really hungry and wrapped it up in a huge leaf and spit-roasted it over the fire. I had a papaya fruit to finish off. I ate like a king that day."
Frizzell doesn't remember a time when he didn't know how to set a fire, catch, clean, and cook a fish, or simply negotiate the outdoors safely.
"I've been taken into the great outdoors since I was old enough to remember.
"My family always took me camping and my dad and my papa (grandad) – who are both named Jim – showed me how to set a fire safely. My uncle Gordon taught me how to navigate through the wild and be outdoors safely. I caught my first wee fish aged three. My papa said I should put it back, but I insisted on eating it."
He was inspired as a youngster by TV survivalists Bear Grylls, Ed Stafford and Ray Mears and, at 18, took himself into the wild, photographing his adventures and eventually posting film footage online. "People started calling me 'the Wildman' and suggested I start my own internet channel. And that's how it all started," he said.
Little did the lorry driver's son realise it would propel him on to global TV. When he was first approached by the programme makers, he thought it was a prank.
"At the time, a lot of people were making quite a bit of money from social media, so I wrote myself a cheque for a million pounds," he beams, holding up the cheque as proof of his form of manifesting. "A month later the Discovery Channel contacted me and asked me to be on Naked And Afraid. I'd never heard of it before and when I saw the name, I thought my pals were trying to wind me up. But I looked at the cheque and said to myself, 'let's just go for it'. It was legitimate and I ended up being on the show. That was around November 2019."
Juggling the commitments of filming with his studies at Kilmarnock College, lifeguard training and his own Wildman expeditions across Scotland, single Frizzell completed all and hasn't looked back.
"It was a bit crazy, but I managed it and passed my college course in light vehicle maintenance and repair," he smiles.
"Naked And Afraid changed my life and gave me a bigger spotlight to showcase what I can do. It also put Scotland on the (bush craft) map because there have not been many Scottish survivalists on TV."
So, do the public recognise him with his clothes on? He shakes his head. "I don't really get recognised that much. But when I was travelling to Guyana I stopped at Trinidad airport where one of the female security officers noticed me from Naked And Afraid, and asked to have a photo taken with me. She asked me if I'd get naked.
"There were too many people around and I was embarrassed. But we had a laugh about it. Then, a few weeks ago, I went to my usual place for a haircut and the barber – who doesn't know much about me – asked if I was the Wildman from the internet. He said he saw a naked picture of me in the jungle from the show."
Wildman Frizzell's short-term aim is to take up motivational speaking in the UK and the US, while his long-term dream is to be in blockbuster movies in Los Angeles. He won't be leaving home any time soon, though.
He told The Post: "I love Scotland. I am connected to here. I have been asked if I would ever leave and move to LA by people I know through the show and I say, 'Scotland is my place, I'm going to stay'."
And what about that million-pound cheque? He grinned: "I'm still working towards the £1 million. I will get there one day."
---
Naked And Afraid: Solo airs from 9pm, Thursday on the Discovery Channel, and available to stream on discovery+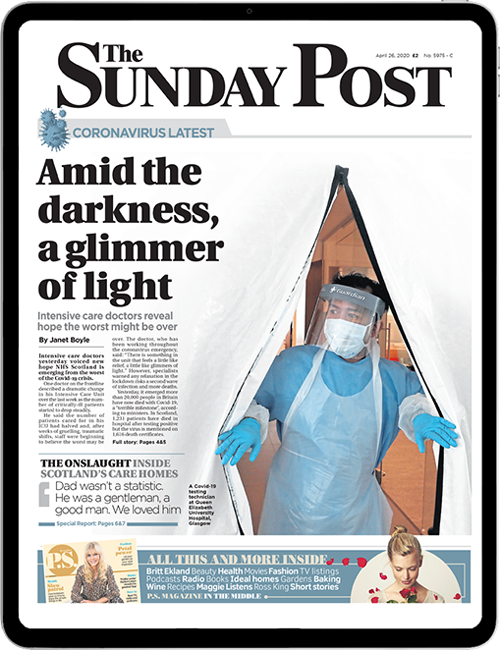 Enjoy the convenience of having The Sunday Post delivered as a digital ePaper straight to your smartphone, tablet or computer.
Subscribe for only £5.49 a month and enjoy all the benefits of the printed paper as a digital replica.
Subscribe