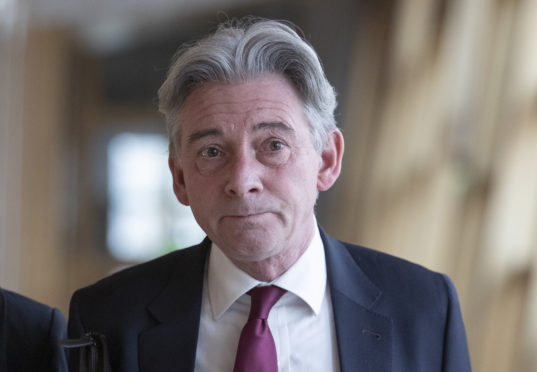 An emergency plan meant to shape Scotland's response to a pandemic has "glaring omissions", according to Scottish Labour leader Richard Leonard.
The Scottish Government has also been accused of failing to learn the lessons of Silver Swan, a major training exercise carried out in 2015 to test the country's readiness for a major influenza outbreak.
The four-day event, which involved 600 people from NHS boards and health and social care partnerships, resulted in a 27-page report which made 17 recommendations.
Scottish Labour leader Leonard said: "This report identified issues around the supply and distribution of PPE and the preparedness of the government in the event of a pandemic in 2016.
"Yet four years later, the very same government that commissioned it appears to have learned very little from this exercise. One recurring theme is the 'difficulties associated with fit-testing'. But given that NHS Greater Glasgow & Clyde has had to draft in the army to assist with fit-testing, it appears that not enough has been done to address these difficulties."
Mr Leonard also said there were "striking omissions" in the report, with no mention of the need for testing as part of a pandemic response.
He said: "The report states that PPE is only necessary 'for staff carrying out higher-risk procedures involving infected patients', whereas it is clear that limiting PPE has put health and care workers at risk of infection during the Covid-19 outbreak.
"This virus is not influenza, it is more like SARS and special contingency plans should have been made to better protect the elderly, not least the huge risk posed in residential care homes.
"If the government's planning was purely centred on an influenza outbreak, ministers should explain why other situations were not also considered. If the government also carried out other planning exercises for conditions more comparable to Covid-19, it should publish these reports too. Additionally, many of the recommendations seem weak and tentative given the potential severity of the situation being discussed.
He added: "The Scottish government should also publish the details of how each agency and sector involved responded to the report, and what changes were made as a result of it. The Covid-19 pandemic has impacted on everyone's lives, and thousands of families have lost their loved ones. The public deserves to know the truth."
Meanwhile, the UK Government has been urged to publish the findings of Exercise Cygnus, a three-day simulation carried out in 2016.
NHS doctor and campaigner Dr Moosa Qureshi told The Sunday Post: "It is irrational and indefensible to conduct a learning exercise to evaluate preparedness for an influenza pandemic, and then keep secret the learning points from that exercise."
The Scottish Government said: "The learning points from Exercise Silver Swan were circulated to all health boards, local authorities and regional resilience partnerships to be incorporated into ongoing planning for situations such as this.
"This included plans for distribution of PPE and prioritisation of key staff. Testing of patients is not routinely included in pandemic influenza exercising."