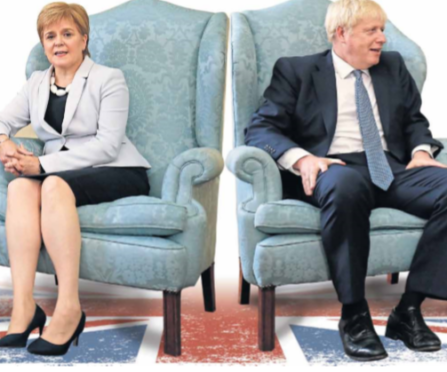 If a devious political mastermind were to write a masterplan for how to force Scotland from the Union, it would look pretty much like today's reality.
First, hold a referendum on a major constitutional issue, Brexit, that will determine the UK's global future for decades to come. Have England vote one way, and Scotland the other. The Scots, due to their much smaller population, are then forced to do what the English want.
Next, replace a mainstream Tory government at Westminster with an English nationalist administration that turns its back on the European continent, throwing insults and blame as it goes, and instead sucks up to Nigel Farage and a repulsive, far-right, racist American president. Commission polls that show English Tory members would rather keep Brexit and lose Scotland, if that were the choice. Allow the same people to install as PM an Old Etonian chancer who throughout his career has seemed more concerned with his own destiny than the good of the country.
Meanwhile, destroy the Labour Party, for decades many Scots' political vehicle of choice, by placing it in the hands of the extreme left, who then undertake a vicious witch-hunt to drive out moderate MPs and activists, and who give every impression that they could take or leave the Union.
Remove all Scottish MPs from positions of influence on both main parties' front benches, to ensure the nation gets the message its opinion is neither sought nor valued.
Next, involve the Queen in shutting down parliament so the English nationalist government can force through its Brexit plan at all costs, deal or no deal. This will make it clear that the entire UK establishment has been recruited to drive through a change that at least 62% of Scots do not want.
Finally, force from office the one Scottish unionist politician who has shown the talent, strength of character and broad appeal to take on the SNP hegemony. The one who might, in the final analysis, have made the difference.
Give all this a good swirl around, bake for a few years, and there you have it: the perfect conditions under which a majority of Scots might choose to walk away – might feel, for reasons of self-respect, that they've been left with little option.
The departure of Ruth Davidson as leader of the Holyrood Conservatives last week is a terrible blow not just to the Scottish Conservatives and to politics, but to the Union. Its potential consequences should not be underestimated. For the most doughty and persuasive champion of Scotland remaining within the UK to quit the field just two years before an election she had previously given every indication of relishing, should set alarm bells ringing.
It seems all but certain the Tory revival Davidson has overseen since taking the top job eight years ago will stutter and probably even go into reverse – though it may have been part of her calculation that this was likely anyway, due to the ongoing chaos at Westminster. She gave public life a shot in the arm – her unique mix of energy, wit, grit and up-for-itness was a breath of fresh air in a political scene that lacks big characters and front-rank talents. She gave the case for the Union something more than an argument about the GERS figures. She and Nicola Sturgeon were worthy opponents, each a match for the other's superlative skills.
It's difficult to avoid the suspicion that Davidson sniffed the air, examined the odds, and came to the conclusion that the battle, if not unwinnable, simply demanded more than she was able to give.
Sure, she wants to spend more time with her baby son Finn and partner Jen. Like many women, she found the return to work following maternity leave, and the strain of balancing home and work life, hugely difficult. The 24/7 demands and pressure on a political leader are particularly acute. But had, say, Amber Rudd or Rory Stewart won the contest to be Prime Minister, would Davidson still have walked away? No one knows but her. However, I hope she'll forgive me for saying I entertain doubts.
The stark reality is that a poll last month showed 52% of Scots now favour independence. This was of a piece with a series of surveys that have shown a gradual shift in opinion, and a softening of unionist sentiment, since 2014. Many of us will have anecdotal evidence to support this: friends who voted No in the referendum who, even if as yet unconvinced of the merits of independence, are at least now willing to consider the prospect.
It is hard, at present, to see what might arrest this drift – or who would act as its organiser-in-chief, its knight in shining armour, now that Davidson has stepped back. She might be the obvious person to lead a referendum campaign against independence – the next Alistair Darling, if you like – if and when that moment arrives.
But there's years of scrapping to be done before then, a lot of winning of hearts and minds, and the SNP and their pro-indy forces seem better placed and prepared for this battle than their opponents. Neither Labour's Richard Leonard nor the Lib Dems' Willie Rennie, nice men though they might be, have the necessary oomph. And none of the contenders to replace Davidson share the distinctive qualities that marked her out as a superstar.
This, then, is what Ruth Davidson leaves behind: an echoing gap, an absence that cannot but impact upon party and country. It feels like the opposite of a vote of confidence in the Union and denies Boris Johnson, that most English of men, the insight, guidance and surefootedness that Davidson brought to the Tory analysis of Scotland.
It's no surprise that, in the wake of her resignation, David Cameron felt compelled to issue a rare tweet, saying: 'When I called for more non-political people to get involved in politics in 2009 I couldn't have dreamed of a better candidate than Ruth Davidson. Her brand of fearless, forthright Conservatism has transformed our party in Scotland and we owe her an enormous debt."
Will the United Kingdom pay the ultimate price for her departure?
---
Chris Deerin is director of the independent think tank Reform Scotland
---

Leading historian: Legal but morally questionable? This is
how democracies die
One of the world's leading historians fears Boris Johnson's suspension of parliament could fatally weaken British democracy.
Timothy Snyder, a professor at Yale and author of On Tyranny: Twenty Lessons From The Twentieth Century, told The Sunday Post: "Every child can see that it is all about avoiding parliament considering the most important issue in British public life since 1939.
"It is completely obvious that the formal rule is being invoked in order to avoid a discussion of the greatest possible substance on the future and probably the existence of the UK.
"This is how democracies die. It is not usually a violent revolution or a coup d'état. It is usually people at the centre of the system doing something that is technically legal but in violation of the spirit of the law.
"It is absolutely textbook. This is the way German democracy died in the inter-war period. This is what authoritarians do. They find something that is technically legal then they push it well beyond the limits that were intended."
The Prime Minister's chief strategist, Dominic Cummings, is said to despise Whitehall conventions and traditions and said in a 2014 speech the civil service should be "an idea for history books".
Professor Snyder said: "Prorogation is not being used for its intended purpose, which was to help parliament to function. It is being used to make parliament dysfunctional.
"This is a typical authoritarian move. You use a system against itself and once you succeed people don't believe in the system. Then you can start saying we always have to govern by exception.
"This is an important moment because Britain is a parliamentary system and if you can do it in Britain then you can do it anywhere.
"Even if you believe Brexit is a good thing, you can't allow it to happen this way. You can't allow major decisions in public life to happen with normal parliamentary deliberation.
"There should be Conservatives who say, 'Yes, I would like to get to Brexit but I'm not willing to alter the British constitutional system in order to get there'.
"After all, the whole point of Brexit was supposed to be protect the British constitutional system.
"If you undo the British constitutional system to get there, what have you achieved?"
The academic, who studied at Oxford, has previously written that Brexit would lead to Scotland and Northern Ireland leaving the UK.
"Scottish independence has just been made much more likely than it was," he said.