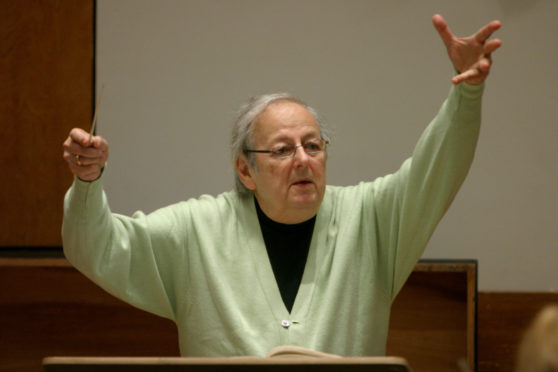 Andre Previn was a musical genius.
He was a world-class composer, conductor and musician and his broad reach took in the disparate worlds of classical music, jazz and Hollywood, where he won no fewer than four Oscars for his film scores.
But in Britain he will forever be known as "Andrew Preview" thanks to the legendary sketch in the 1971 Morecambe & Wise Christmas Show that ended with Eric Morecambe grabbing "Mr Preview" by the lapels and telling him he was "playing all the right notes, just not necessarily in the right order".
Previn, who died at the end of February aged 89, was born Andreas Ludwig Priwin in Berlin, probably in 1929 but he himself said he'd been born the following year.
His father was a lawyer, judge and music teacher and whilst all three of his children received piano lessons, Andre showed the most talent.
A musical prodigy, aged just six he was enrolled in the Berlin Conservatory but, despite receiving a full scholarship on account of his abilities, in 1938 his father was told Andre was no longer welcome on account of the family being Jewish.
That same year the family applied for American visas and, during the nine-month wait to receive them, the family fled Nazi Germany for Paris where Andre was enrolled in the Paris Conservatory before they finally sailed for New York, arriving in LA where Previn's father's cousin was music director for Universal Studios.
Andre became a naturalised US citizen in 1943 and taught himself English – his third language, alongside German and French – by reading comics and books with a dictionary, and watching movies.
Incredibly, he was hired by Metro-Goldwyn-Mayer as a composer, conductor and arranger straight out of high school in 1946, after their music department noticed his work for a local radio programme.
Previn said: "They were looking for somebody who was talented, fast and cheap and because I was a kid, I was all three."
His first official credit was for the 1949 Lassie picture The Sun Comes Up, which, hearing it years later, Previn described as "the most inept score you ever heard".
Previn was nominated for 11 Academy Awards, winning four before the age of 36 with his scores for Gigi, Porgy And Bess, My Fair Lady and Irma La Duce – he was one of only two composers to win back-to-back Oscars twice.
He received a record three Oscar nominations in 1961 and also picked up an impressive 10 Grammys for his recordings, as well as a Lifetime Achievement award.
So it came as something of a shock when Previn quit MGM to pursue classical music, wanting "to gamble with whatever talent I might have had", though he still dabbled in films until 1975's Rollerball.
His route into classical music actually began when he was called up for military service in 1950 and, stationed in San Francisco with the Sixth Army Band, he got private conducting lessons from the city's Symphony Orchestra's conductor.
In 1968 Previn became principal conductor for the London Symphony Orchestra and the Royal Philharmonic Orchestra and he'd also serve as musical director of the Houston Symphony, Pittsburgh Symphony, Los Angeles Philharmonic and Oslo Philharmonic orchestras.
When he turned his focus to jazz, he acted as a pianist-interpreter and piano-accompanist to all the great singers, describing himself as "a musician who plays jazz, not a jazz musician".
Previn was married five times, once to actress Mia Farrow, with whom he had three of his five children, but all ended in divorce.
He had great affection for his association with Morecambe and Wise and the classic sketch is 12 minutes of comedy gold during which time he's also called "Mr Privet".
The premise has him conducting a performance of Edvard Grieg's Piano Concerto with Eric ineptly tinkling the ivories, having been conned into appearing by the promise that Yehudi Menuhin would be the solo violinist.
Previn's musical commitments meant the only opportunity he had to learn his part in the show was in the back of the taxi taking him from the airport to the recording but his performance, playing it absolutely straight, gained him fulsome praise from Eric 'n' Ernie.
Because of the lack of rehearsals, much of the sketch was improvised, which was unusual for Morecambe and Wise.
On set, Eric was nervous about their guest star but he notably relaxed when Andre and Ernie had the exchange, "I'll go and get my baton", "Please do that", "It's in Chicago".
As TV executive Michael Grade put it: "Eric's face lights up, as if to say, 'Oh, yes! This is going to be great!'."
Previn later revealed he'd told the duo: "Make any fool of me you like but I won't have you make fun of the music.
"Eric was worried, too. I wasn't a comedian and he said, 'If anyone thinks we're trying to be funny, we're finished. We must act as though it's very serious.'"
It became one of Morecambe and Wise's best-loved sketches and Previn appeared as a bus conductor in the following year's Christmas special in a feature called "I worked with Morecambe and Wise and look what happened to me".
Years later, at a concert that included the Grieg Concerto, Previn had to pause the playing to allow the audience time to stop giggling after they recognised the music from the sketch, and admitted, "To this day when I walk down a street in London someone will shout out, 'Hey, Mr Preview!' Every single time."
Which is as good a tribute as any.