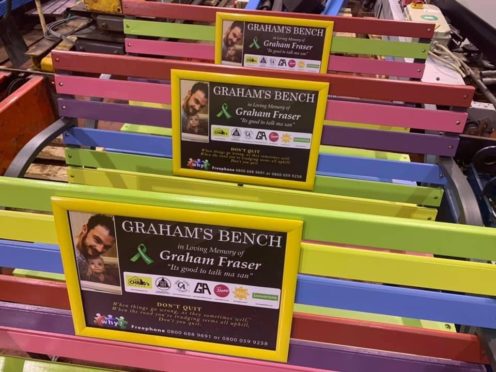 A number of multi-coloured benches have been placed around Lanarkshire in memory of tragic local man Graham Fraser.
The benches offer a space for reflection as well as advice and support numbers for anyone feeling low or considering suicide.
It comes exactly a month since the 27-year-old's body was found in woodlands in Wishaw, having taken his own life.
Graham's partner Natalie, 29, said: "We lost Graham a month ago today and unfortunately we also lost friends two years ago in the same circumstances. It's becoming a really bad epidemic just now.
"Graham's dad decided that he wanted to do something immediately to try to help the friends have something to focus on and to help the community as well.
"It's just something that's a bit different. Some people don't want to go into a building or speak to anybody directly so maybe they can just sit on the bench, there's the number there for Samaritans and our own foundation we've started up.
"It's enabling them to speak to someone if they are feeling low."
Natalie says they've already had a couple of calls from people using the benches over the weekend, who were directed to the support they needed.
The project has been organised by the WHY? Foundation, set up in Graham's memory, which aims to help anyone who is struggling.
In future, it is hoped the foundation can build up to a level where it can have a fund to help families in crisis or young people struggling to provide for their families.
But for now, the benches are a first step in helping to reduce the number of people who have to go through the experience that Graham and his family have gone through.
"It's lovely for my wee girl to grow up knowing that her daddy's benches are there and that he's still helping people even after his life," Natalie says of the couple's 18-month-old daughter Hannah. "It's a little legacy for her growing up."
As well as the distinctive colours, each bench features a "Graham's Bench" plaque with words of advice and contact information for the likes of Samaritans and the Scottish Association for Mental Health.
It also has a number which connects to the phones of Graham's parents, Angela and William Blackwood.
So far, 14 benches have been made with another seven more on order. The initiative has received plenty of backing from the community, with businesses able to buy their own benches for £100.
£60 goes towards building and painting the bench, with the extra £40 going towards the WHY? Foundation.
Benches are being placed in several locations throughout Lanarkshire, with Graham originally from Motherwell, Natalie from Shotts and their family home being in Wishaw.
"The wider the project the better," Natalie says. "Ideally we'd have them all over Scotland but we're taking baby steps just now, Lanarkshire first of all and then we'll reach out to other communities."
The idea behind the benches is particularly fitting for Graham, a well-loved figure in the area.
Family and friends say he was the type of person who would talk to a stranger if they sat down on one of them.
"He would never walk by a stranger," Natalie says. "We went to Blackpool last year with Hannah and we went right along the promenade. I think we went out with £200 in my purse and by the time we got to the end we had £100 because he gave to the homeless all the way along.
"He was the kindest-hearted guy you would ever meet. He'd sit down and speak to the homeless guys and reach out to anyone sitting in the pub themselves. Graham's also helped a lot of young guys in the area."
Across Scotland, suicides increased by 15% last year, according to figures released last month.
And the epidemic has taken a particularly devastating toll in the Lanarkshire area.
Natalie says: "It's so tragic but unfortunately the way young guys live in our area, they're healthy all week and then partying with drink and drugs at the weekend.
"For people with mental health issues it adds fuel to the fire, the demons that they can't deal with. We're trying to get across to the young guys."
Pictures of the benches have already been widely shared on social media, with an outpouring of support for the initiative.
Posting an image of one of the sites, family friend Graham Glover tweeted: "Sometimes you just need a breather, a seat to sit on and just stop for a second.
"Graham always took the time to talk to ALL strangers and it was him that inspired these benches, because he would have sat down beside anyone he saw sitting here and had a chat. That's the purpose.
"We are aware it's just a bench, but it has helpline numbers and a good message on it. If it helps one person it had done its job and Graham will live on through the vibrancy it brings to a bleak country riddled with a severe suicide problem."
---
In the UK, the Samaritans can be contacted on 116 123 and Papyrus can be contacted on 0800 068 4141. Breathing Space Scotland can be contacted on 0800 838 587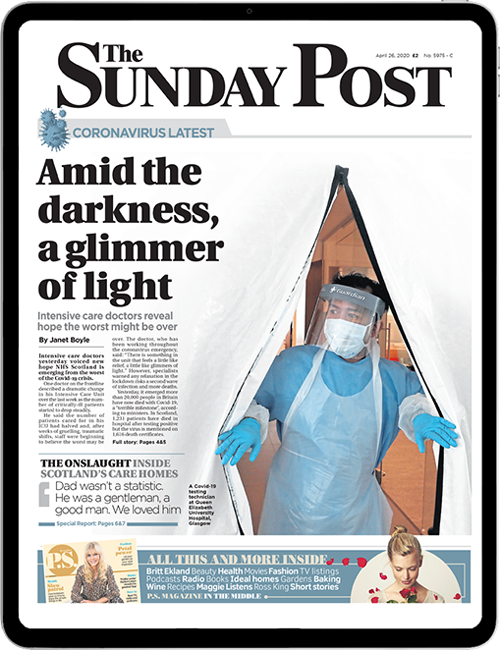 Enjoy the convenience of having The Sunday Post delivered as a digital ePaper straight to your smartphone, tablet or computer.
Subscribe for only £5.49 a month and enjoy all the benefits of the printed paper as a digital replica.
Subscribe