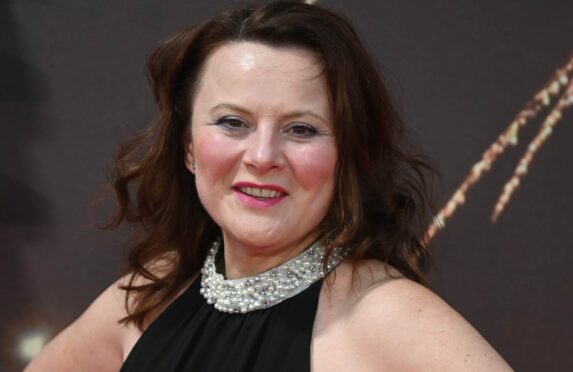 The tiny, yellow electric car seemed an unlikely vehicle for an epic road trip but, then, Eliza Doolittle was providing an unlikely soundtrack.
Monica Dolan, a familiar face from standout roles in countless dramas on screens large and small, and co-star Kelly Macdonald hit the road in new movie Typist Artist Pirate King.
But it was the star of My Fair Lady who provided the entertainment when the cameras stopped rolling.
"I knew all the words to the My Fair Lady musical and Kelly would encourage me to sing Wouldn't It Be Loverly in the car, which she found really funny," Dolan laughs.
She clearly relishes how all her roles bring something new. When she was shooting an Alan Bennett monologue for the BBC during lockdown, for example, strict social-distancing rules meant that she learned to do her own hair, make-up and lighting.
When she performed and wrote an award-winning one-woman show in Edinburgh, she left her Old Town venue with a fresh feeling of self-confidence. And when she wrapped her latest movie, she had acquired a new chum: Trainspotting and Line Of Duty star Macdonald.
The two actresses have a lot in common: both are in-demand, familiar faces on film and TV, and both are unstarry and unassuming off-camera.
"She is my pal of the year," says Dolan as she relaxes in her London living room and her handsome young husky Velma takes advantage of the interview to sneak up on to a sofa.
"I'd never worked with Kelly before. We only met for the first time just before filming. I had been shooting The Thief, His Wife And The Canoe for ITV right up until the last minute so we didn't sit down together until the night before our first scene, over a cup of tea."
Since the film is a road movie, the two actresses spent a lot of time cooped up together in a tiny yellow electric car, with Macdonald behind the wheel. "Kelly is a really good driver," confirms Dolan. "And God help any action vehicle person who tried to patronise her. Kelly is really in charge of her car and knows exactly what to do.
"We also talked about taking a little road trip on our own after filming and almost made it to Loch Lomond recently. I'm definitely up for it."
Typist Artist Pirate King had its UK premiere at the Glasgow Film Festival last week. The film is a road movie featuring forgotten artist Audrey Amiss, played by Dolan. According to her passport, she's "an artist, typist, pirate and a king". She's also a schizophrenic, although in the film Amiss prefers to be described as "avant-garde and misunderstood".
The real Amiss was a promising student at the Royal Academy of Arts whose time was cut short by a mental breakdown. "After her first year at the Royal Academy she was put in a lunatic asylum," says Dolan. "One of the questions our film poses is: 'would a man have been treated the same way?'"
The film also makes full use of access to a huge archive of Amiss's drawings, discovered after the artist's death by writer-director Carol Morley. The film-maker was so impressed by her work that she wrote Typist Artist Pirate King as a lightly fictionalised version of Amiss, relating parts of her life after she persuades a kindly psychiatric nurse (Macdonald) to drive her from London to her home city of Sunderland, where she hopes a local gallery will exhibit her work.
By this point, Amiss was in her latter years. Dolan is 53. "I've never played anyone that old," she admits. "I had to get up really early every day just to get into my wig and make-up. I think Carol was originally looking for an actress in her 70s but the role demands an awful lot of stamina, as I found out."
Sketching into the night and always on the go, much of Amiss's time was spent writing letters, sketching and recording her intense and colourful way of seeing the world. In the film, she sees beauty even in the design of a box of chocolate raisins and is enthused by the shape of a Quaver.
Before filming, Dolan immersed herself in Amiss's drawings and diaries and studied the different therapies and institutions that were available to Audrey during her lifetime. It's part of a meticulous process for the actress, who likes to hang characters on small details, from the glasses they might wear to the way they look at you.
This love of research may hark back to Dolan's Yorkshire upbringing, where she was surrounded by scientists. Her mother was a botanist, her father an engineer and her sister, who passed away in 2008, a mathematician at Imperial College London.
"We weren't a theatre-going family but when I got a tiny part in a school production, I found that I loved being on stage," she recalls. "Later I joined a drama group in Guildford called Act One. Apparently after I came back, I said to my mum: 'I've found my people.'
"My parents were very supportive. When I had to audition for a council grant for drama school, they practised the drive twice to the theatre where I was to audition so that there was no chance of me being late!"
Dolan went on to Guildhall School of Music and Drama, London, and cut her teeth in theatre, winning plaudits in productions such as The Seagull and The Taming Of The Shrew, then TV favourites such as Death In Paradise, Wolf Hall and Dalziel And Pascoe.
Dolan is also a playwright, who won The Stage Edinburgh Award for her debut play, The B*easts, about the pressures on modern children to look and act far older than their years.
"If you want to try something out, Edinburgh is the place," she says. "No one is doing it for the money. They want to make something, and put it out there.
"I was sharing a dressing room with eight blokes and a woman. While I was getting ready for my one-woman show, there was a small company who had just finished their show and would be getting dressed to go home. I saw people go through ups and downs; the company won a Fringe First which was exciting for them but another performer got two stars for a very personal show and you could see that was very upsetting. Being backstage with other performers is something I will treasure. I loved being part of that."
Another turning point was ITV's Appropriate Adult in 2011, a heavyweight drama in which she played serial killer Rose West, opposite Dominic West. It won her a Bafta and a host of new admirers.
An actress who doesn't shy away from risky choices, she's played stalkers and psychopaths, Shakespearean tragedy and the BBC's head of communications Tracey Pritchard in the acclaimed BBC sitcom W1A. "That left me a bit shell-shocked on my first day," she says. "It's so fast, and you have to be constantly on your toes. It is one of the most challenging things I've done and every member of the team makes mistakes. There is a lot of swearing off camera."
The only thing missing from her CV seems to be a blockbuster action movie. "Well I'd give it a go," she says, thoughtfully. "I'm not sure I'd like to do a lot of running, though. Perhaps I could be one of the Judi Dench characters, and sit somewhere comfortable back in headquarters."
The hits
APPROPRIATE ADULT
Monica Dolan has portrayed several real-life individuals throughout her acting career, including the notorious serial killer Rose West for the ITV drama which won her a Bafta. She remembers: "Apparently I really scared all the accountants at my audition."
THE THIEF, HIS WIFE AND THE CANOE
The four-part TV drama recalls the moment that Anne Darwin discovered her husband John had decided to trick the world into believing he had died whilst canoeing in the North Sea. The plan was to claim his life insurance and escape thousands of pounds of debt. Dolan did not meet Anne beforehand – "Anne didn't want to" – but the show is very sympathetic to her.
W1A
She showed off her funny side as fearsome communications officer Tracey Pritchard in the BBC's self-mocking sitcom starting every sentence with "Not being funny or anything…") It was also notable for her Welsh accent – which she steadfastly maintained even when the cameras weren't rolling.
WOLF HALL
The BBC's adaptation of Hilary Mantel's classic novel had no shortage of world-class actors, from Anton Lesser to Mark Rylance and Damian Lewis but in a few minutes she turned Thomas More's long-suffering wife, Alice, into a living, breathing, wounded thing.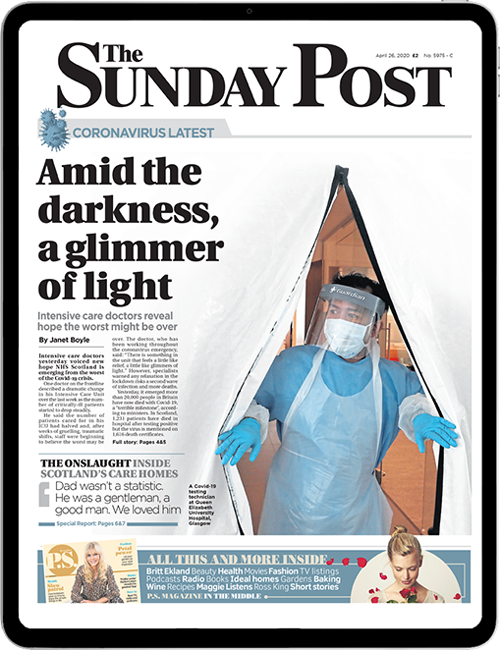 Enjoy the convenience of having The Sunday Post delivered as a digital ePaper straight to your smartphone, tablet or computer.
Subscribe for only £5.49 a month and enjoy all the benefits of the printed paper as a digital replica.
Subscribe