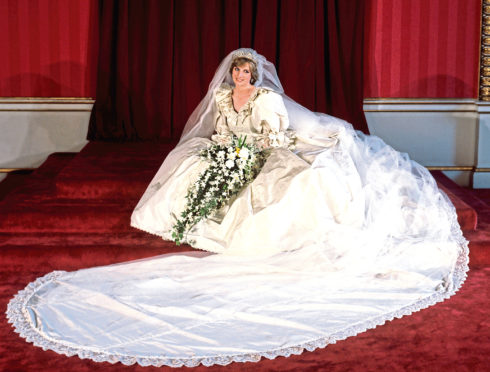 When Diana first met Charles, Prince of Wales, she was 16 and he was 13 years her senior.
At that time, November of 1977, he was dating 22-year-old Lady Sarah, Diana's big sister.
Just three years later, while Diana watched him play polo at a summer country weekend in 1980, Charles began to seriously think about Diana as a possible wife. He invited her on a sailing weekend to Cowes, aboard the royal yacht Britannia.
The trip must have gone well, as he then asked her to Balmoral.
You didn't get to meet the royal family at their Scottish bolthole unless things were getting serious but that is what Diana did in November of 1980.
The Queen, her husband and her mother were all taken with the shy Diana and she and Charles began going on dates in London.
With, of course, every royal correspondent and media snapper around hot on their heels and desperate for the merest titbit about their romance.
When he proposed on February 6 the next year, and she accepted, she must have felt like her feet still hadn't touched the ground.
As they sat on the news for a few weeks, keeping the engagement secret, Diana's head must have been spinning.
The official beginning of the engagement, therefore, wasn't until February 24.
Britain hadn't seen anything like this level of attention on the royals for a long, long time.
It seemed like the whole country fell for her just as Charles did and an incredible amount of time was spent focusing on the girl he would marry.
What she wore, how she had her hair, what jewellery she wore, where she went, who she spoke to, when they held hands, when they kissed, her past, her future, nothing about Diana wasn't analysed and scrutinised to the nth degree.
Not least, of course, as has also happened with Catherine, Meghan and others, the ring she received for her engagement.
Diana had chosen a big ring, with 14 solitaire diamonds around a 12-carat oval blue Ceylon sapphire, all set in 18-carat white gold.
Made by Crown jewellers Garrard, it was not unlike her mother's engagement ring.
In 2010, Catherine, Duchess of Cambridge, would have it as her engagement ring, and it must be one of the most famous rings of all time.
Diana also received a sapphire and diamond brooch as a present from the Queen Mother, but it was Diana herself who would always be the glittering star.
She would soon have to give up her kindergarten assistant's job, taking her out of the spotlight and moving for a while into Clarence House, the Queen Mother's home.
Then it was on to Buckingham Palace, where Diana would reside until the wedding.
She would become the first Englishwoman to marry the man first in line to the throne in hundreds of years. The previous was Anne Hyde, who in 1660 had married King James II.
Daughter of a commoner, and set to give birth soon after the wedding, many disapproved and they also disliked how he fawned over her and kissed her in public.
With Diana it was more a case of asking why Charles didn't do likewise more often.
Almost a commoner herself in relative terms, Diana was also the first royal bride to have actually earned a living with a paid job before the engagement.
All of which made it historic and intriguing enough, even before taking into account that she was a beautiful young woman who was able to talk comfortably to ordinary people.
A charity ball at Goldsmiths' Hall in March of 1981 would be her first public appearance with Charles, and Diana met Grace Kelly there, another girl who had made a living herself before becoming a princess.
Though Hollywood superstars earn more than shy kindergarten girls, of course.
It's tempting to wonder what advice the Princess of Monaco gave to the future Princess of Wales, but whatever it involved, Diana was able to start putting it all to good use after that summer.
It was on July 29 at St Paul's Cathedral that the wedding took place, chosen as it had more seats than Westminster Abbey – to be fair, if they had invited everyone who wished to be there, they'd have needed millions of seats.
More than 750 million people watched the fairytale wedding on telly, far more than had watched the first moon landing, for instance.
Another 600,000 watched with their own eyes, lining the London streets to get just a glimpse.
When she called her fiancé Philip Charles Arthur George, the wrong way round, it just made folk love her more.
When she left out the "obey" bit, she also put down a little marker.
Things were changing, and she might seem very shy and overawed, but there was a determined modern woman in there willing to challenge traditions and make her own rules.
Finally, someone was going to start modernising the royals, and she was someone millions of us could like and relate to.
The amazing, unforgettable day made her the UK's third-highest female in the Order of Preference, behind the Queen and Queen Mother.
She would later demonstrate this willingness to put her foot down, ignore tradition or protocol and demand that things be done her way.
Her sons, for instance, would not be sent off to some school where she barely saw them. That might have been good enough for royals of the past, but she wanted to be a proper hands-on mum.
That spirit and determination would also mean that Diana couldn't accept things when the marriage turned sour, but for now things were still pretty much a living dream.
Although they would divorce in 15 years, the troubles began within five, but in those early days there is no doubt Diana – and Charles – were very, very happy.
With homes at both Kensington palace and Highgrove House, all that was needed to complete the fairytale was the patter of tiny feet, and in November of '81 the news all royal fans wanted arrived.
As her husband and his parents would discover, the shy, blushing young lady would prove a stubborn woman when William and Harry arrived.
For now, however, there was a horrendous shock to come before the first baby – Diana fell down stairs at Sandringham, an incident she would later confess was deliberate, as she felt "so inadequate".
Relieved when the royal gynaecologist found severe bruising but the foetus uninjured, there was then a second pregnancy shocker.
The press managed to take photos of Diana, pregnant, in her bikini, an act that the Queen described as the "blackest day in the history of British journalism".
All of which was largely forgotten in June 1982 when baby William arrived to incredible fanfare around the world.
So much fanfare, in fact, that when Australian Prime Minister Malcolm Fraser suggested she should bring the baby with her on her first big tours of Australia and New Zealand, she agreed.
There was criticism from the media, support from mothers everywhere, and take him she did – Diana would never be told how to treat her sons and would base her lifestyle and duties around them.
The arrival of Harry in September 1984 happened at a time when Diana and Charles were at their closest, according to her.
Sadly, as you'll see in next week's third part of our Diana Years series, they would soon be anything but.