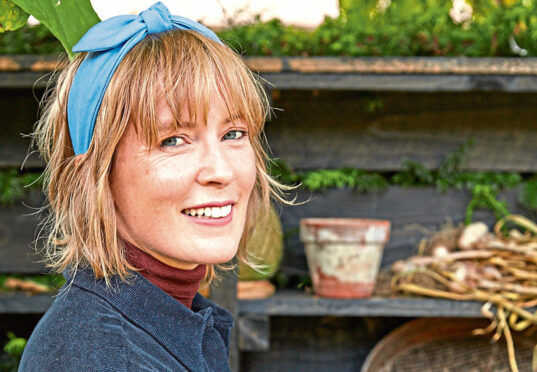 Whether diving her hands into the muddy ground to unearth creamy white leeks or carefully plucking plump tomatoes from the vine, Kathy Slack feels most at home in her vegetable patch.
Her love affair with sowing, growing and harvesting began when the former advertising director left the London rat race almost 10 years ago, finding solace in the neglected garden of her new countryside home.
What started with a few scattered seeds – and self-confessed "haphazard care and wandering attention" – slowly but surely grew into a new life, career and passion, all centred around the humble vegetable.
"When I was in London, it felt like I lived in my office tower block," explained Kathy, who relocated to the Cotswolds in 2012. "I didn't see nature very much at all, and it was only when we moved to the countryside that I kind of reconnected with the landscape.
"I know sounds really hippy woo-woo, but it really was quite profound. It helped my mental health, and just seeing that nature carries on regardless is really powerful.
"It really changes the way you cook as well. When you've grown the courgette yourself, the last thing you want to do is smother it with foams and frippery and sauces and nonsense. It feels so amazing to have grown this thing, and it's so fresh, just out the ground or just off the plant 10 minutes before you eat it.
"Honestly, all you want to do is maybe drizzle the courgette in some olive oil, add a bit of Parmesan and put it on a plate. It's quite a particular style but I find it a really relaxed, beautiful and convivial way of cooking."
Now, hoping to share the skills and knowledge she has gathered over the years, Kathy's first cookbook invites readers into her garden to discover 100 recipes made with 10 handpicked vegetables. From The Veg Patch, released earlier this month, features growing tips and cooking advice for peas, lettuce, courgettes, beans, tomatoes, beetroot, squash, apples, kale and leeks, all of which Kathy says are perfect for first-time gardeners.
She explained: "What I was trying to do with this book was pick vegetables that were my favourites and really tasty, but also relatively straightforward to grow if you're not a very experienced grower. I think the hardest vegetables in the book are probably leeks and tomatoes, which can be a little bit technical.
"Everything else is really straightforward, and also pretty good grown in pots, which was something else I wanted to accommodate, in case people don't have a veg patch. And if you don't grow your own, but do want to enjoy the bounty of various different seasons, the vegetables are also easily found in veg boxes, farmers markets and in supermarkets, too."
Although Kathy's detailed guide should help even the most novice gardener turn seeds into shoots, she is quick to say that trial and error is always at the heart of growing your own. She describes cauliflower as her own personal nemesis ("Maybe it's just me, but I think they're really tricky vegetables!") and admits the best advice she can share is to simply give growing a go.
She continued: "You are always at the mercy of the weather, and sometimes it just doesn't work. You can never learn everything, and even I feel like I'm still a beginner. I still make rookie mistakes! For example, this year, I planted our French beans way too early indoors and they're now climbing up the window frame to try to escape.
"Every year there's some catastrophe, but you just say, 'Oh well, I'll just sow them again' or 'Oh well, I can try again next year'.
"That's what I like about growing. It's very forgiving. Yes, there's a lot of nonsense talked about it, and it's really easy to get tied up in the types of water or soil you should use or whether you should have different feeding regimes for different plants. But, honestly, if you just whack them in the ground and give it a go, it'll probably be fine."
Picking a favourite vegetable, Kathy says, is much like choosing a favourite child but, when pressed, she leans towards fresh broad beans, picked when they are young in early summer. In her cookbook, they are mixed with ricotta for bruschetta, served alongside salmon in salad, and even stewed with asparagus to make a nourishing chicken broth.
Kathy said: "Broad beans are the only vegetable I can think of that does spring verdant sweetness, but also a kind of savoury tang at the same time.
"They are so fleeting in their season, but when they are young and sweet, you don't need to double pod them. They've got body but they've got vibrancy as well.
"Also, how comfy must they be in those lovely velvet pods? I would like to come back as a broad bean, I think."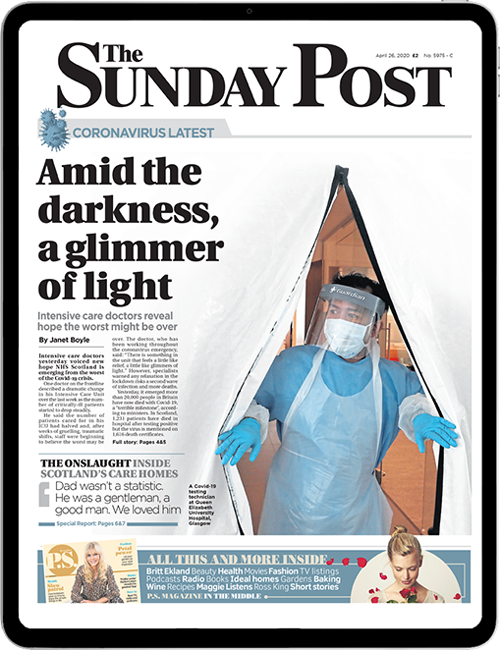 Enjoy the convenience of having The Sunday Post delivered as a digital ePaper straight to your smartphone, tablet or computer.
Subscribe for only £5.49 a month and enjoy all the benefits of the printed paper as a digital replica.
Subscribe