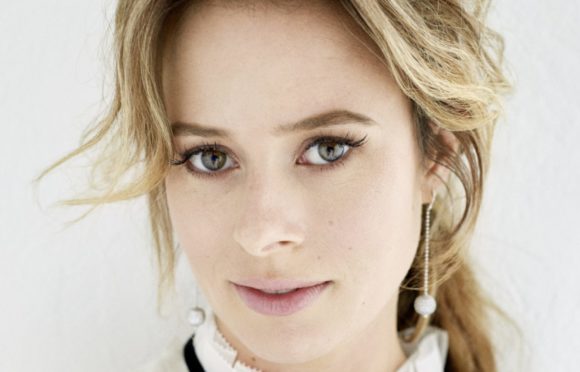 When faced with one of life's junctures, it's fair to say Camilla Thurlow has always thrown herself into the unknown.
Over the years, her friends and family have gotten used to her choosing the unexpected path, starting when, just 23, she packed her bags and moved to Cambodia to work with a charity, supporting the clearing of landmines.
But, after years living in some of the remotest and potentially dangerous countries in the world, Camilla made perhaps the most surprising (and by her admission, scariest) decision of all – she joined the cast of a reality TV show.
In 2017, having returned from working in Afghanistan, where she was deputy programme manager with the Danish Demining Group, Camilla was asked to appear in ITV's Love Island, the dating show which follows beautiful, young singletons as they attempt to "couple up" and find romance.
Swapping tents and temporary homes for a luxury villa in Mallorca, Spain, was something of a culture shock for the naturally quiet humanitarian, to say the least.
However, looking back, the 31-year-old admits the show was exactly the challenge she needed – even if the prospect of living with 10 complete strangers, while being filmed 24 hours a day, was more terrifying than any bomb she faced in the field.
"When I came back from Afghanistan, I felt very socially dislocated, and I wasn't sure what I was going to do next," explained Camilla, who grew up with her family in the Scottish Borders.
"I was trying to plan out my next move, and in the meantime the casting researcher from Love Island got in touch. At every stage of the process, I just kept thinking, 'Oh they're just humouring me'. I just couldn't see it happening. So, when they asked if I would be in the opening cast, I was 50/50. The thing that tipped me in its favour was that it was so scary, and I knew it was going to be such a big challenge for me – and my previous experiences had taught me that I should push myself."
For Camilla, identifying, safely detonating and clearing the debris left behind by war had become second nature. But taking part in a show so focused on forming relationships – something she admits she'd neglected while living abroad – came with no training.
She continued: "With explosive ordnance disposal, I knew what I was doing. I was trained to do it by the very best people, and once you have a procedure to follow you can do it correctly every single time. I always maintained a healthy level of fear because you're dealing with explosives – but that fear is what also makes you do your job right.
"But going into Love Island, there was no rulebook – no one could tell me the standard operating procedures. It was all about having to respond and react at the right time, say the funny thing, finish the joke or deliver the punchline correctly, and read social cues.
"By committing myself to my work, I lost a little of that life balance. I was able to retreat from social situations, and that meant I didn't challenge myself on that side of things for a really long time."
She added with a smile: "So, Love Island was seven weeks of relearning all of that, I guess." Naturally shy and modest, Camilla is hardly the archetypal reality TV contestant, but she has arguably become one of Love Island's most successful graduates. In the years since she was crowned runner-up in the third-season final alongside boyfriend Jamie Jewitt – with whom she is still in a relationship – she has forged an enviable career, and her memoir, released earlier this month, even debuted on The Sunday Times Bestsellers List.
Although Not The Type: Finding My Place In The Real World does share insider details for Love Island fans – mostly in the chapter entitled Imposter Island – the stories collected while working for The Halo Trust, a charity headquartered near her childhood home, are Camilla's most personal and revealing.
From her first journey to Cambodia to training in Zimbabwe and later living in Mozambique, Camilla was unintimidated by the enormity of the job or even the lifestyle change, which she described as "incredibly liberating" – if anything, the chance to stray from societal expectations only spurred her on.
She explained: "With Halo, I had grown up knowing who they were, knowing the work they did, and being in such admiration, it seemed impossible that I would ever work for them myself.
"When I applied, I knew I was a bit on the young side, so I thought they would say, 'Go away and do this and this and then come back in two years' time'. So, when I got my first job with them, I was just so overwhelmed with excitement.
"It didn't seem as scary as perhaps now it does in hindsight. When I look back, I was given three weeks to get myself together and then jump on a plane! It was a real eye-opener at a time where I needed my eyes to be open."
She added: "I've never really liked setting down roots anywhere. I've always much preferred to be on the move. And the most important thing at that time was that I had lived this straightforward lifestyle, and I could see my life going along this very steady path – but it wasn't making me happy.
"So, the idea of going somewhere else wasn't scary because I wasn't leaving anything that I had really truly built behind. I could see all the potential for life and lessons I could have, and that was more important to me. I was afraid of getting stuck where I was."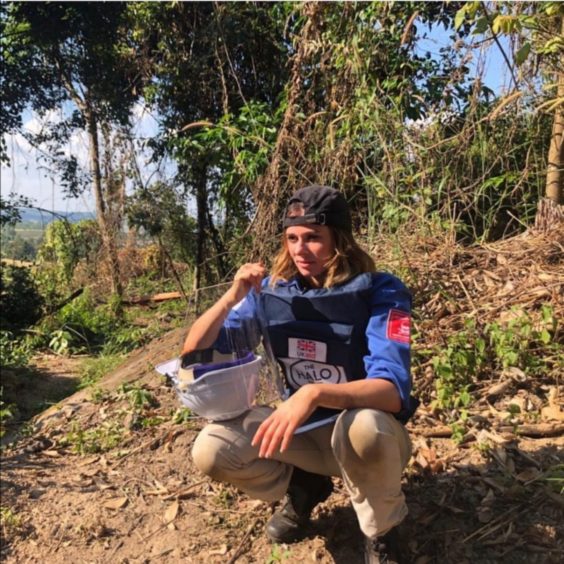 With her first baby due in October, Camilla has stepped back and revisited some of her achievements – and rediscovered the young woman who made so many unexpected choices.
"One of the things I find interesting about reality TV is that it is this snapshot of you at a particular moment in time," she explained. "I find it fascinating now, three years on, as I'm very different to who I was then – or at least I feel very different.
"That person is forever captured, and the book has done a similar thing. This time I had a chance to go back and revisit these younger versions of myself – and learn from her. She really was quite brave, and she definitely took more risks!"
And, knowing what she knows now, would she do it all over again, Love Island and all?
"I definitely can't say I wouldn't make the same decision because I know how much I've gotten out of the experience as a person. However, I couldn't do it now.
"It changed me as a person and I definitely learned a lot from the experience, but also from the changes that happened to my life afterwards. And there were positives and negatives to that.
"I'm grateful for having had that chance to grow and learn about myself. I do feel differently now about it all. But, at that time, it was the right move."
---
Camilla: It's life or death
Travelling to previously wartorn countries to clear and defuse landmines isn't your typical graduate job but, Camilla admits, she isn't your average woman.
Her journey began in 2015 with gruelling training in Nagorno Karabakh, a region in Asia, which she describes in detail in her memoir.
Living in communities blighted by the fear of landmines, Camilla says it was rewarding to see the difference she could make to everyday lives.
"A landmine can have been there for decades, and all it takes is one person to step on it for lives to be irreparably changed," explained Camilla, who returned to Cambodia with The Halo Trust in her 2019 ITVBe documentary, What Camilla Did Next.
"It can change the lives of their children, and continue to affect generation after generation afterwards."
She added: "Once a landmine is cleared, it's gone. It's a solvable problem, but it needs to be solved before that person has the accident – that's what's important.
"There's a real tangibility to landmine clearance, as you can see land that's been cleared being returned to use. And, obviously, every landmine destroyed represents a life or limb saved, so it was just incredibly fulfilling."
---
Not The Type: Finding My Place In The Real World, Camilla Thurlow, Metro Publishing, out now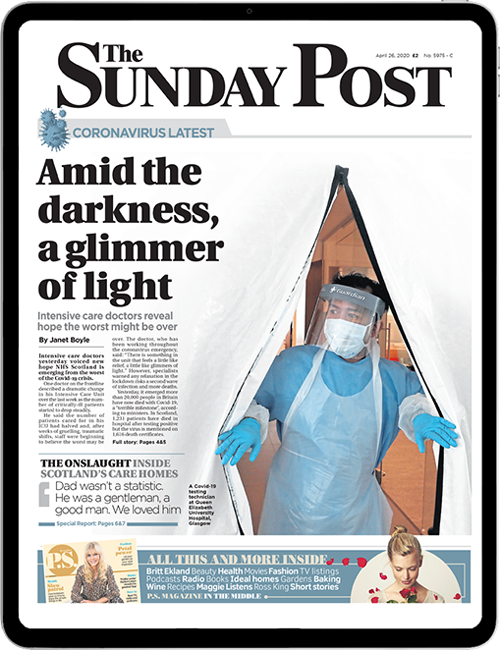 Enjoy the convenience of having The Sunday Post delivered as a digital ePaper straight to your smartphone, tablet or computer.
Subscribe for only £5.49 a month and enjoy all the benefits of the printed paper as a digital replica.
Subscribe