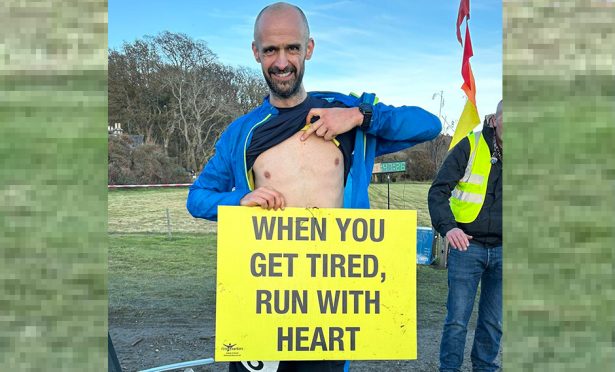 A dad who underwent life-saving surgery for a serious heart defect has won an ultra-marathon in The Highlands.
Mike Raffan, 44, was the last man standing in the endurance event, running 130 miles in 29 hours.
The cyber security manager at Aberdeen University survived a major heart defect which was detected in training for a marathon.
"I developed crushing pains in my chest and back while running uphill, but it was dismissed by the first GP I saw," he said.
"A second GP, who was also a runner, referred me to a cardiologist who carried out scans which revealed an artery was wrongly positioned in my heart.
"Most people only have it diagnosed at a post-mortem after collapsing and dying.
"Luckily, mine was signalled by chest pain on running."
The heart defect, an aberrant right-sided coronary artery, kills up to 90% of undiagnosed people at around 35 years of age.
"I was out of hospital in three days and dropped by at a running exhibition at the Scottish Exhibition Centre in Glasgow on the way back to Collieston, my coastal hometown. You could say my wife, Annette, is used to my dedication to running."
The mega race at Dunrobin Castle, Sutherland, last Sunday was the first ever Golspie Backyard Ultra-marathon.
It took place in the grounds of one of Britain's oldest continuously inhabited houses dating back to the early 1300s.
The Earl of Sutherland opened the grounds for the international event.
A total of 73 super-fit runners from all over the world competed.
"I had the enormous psychological boost of having had my heart repaired to A1 condition," said Mike.
"It was effectively a top medical MOT carried out before reaching the starting line.
"Running in the early sunset of the north of Scotland was made much easier with a head torch."
Rural GPs Dr Tom Mallison and Dr Ella Corrick and were on duty to attend to any medical emergencies.
Pre-hospital Emergency Care and Trauma specialist and local GP Dr Tom Mallinson said: "Mike has proved that he is an outstanding runner and his recovery from open heart surgery is testament to life after heart treatment.
"Exercise can put miles on your fitness throughout life."
Pit-stops of 10 to 15 minutes enabled him to take food and comfort breaks.
"My secret trainer is my five-year-old, daughter Flora, who has taken part in a 2k parkrun as well as a 5k run," Mike added.
The runners raised more than £1,000 for charity Highland and Island Blood Bikes who transport blood, platelets, surgical instruments and other vital medical supplies throughout the UK.
During his open-heart surgery at the Golden Jubilee Hospital in Clydebank, Mike's blood was collected and transfused back into him.
Nikki Harrison, a radiographer at Lawson Hospital volunteered to be one of the race directors.
She said: "It was an inaugural race which attracted a total of 73 runners coming from all over the world. This included Italy, Denmark, Germany and a Canadian woman even arranged her holiday around attending.
"Mike is proof that life doesn't stop after heart surgery and he is certainly a top runner in his field."
The Grampian dad had his surgery shortly before lockdown at the start of Covid-19 in 2020.
"I was lucky to be diagnosed before taking a serious heart event while running," he says.
"Anyone who experiences chest pain on exercise must seek medical advice. If I had ignored it, I probably wouldn't be here today."
He is now entering his 14th year as a long-distance runner.
Research shows that staying fit can make recovery from surgery faster. Young military athletes undergoing major shoulder surgery have a high rate of early return to running, says research from the US.
Approximately 60% of patients report the ability to run a mile three months after surgery and 75% at just over four months.
The marathon is held in the beautiful grounds surrounding Dunrobin Castle which sits off the A9 in Sutherland.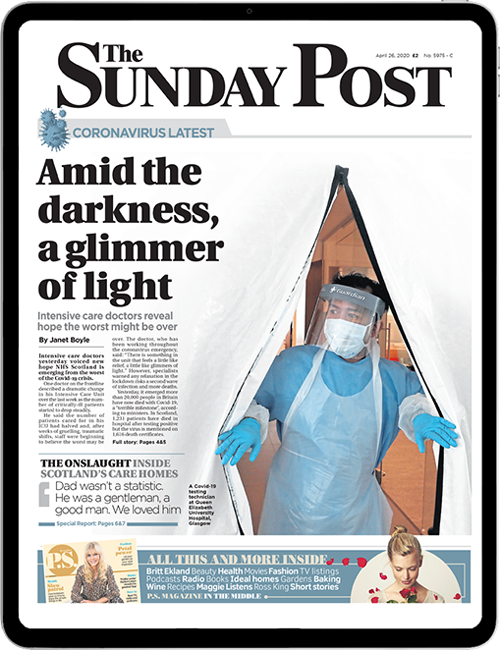 Enjoy the convenience of having The Sunday Post delivered as a digital ePaper straight to your smartphone, tablet or computer.
Subscribe for only £5.49 a month and enjoy all the benefits of the printed paper as a digital replica.
Subscribe