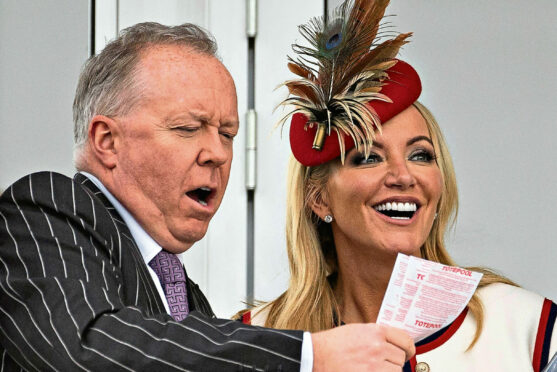 A £10 million property empire in one of Scotland's most exclusive postcodes built by companies linked to Michelle Mone and her husband is set to rise in value as the townhouses are converted into flats.
Estate agents suggest the value of nine townhouses and flats in one salubrious street have risen in value by £1m after being bought by firms linked to the couple during a 20-month property spree.
The buying blitz in exclusive Park Circus, in Glasgow – including a £3m spree on a single day – was mounted by three firms co-owned by Mone's husband Doug Barrowman's Knox business group soon after another company linked to the couple won £200m worth of government contracts to supply personal protective equipment (PPE) in the early days of the pandemic.
PPE Medpro banked £203 million of taxpayers' money for hospital gowns and masks in 2020 after Tory peer Mone lobbied Conservative ministers for the brand-new firm to be put in a so-called VIP lane, a fast-track to win Covid contracts. The lingerie tycoon-turned-interior designer denied having any link to the company. However, leaked paperwork suggests it paid Barrowman, another Scot, £70 million "profit" after winning the contract. He immediately put £29 million of that into a trust benefiting Mone and her children.
One townhouse in Park Circus, an exclusive enclave in the city's West End, has already been converted into luxurious flats while planning permission has also been won to turn another into five apartments. The property development projects, on top of recent rising real estate prices, are likely to generate seven-figure profits for the firms, according to experts.
Park Circus was built in the mid-19th Century, near Kelvingrove Park, and has become a hilltop haven for some of the wealthiest Scots. One of the priciest streets in the country, the properties are highly prized, either as townhouses or luxury apartments, popular with Old Firm footballers and millionaire business people.
One estate agent in the city, specialising in high-end properties, said the Park district is a good investment for those with enough spending power, and prices may have risen by up to 10% since the firms linked to the Tory peer and her husband bought them, adding £1m to their value.
He added: "There has been a huge transformation there in the last 20 years. In the 1960s and 70s, a lot of the townhouses were turned into offices. But we are now seeing them reverting back to residential. Park Circus is close to the city centre, yet it's quiet, has excellent parking and there's green space too.
"It's popular with highly-influential people in business and sport. Property values range from £750,000 for an apartment to £2m for a townhouse and rental values can be as high as £5,000 a month.
"The market has been extremely buoyant for the last couple of years. We're now in a period of transition but Park Circus is one of those districts that will withstand headwinds when there are tough times in the wider economy."
The Lords Inquiry: No need to register business interests after taking leave of absence from House
Between December 2020 and August last year, three firms registered on the Isle of Man bought nine townhouses and flats in the same street in a £10,025,000 spree.
New declarations to Companies House show the trio of limited companies – Bagshaw, Praeban and Breck – are all co-owned by Knox House Trustees – part of Barrowman's corporate interests – and Soldaldo, based in the British Virgin Islands, a tax haven. Knox also includes Mone's interior design venture specialising in refurbishing luxury homes.
The National Crime Agency last year raided the couple's home and Knox offices on the island as part of an ongoing investigation into the PPE Medpro contracts. The couple deny any wrongdoing.
The contracts came after Mone reportedly lobbied procurement minister Lord Agnew and Cabinet Office chief Michael Gove in May 2020, promising she could use her connections in Hong Kong to bring in PPE to help the NHS battle against Covid. Days later, PPE Medpro was set up by Anthony Page, a business associate of Barrowman's.
The Department of Health then struck an £81 million deal with the company in May 2020 for 210 million masks and, a month later, £122 million for 25 million gowns. Leaked HSBC bank documents obtained by The Guardian allegedly show £70 million – £65 million of it designated as "profits" – was paid into a trust benefiting Barrowman in September 2020.
It's claimed that £45.8m was then transferred on to Glasgow-born Barrowman's personal bank account, before £28.8m was moved in October 2020 to a second trust set up for Mone and her children. A further £3 million was reportedly sent to another account she held with the private bank Coutts.
The government recently launched legal action to reclaim £122 million from PPE Medpro as the equipment it supplied was defective. Mone is also being investigated by Westminster standards watchdogs over her alleged failure to declare the company in her register of interests. She has stepped down from the Lords to clear her name over the claims.
Ministers feel the heat as Michelle Mone's pandemic spending spree is revealed
The Lords probe has been suspended until police conclude the inquiry into PPE Medpro.
Last March, AML Tax (UK) Ltd, part of the Knox group, was fined £150,000 for withholding records needed to calculate tax bills and, in December, it emerged Barrowman has been charged with a tax offence in Spain. Prosecutors in Santander confirmed they will be seeking custodial sentences for him and six other executives if convicted.
In the months after PPE Medpro won the Covid contracts, the couple wed and enjoyed a luxurious honeymoon on the Maldives, and promoted an office complex in Aberdeen in which they planned to invest £18 million. Barrowman, 57, spent millions on a private jet and yacht while Mone, 51, treated him to a racehorse. The yacht bought as part of the couple's spending spree – named Lady M – recently went up for sale as did a £20 million townhouse in Belgravia where she lives but which is also co-owned by Soldaldo.
Last week campaigners tracked down the yacht and renamed her "Pandemic Profiteer". The group Led By Donkeys affixed a new name to the vessel while it was moored in a marina near Barcelona, Spain.
During the couple's spending spree, Knox companies were also investing heavily in Glasgow property in the wake of the PPE Medpro deals. In December 2020, Bagshaw Ltd bought No 19 – the former headquarters of the charity Scottish Catholic International Aid Fund – for £1.7 million. Last April, it won planning permission to turn the four-storey townhouse and mews house into five luxury apartments, with work yet to start.
A month later, Bagshaw snapped up No 15, also for £1.7m. Permission to convert it into two luxury apartments was granted last spring by Glasgow City Council. Now freshly refurbished with under-floor heating, one of them – a "truly stunning" property – has just been made available to rent with tenants having to pay £3,500 per month.
In May 2021, £3.35m was spent on Park Circus properties in only 24 hours. Breck took a flat at No 6 for £1m, meanwhile, Praeban bought all three apartments at No 20 for a combined price of £2.35m. August 2021 saw Breck fork out a further £875,000 on a flat at No 7.
Then, last March, the same company spent £1.2m on the lower apartment at No 6, where Mone lived previously between 2013 and 2015. The final purchase was as recent as last August when Praeban took a flat at No 5 for £1.2m. Mone's three children have also bought Glasgow properties worth £3m since summer 2020.
Mone has previously spoken of her love for Park Circus as it was where she rebuilt her personal life following the split from her first husband, Michael. At the time, showing Hello! magazine round the apartment at No 6 she had renovated, she said: "It's very, very special. I never, ever thought I would do a Hello! photoshoot in my family home, but I'm absolutely delighted that I did.
"I hope that it shows that if anyone out there is going through tough times that there is a new beginning – and this is my new beginning."
She added: "I really would love to get into interiors. I have that bug so who knows? Watch this space."
After selling the apartment for £1m – and a £220,000 profit – she launched both Michelle Mone Interiors and MMI Global in 2016, targeting "high-net worth individuals". She holds a minority stake in both firms, with Knox companies the majority shareholders.
In 2017, she told London lifestyle magazine Belgravia that the venture would now be her sole focus. She said: "I have developed two of my own homes and I'm passionate about interiors. We're a different design company. We have architects in-house, the fabric designers are in-house for bespoke fabrics and the furniture designers are in-house to make custom-made furniture.
"We stand for high-quality, glamorous but sophisticated design, bespoke for the individual."
Yesterday, after reviewing the detail of the property deals in Park Circus, the SNP said: "A few months before doing these multi-million pound property deals, this couple allegedly banked £70m of public cash, profits, apparently, from a £200m PPE contract.
"The PPE scandal is simply more proof that broken Britain is run for the financial benefit of those at the heart of the Westminster establishment at the expense of everyone else."
Mone did not respond to our request for a comment on the Park Circus purchases, but her lawyers have previously denied that any of the purchases were paid for directly or indirectly from PPE Medpro profits, describing such claims as "speculative guesses". The Knox group was also approached for comment but did not respond.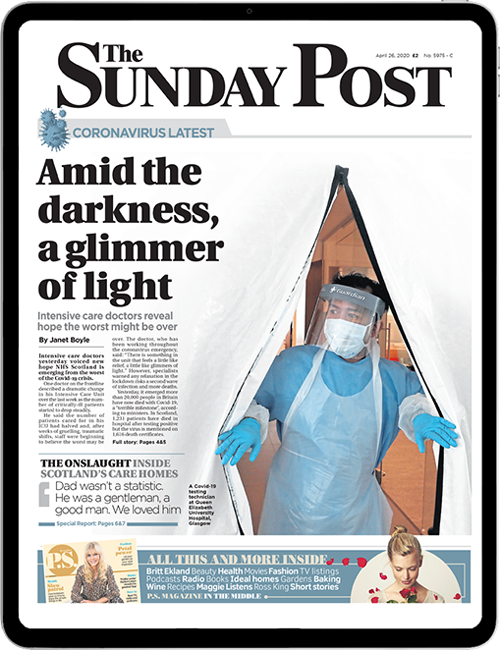 Enjoy the convenience of having The Sunday Post delivered as a digital ePaper straight to your smartphone, tablet or computer.
Subscribe for only £5.49 a month and enjoy all the benefits of the printed paper as a digital replica.
Subscribe