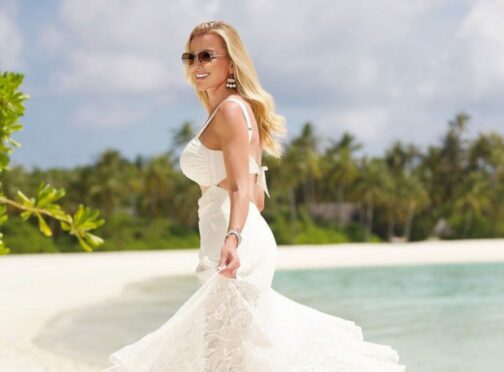 Ministers were dragged further into the controversy over Michelle Mone's lobbying for PPE contracts as details emerged of her multi-million pound spending spree during the pandemic.
The Tory peer and her husband bought property, a plane, a yacht, and a race horse in the months after allegedly banking tens of millions of pounds from £200 million government contracts for personal protective equipment.
The SNP now wants the government ministers involved, including Michael Gove, to explain their role in helping firms linked to the couple win the deals.
The former underwear tycoon has lost the Conservative whip and taken a leave of absence from the House of Lords following claims she banked £29m linked to a firm awarded government contracts for masks and surgical gowns during the pandemic.
According to The Guardian, Mone, her husband Douglas Barrowman, PPE Medpro and three other intermediary companies in the supply chain appear to have made more than £100m in profits from the two PPE deals worth £203m. Just months after the contracts were awarded, The Guardian reported yesterday, an offshore firm linked to Mone and Barrowman bought a private jet, an 11-seater Cessna, worth £7.5m.
In August 2021, Mone posted on Instagram a picture of herself and Barrowman on a new luxury yacht, which had been purchased for £6m and renamed Lady M. "Business isn't easy but it is rewarding," she posted on the social media website.
The couple also spent on an £80,000 racehorse, which Mone bought for her husband as a wedding gift, and £3m of property in Glasgow for her adult children.
In June last year, Mone and Barrowman also unveiled a new office business, Neospace in Aberdeen, in which she said they intended to invest £18m.
Mone and billionaire Barrowman married on the Isle of Man in November 2020, before jetting off for their honeymoon at a five-star resort in the Maldives.
The Cessna jet is registered to an Isle of Man-based company called Cabbane Ltd, which lists Anthony Page as a director. He is a wealth management expert who works for Mone's husband in the Knox Group of Companies and is also the registered owner of PPE Medpro. PPE Medpro was among companies awarded contracts to supply masks and surgical gowns after Mone lobbied ministers for it to be put in a so-called VIP lane used by the government to fast-track suppliers at the start of the pandemic without a competitive tendering process.
She also reportedly lobbied Gove, then Cabinet Office minister, and his deputy, procurement minister Lord Agnew, on their personal email addresses.
Sunak 'shocked' by allegations about Baroness Mone and PPE firm
When Mone felt the government was taking too long to respond, she is reported to have pressed Agnew to "accelerate" the process. Within weeks, the government awarded the company two contracts worth over £200m.
One official told The Guardian: "Ministers made clear that politically connected people should be given special treatment. So we were forced to spend extra time with these companies – such as PPE Medpro, which had no apparent expertise and should not have got through the door."
PPE Medpro procured millions of medical gowns for the NHS that were never used, though the company insists contract specifications were met. Former health secretary Matt Hancock wrote in his recently published diaries that Mone sent him "an extraordinarily aggressive" and "threatening" email, but that he refused to help her.
Labour deputy leader Angela Rayner said: "We already know that the so-called VIP lane for PPE enabled the shameful waste of taxpayers' money and inexcusable profiteering by unfit providers.
"We know that the government has already written off £10 billion of public funds spent on personal protective equipment that was either unusable, overpriced or undelivered. What we don't yet know is how on earth any of this was allowed to happen."
SNP MP Brendan O'Hara said: "It is simply not good enough that a motion had to be passed in the House of Commons to make the UK Government release what communications it holds on the awarding of this multi-million pound contract. Everyone involved must now come clean about their role, including Michael Gove who must come before MPs to answer serious questions on the specific actions he took after Tory peer Michelle Mone contacted him looking for a PPE contract for 'her team in Hong Kong'.
"Baroness Mone is reported to have made almost £30m in profit through securing a VIP contract for PPE Medpro. It is incumbent on the Levelling Up Minister to be straight with Parliament and the public about his role in all of this.
If Michael Gove has nothing to hide, he will have no problem coming before Parliament to clarify what he did and did not do after Michelle Mone contacted him. If he does not, he will be like the rest of the Tory party who are seemingly content to sit there and watch this dripping roast of sleaze, corruption and scandal unfold on its own."
Mone is facing a House of Lords standards committee inquiry and properties linked to the peer were raided in connection with a National Crime Agency investigation. Mone denies benefiting financially from PPE Medpro. She announced on Tuesday that she was taking a leave an absence from the House of Lords.
She has had the whip removed by the Conservatives and Prime Minister Rishi Sunak said he was "absolutely shocked" to read reports alleging that the peer and her children secretly received £29m originating from the profits of the PPE firm.
Lawyers for Mone and Barrowman have said the couple had no role or function in PPE Medpro, "nor in the process by which contracts were awarded to PPE Medpro".
The Department of Health and Social Care said: "The high priority lane was set up to urgently get PPE to the front line and our rapid action secured billions of items of life-saving PPE for the frontline.
"The high priority lane was emphatically not a guarantee of a contract – in fact, nearly 90% of offers referred through this route were unsuccessful.
"We are currently engaged in a mediation process with PPE Medpro and are unable to comment on the specifics of this contract."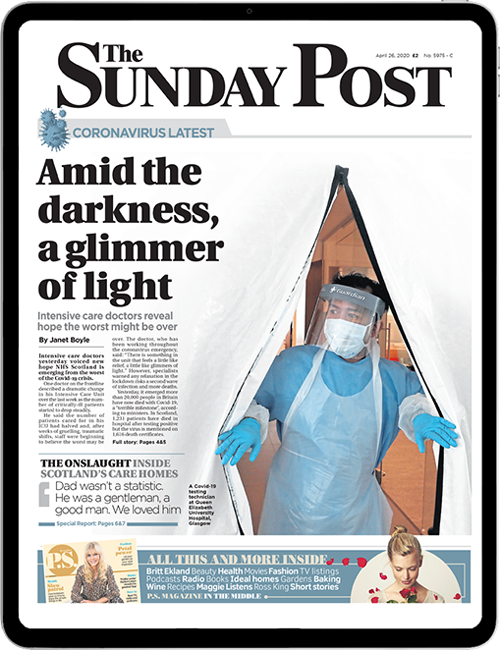 Enjoy the convenience of having The Sunday Post delivered as a digital ePaper straight to your smartphone, tablet or computer.
Subscribe for only £5.49 a month and enjoy all the benefits of the printed paper as a digital replica.
Subscribe