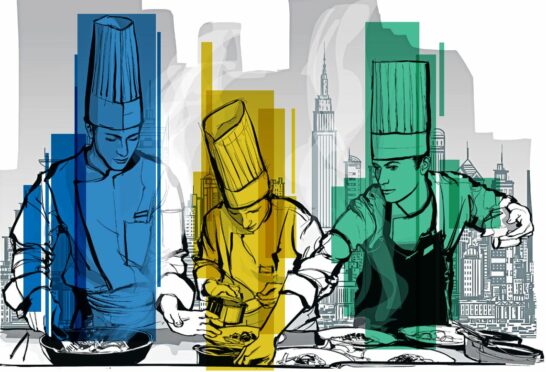 Every chef has their own idea of a perfect plate, from classic French haute cuisine to foaming molecular gastronomy, but all nurture a common dream – a coveted Michelin Star.
Awarded under strict criteria to restaurants offering "outstanding cooking", the award has defined fine dining since the early 1900s and restaurateurs around the country are currently waiting with bated breath to discover which incumbents and newcomers will secure a place in the newly announced Michelin Guide for 2023.
Over the past year inspectors have been busy visiting hundreds of restaurants in the UK and Ireland to decide who will retain, gain or lose Star status, as well as those who will receive Bib Gourmand and Green Star awards too. And with no official application process and the identity of reviewers kept a closely guarded secret, chefs can only hope they have maintained high enough standards to be considered among the best in the world.
For chef Billy Boyter, who holds one Star for his Anstruther eatery, The Cellar, it's a nerve-wracking moment but the pressure to continually provide outstanding dishes doesn't come from the prospect of accolades alone. "You forget about the awards for most of the year, to be honest, but it starts to creep back into your mind around about January," explained the chef, who worked in several of Edinburgh's Starred restaurants, including Martin Wishart, before opening his own venture in 2014.
"You know the guide is going to be coming out and while I'm not saying that we get worried we definitely stress about it a bit more than you do through the rest of the year.
"Michelin wants to see consistency throughout the restaurants that they award Stars so a lot of it is just down to the individual chef. My standards have always been my standards – I don't have them just because I have a Michelin Star. There is always pressure in a kitchen, regardless of what accolades you have.
"We always set ourselves a really high bar and we stick to that across the whole operation from front of house to back of house.
"There is pressure that comes with that – it's part and parcel of being a chef – and everyone handles it differently but, for me, I suppose it's just part of our normal working day. But, yes, I'll definitely be glued to Twitter and checking the online guide to see if we've retained our Star."
First published by the Michelin tyre company to help motorists make more of their road trips – and therefore boost car and tyre sales – the Guide started life as a small red book filled with information and tips for travellers but later developed into the marker for formal, often lavishly expensive, eateries with white tablecloths and silver service. However, in recent decades more and more styles of cuisine have been added to the list and formality is no longer a defining factor.
Modernistic restaurants, spectacularly deconstructing and reinventing dishes, like that run by Ralph Fiennes' celebrity chef in hit movie The Menu are the new epitome of high-end cooking but traditional but excellent techniques and kitchen skills are still recognised by the inspectors.
Michelin's head of selection for the UK and Ireland confirmed the main difference between a restaurant being awarded one, two or three Michelin Stars was the sophistication of the cooking, adding: "The fundamentals of ingredient quality, technique, flavour, harmony and consistency remain but the inspectors are looking to see if these five elements have been taken to a higher level. Equally, a chef's creativity and originality along with his/her personality as shown through their dishes is something we look for in the highest distinction."
Boyter, who has held his Star since 2016, agreed it all comes down to produce: "The quality ingredients that you buy and the time spent sourcing those ingredients is a focus across pretty much all Michelin establishments.
"It comes down to knowing how to treat your ingredients and get the best of out them. Chefs have their own take on flavours and things like that but fundamentally it comes down to your produce, how you treat it, and how you get the best out of it. Then it's just about putting your own character and identity into your food."
The same five criteria are used when awarding Stars and focus solely on the quality of the food. The main areas under consideration are the quality of the products; the mastery of cooking techniques; the harmony of flavours; the personality of the cuisine; and consistency both over time and through the entire menu.
Inspectors for the Guide undergo an extensive education in international gastronomy and hotel business and must have worked in the industry for at least 10 years before joining the team. New reviewers are trained in "selection methodology" for about two years and eat in restaurants about 250 times a year. The head of selection told The Sunday Post that every inspection was designed to mimic the same experience enjoyed by regular paying diners.
"All of the Michelin Guide inspectors behave like normal restaurant guests during their visits, and remain anonymous, paying their bill before they leave," explained the inspector, who could not be named to ensure their anonymity. "Following their visit, each of the inspectors writes a thorough report which acts as the basis for the assessment of the restaurant.
"The final decision on awarding one, two or three Michelin Stars to a restaurant is always the result of several meals from different inspectors and is a collective decision. This process ensures reliability and objectivity of our recommendations."
Boyter added: "In the past, sometimes the inspector would ask to speak to the chef or there would be a table of two that went down to one, things like that. But I know now that inspectors go and dine out in pairs, go out with a partner or a four, so they're harder and harder to spot – and I think that's a really positive thing.
"If you knew who they were, you would almost want to be doing something different to what you normally do to try to impress them. The fact that the inspection is totally incognito means there's a nice, even playing field. You're getting judged on what you do every day rather than thinking you've spotted an inspector and you try to do something different. That's not the way to do it."
The Michelin Guide recommends more than 16,000 restaurants on its website and mobile app, of which more than 3,000 are Starred establishments. In Scotland, 10 eateries have been awarded Stars – including Restaurant Andrew Fairlie at Gleneagles Hotel, the only Scottish restaurant with two out of a possible three Stars – and gaining a place in the Guide can mean big business.
Boyter continued: "A Michelin Star is a difficult thing to achieve and, business wise, it brings a whole different clientele.
"You get people that really just want to eat out in Starred restaurants, which can be good and bad at the same time, as you can be doing the same thing as a year ago but having people come because you have a Star means they will look at the food in a slightly different way than the person that's been dining with you since you opened. Overall, it has a massive positive impact on your business."
For chef Luke French, who travelled the length and breadth of the country talking to restaurateurs for his book, Behind The Pass, which showcases the best kitchens in the country, the universal factor is a passion and love for food. "I've found my stride and my own style over the last six years in having JÖRO (his Sheffield restaurant which holds a Michelin Bib Gourmand) and truly believe we have a firm identity now, which is what I understand is a big factor for the Guide.
"Alongside using the best ingredients we can, and not messing with them too much, it's about allowing them to shine through, in well-balanced dishes, on a carefully balanced menu using technique that enhances rather than takes over.
"Knowing when to take something off a dish is an important skill I have learned, too. Is everything on the plate needed? Does it work? Is it balanced? Too much? We spend a lot of time developing our dishes and menus to ensure everything on the plate has its place and ultimately the end result is delicious."
Michelin Stars are awarded to the restaurant and not the chef, so a change in the kitchen doesn't always mean the establishment will lose its ranking. However, stars can be taken away, or at least not re-awarded – as was the case with Number One at the Balmoral last year – and inspectors regularly revisit to test the standard of dishes.
The UK's head of selection said: "Restaurants that have been awarded a Michelin Star are visited multiple times by different inspectors to ensure reliability and objectivity and to make sure the restaurant is not judged on one singular performance."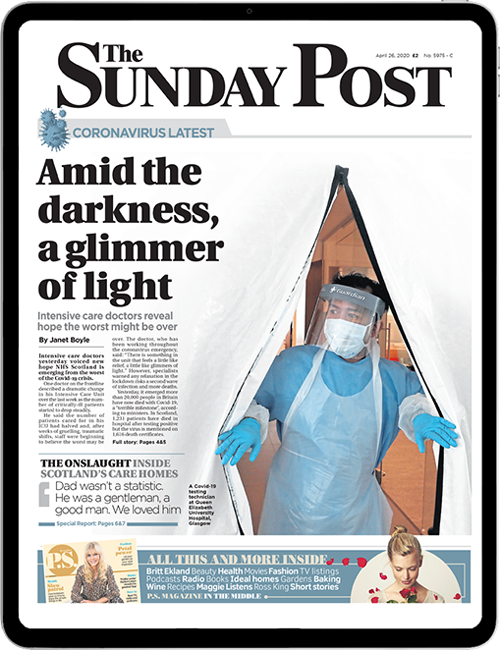 Enjoy the convenience of having The Sunday Post delivered as a digital ePaper straight to your smartphone, tablet or computer.
Subscribe for only £5.49 a month and enjoy all the benefits of the printed paper as a digital replica.
Subscribe