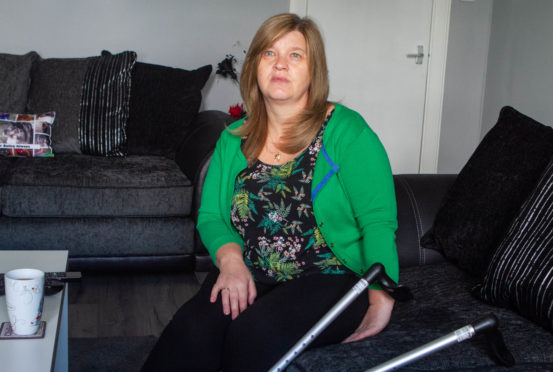 A mesh victim who hopes an American surgeon can save her from an awful operation yesterday said she was disappointed that Nicola Sturgeon could only offer her more words and no action.
Claire Daisley is due to have her bowel and bladder removed in eight weeks – but has asked health bosses to send her to the United States where a specialist surgeon believes he could remove her mesh and save her organs.
Last week, we revealed her personal appeal to Health Secretary Jeane Freeman before, on Thursday, MSP Neil Findlay urged the First Minister to personally intervene during First Minister's Questions.
In her reply, Ms Sturgeon said she could not intervene in individual cases but would ask Health Secretary Jeane Freeman to investigate.
However, a Scottish Government spokesman later said: "Clearly, Ms Daisley's case, which has been brought to the parliament's attention, is very complex.
"Although we recognise the importance of not intervening in the clinical management of individual patients, we will look at the case of Ms Daisley and we are committed to ensuring she receives the information and psychological support she needs."
Yesterday, Claire, 49, from Greenock, said: "It just feels like more words, just like the words mesh victims have been hearing for years now.
"I no longer have the time to listen to more words and promises, wait for more committees to complete more reports.
"In less than two months, I am going to lose my bowel and bladder. There is a surgeon in America who says he might be able to help me.
"The government says it's complex but it's not. It is simple. Just let him come here or let me go there. Just help me.
"We met with the Health Secretary. She drew up yet another committee full of medical officers and government officials when what we want and need is practical help. We don't have time for more prevaricating. We've been talking for almost six years about this crisis."
Pioneering US surgeon Dr Dionysios Veronikis has offered to carry out a full mesh removal op on Claire, using his unique technique, in the hope that this might mean she does not need to have her organs taken out.
That op would cost around £12,000. Missouri-based Dr Veronikis offered to come to Scotland to help ease the crisis after reading about the plight of mesh women here. Women from all over the world travel to see the specialist, and in March, Irish lawyer Mary McLaughlin travelled to meet the Scottish Health Secretary to show her how she can finally walk again after years of mesh pain.
Mary said: "It was just days after my surgery with Dr Veronikis, but I wanted to show Jeane Freeman just what help he could give Scottish women so they wouldn't have to live the rest of their lives in pain.
"It was a hugely emotional moment when one-by-one, Scottish mesh survivors told the Health Secretary 'I want to be Mary.' They all deserve to have that chance."
Mr Findlay said: "Health Secretary Jeane Freeman finally met some of them last month, and despite that, she is still delaying getting them the expert help they have asked for.
"It is time the First Minister met them so she can see just how urgent this situation is.
"We have already had women dying here in Scotland, and every week I hear from more women who are struggling with life-changing injuries that they do not believe are being adequately treated here in Scotland.
"They need the mesh removed, fully and safely, and they want Dr Veronikis to do it, not the surgeons who implanted them in the first place."
The MSP believes Scotland's mesh removal service should be halted for a full evaluation of surgeon skills and outcomes.
He said: "How can these surgeons, who had been writing to patients advising them that the removal of mesh implants was impossible, suddenly do removals? And are they doing full removals, or partials. Are they showing patients exactly what has been removed and how much?"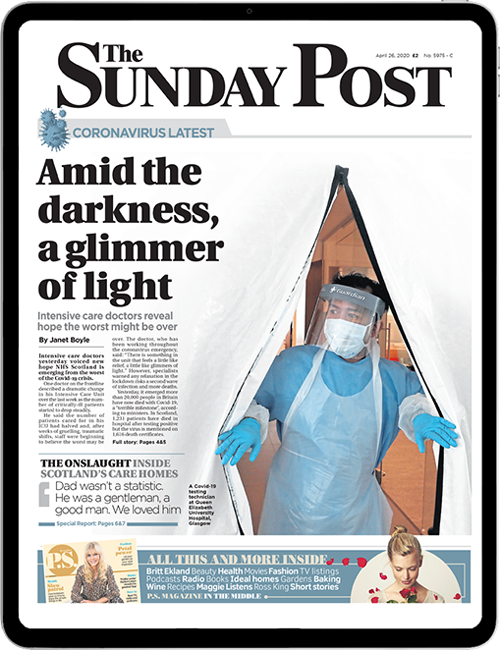 Enjoy the convenience of having The Sunday Post delivered as a digital ePaper straight to your smartphone, tablet or computer.
Subscribe for only £5.49 a month and enjoy all the benefits of the printed paper as a digital replica.
Subscribe