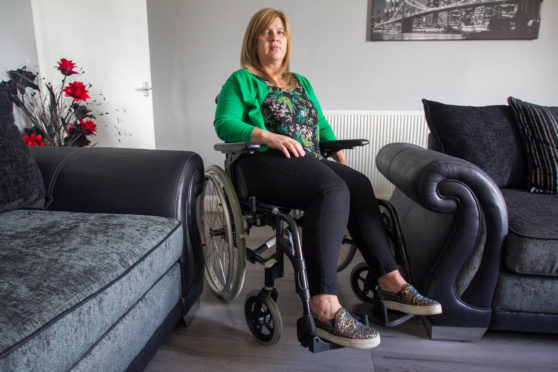 A mesh victim has begged the Scottish Government to fund the £12,000 surgery which would let her keep her bowel and bladder.
Claire Daisley is due to have both organs removed this summer. But, rather than undergo the life-changing operation, she has appealed to health bosses to send her to the United States where specialist surgeons could instead remove the implant.
Dr Dionysios Veronikis, the acclaimed Missouri-based mesh expert, backed her plea, saying: "Removing Claire's bladder and bowel will not remove the pain caused by mesh.
"Only removing her mesh will do that. She deserves the chance to avoid the irreversible removal of both organs if at all possible."
Health Secretary Jeane Freeman met with victims more than two months ago and was told they no longer trusted domestic mesh experts.
But the government is no closer to bringing the eminent surgeon to Scotland and, instead, Ms Freeman has appointed a committee, due to report in the autumn, to look at access to overseas surgeons.
But Claire, 49, from Greenock, is not prepared to wait for "yet another faceless government committee" to decide her fate.
She said: "After destroying my life so they could save £200 on the cost of a bladder operation by using mesh, all the NHS has done for me so far is give me a partial removal which caused even more pain and put me in a wheelchair.
"Now they are proposing removing two of my organs, and I have less than two months before this irreversible surgery.
"If I lose my place on the waiting list, it's another year of living with constant pain, being doubly incontinent and unable to walk more than a few steps without falling over."
In 2011, Claire was fitted with a transobturator sling implant which was widely used in Scotland to treat bladder issues.
Last week, the device was once again ruled to be defective by a US jury which awarded the largest single punitive damages claim of £100 million to Susan McFarland, 68, of Philadelphia.
The implant was described as "gold-star treatment" by mesh manufacturer Johnson & Johnson firm Ethicon which last week also settled a £10m legal action by the Washington DC Attorney General for withholding risk of injuries.
Claire said: "I know our NHS surgeons are trying their best, but they haven't addressed full mesh removal. Dr Veronikis has at least given me some hope.
"If just one organ can be saved, I should get that chance. The £12,000 to send me to Missouri would be a fraction of the cost of treating me for the rest of my life with two stoma bags.
"I've been in constant pain for seven years, having to spend my life on walking sticks and in a wheelchair.
"The government should be pursuing mesh companies to pay for the damage they've caused, and that would cover the costs of me seeing Dr Veronikis."
Campaigners have for months been appealing to the Scottish Government to bring the surgeon, who developed a unique muscle and tissue-sparing procedure to completely remove mesh implants, across the Atlantic to ease the agony of mesh victims in Scotland.
Dr Veronikis said: "Until I physically examine Claire, it's difficult to give promises.
"But I do believe I can fully remove the mesh and that will certainly relieve pain. Claire's situation is complex but, in my experience, once mesh is removed and the body has a chance to heal and is free from pain, there are often other things that can be done to alleviate other issues.
"Removing any organ should be a last resort.
"Claire deserves options. If they cannot be provided locally, consideration should be given for what could be done outside Scotland."
In a heated debate in Parliament on March 5, cross-party MSPs demanded Dr Veronikis be brought to Scotland after mesh-injured women told how surgeons caused even more damage by partially removing the implants responsible for injuries to hundreds of thousands of women around the world.
Manufacturers have already paid more than £10 billion to US victims.
During a meeting in March, Claire told the Health Secretary she "no longer trusted" Scottish surgeons who continued to implant almost 800 more women despite a suspension instigated in July 2014.
Those surgeons, from Scotland's two largest health boards, NHS Greater Glasgow and NHS Lothian, have since been appointed to mesh "centres of excellence".
Campaigning MSP Neil Findlay said Scotland's mesh victims "did not have the luxury of waiting for yet another government-appointed committee to drag out this scandal unnecessarily".
He added: "The women are the only evidence needed for government to get on and do the right thing.
"These women are living on a knife-edge, in chronic pain and terrified for the future.
"They have already told the Health Secretary to her face that they do not want the surgeons who put mesh inside them to have anything to do with future treatment – it should come as no surprise they have little faith in them.
"They need a surgeon with a recognised track record of safely and fully removing mesh, and that is Dr Veronikis.
"Why should Claire Daisley be subjected to the horror of losing two organs when there is a chance Dr Veronikis can help her?"
The Scottish Government said: "As the Health Secretary promised, a short-time working group is considering how to enhance the treatment and support given to women who have experienced complications as a result of having mesh procedures.
"Meetings will continue to look at sharing experience, techniques and learning with colleagues in Europe and the US, and to examine the complex education and training requirements we must have to ensure a sustainable, resilient and high-quality service."
Mesh victim Claire Daisley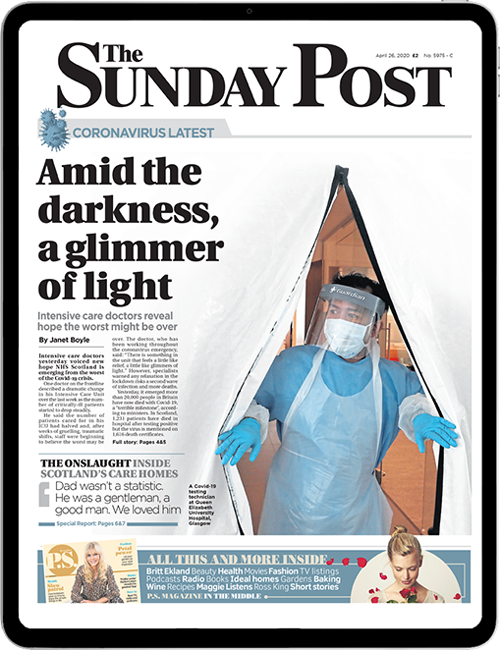 Enjoy the convenience of having The Sunday Post delivered as a digital ePaper straight to your smartphone, tablet or computer.
Subscribe for only £5.49 a month and enjoy all the benefits of the printed paper as a digital replica.
Subscribe