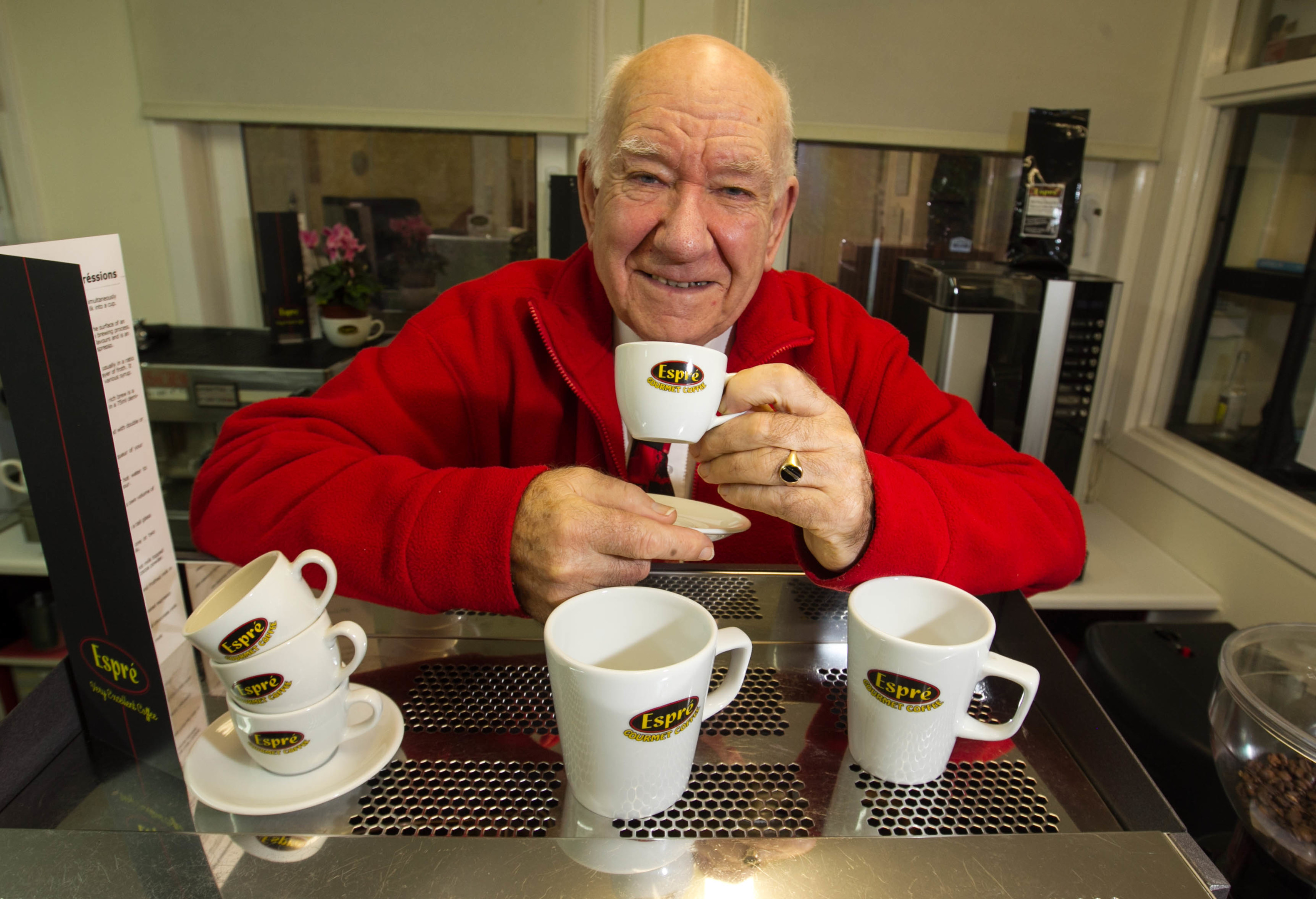 THE story of fed-up pensioner Joe Bartley, 89, placing an ad in his paper to look for a job chimed with people around Britain.
People loved his verve – and the Devon-based OAP quickly found a job in a local coffee shop.
Just last week older people were told they should consider working into their seventies for the good of their health.
Professor Dame Sally Davies, the chief medical officer for England, said baby-boomers aged 50 to 70 were better off staying in work, or else taking up new hobbies, to remain active in retirement.
Dame Sally, herself 67, said she had no plans to retire and urged others to follow suit.
So what advice can be gleaned from those already working way past the age of retirement? Here, four lifelong workaholics share their secrets with The Sunday Post.
Full of beans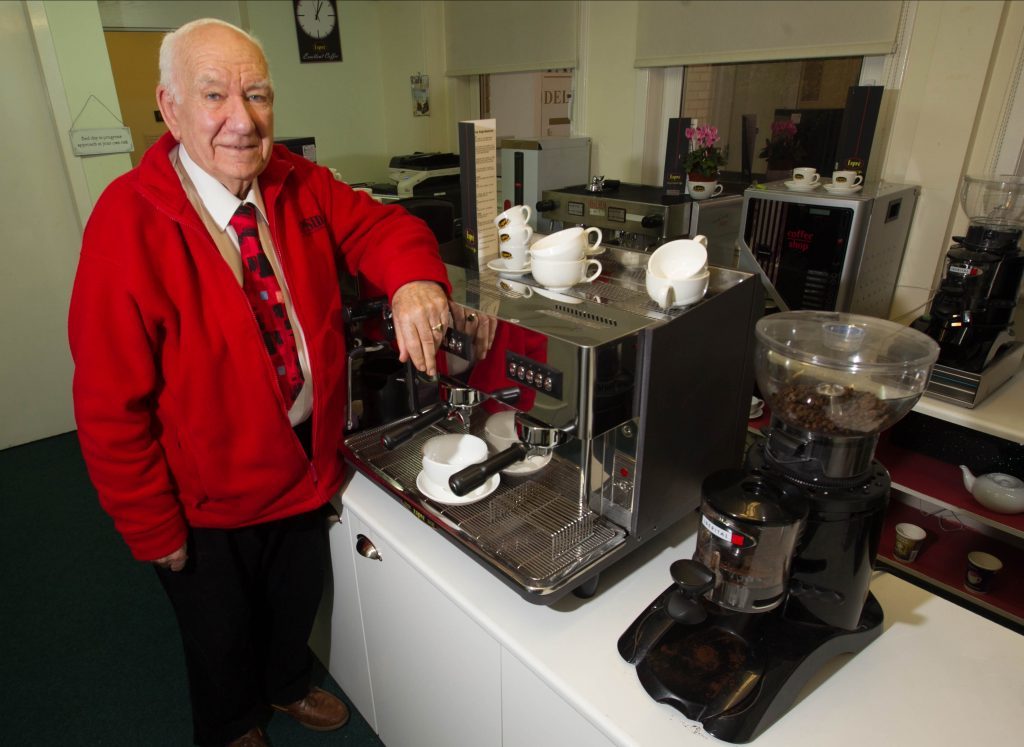 HARD-WORKING 80-year-old Jack Marshall wakes up every day at the crack of dawn and makes his way to work at the coffee business he's run for more than 30 years.
He clocks up a 12-hour shift juggling customers' calls, making sales and ensuring the business is running smoothly before finally heading home.
He said: "I've got no plans to retire. If people ask when I'm retiring, I tell them I'll retire four years after I die.
"Working after 65 years old is no bad thing. People retire far too early. Unless you have something to do that you're passionate about, you should work as long as possible.
"If you are forced to retire, then find something to keep you busy."
Jack employs five people at the business, Tapside in Bo'ness, and runs a nationwide network of coffee vending machines.
When Jack was in his fifties, he couldn't get vending machines to work as he would like, so used the skills he learned in the RAF to build his own machines.
Employee Agnes Kidd said: "He never stops. He can be here at 4am some mornings and still here when I'm out of the door at 5pm. I've no idea how he does it.
"In between it all, he's always there for his wife too. He's incredible and a real inspiration to everyone."
Jack's wife May, 77, however, doesn't share his enthusiasm for working into old age.
She retired from work around 20 years ago, and never looked back.
Jack said: "I think she quite likes that I'm out of the house.
"But I've no plans to stop now.
"At 80 years old I am looking for more problems – it helps me to get out of bed each day."
Life is sweet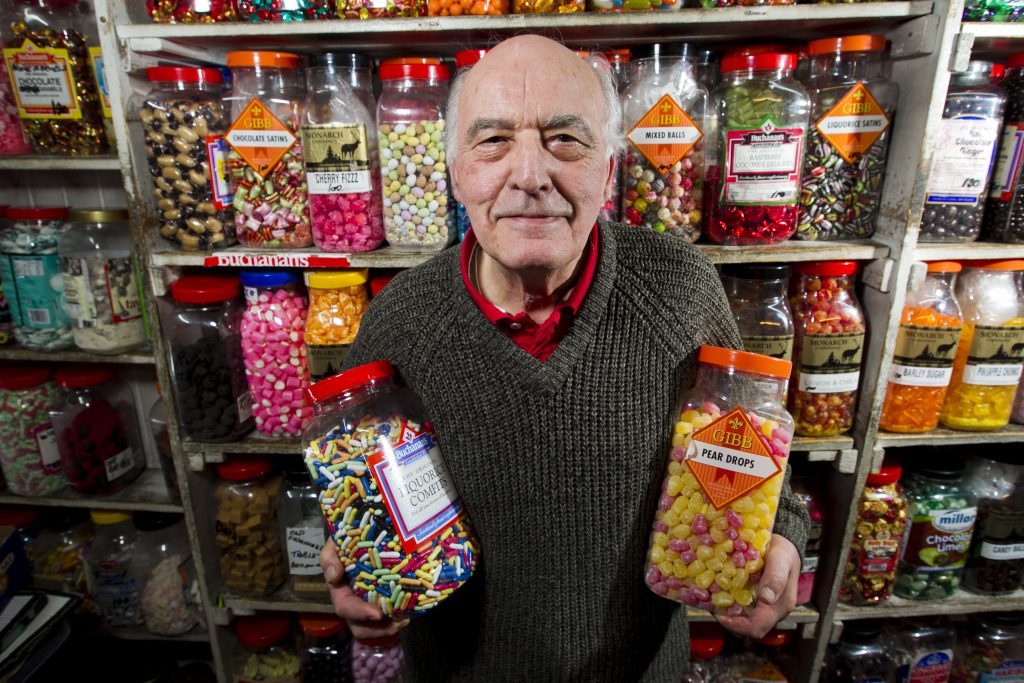 AT 80, Tom Swan has worked in his sweet shop for more than 60 years.
Before he ran the store, his grandmother sold groceries in the same premises in Renton, West Dunbartonshire.
He said: "Retired? I can't spell that word.
"My family have been warned to not mention retirement to me. I'll never be retired."
Tom transformed his gran's establishment 30 years ago because big supermarket chains were taking his business away.
Now customers come from all over the world to buy sweets from Tom.
He said: "I get customers from Australia, Canada and New Zealand. They come in here to take the sweets back with them."
Tom has become such an institution that an appreciation page has been set up on Facebook.
He said: "I was amazed. It's nice when people do things like that.
"My granddaughter showed me the page and keeps me updated with how many people are members."
Tom, who has nine grandchildren and 12 great-grandchildren, loves having his family in the shop helping him.
He said: "My granddaughter is a manager in a supermarket and she's great. She comes in the shop and helps. My daughter also pops in for five or 10 minutes each day."
Even though he's surrounded by sweets every day, Tom limits himself to two or three chocolate gingers a week.
He works tirelessly in the shop from 11am until 8pm.
He said: "I get asked about my age about once a week. People ask how old I am and I always lie about my age.
"If I'm in a good mood, I'll tell them that I'm the same age as Oor Wullie."
As a teenager, Tom would work between the Renton shop and his aunt's fish and chip shop in Manchester.
He said: "If my gran was fed up with me she'd give me five bob so I would be able to get the bus to Manchester.
"I'd be there for about six or eight weeks then I would be sent back to Renton.
"I must have been very annoying as a youngster."
90 years young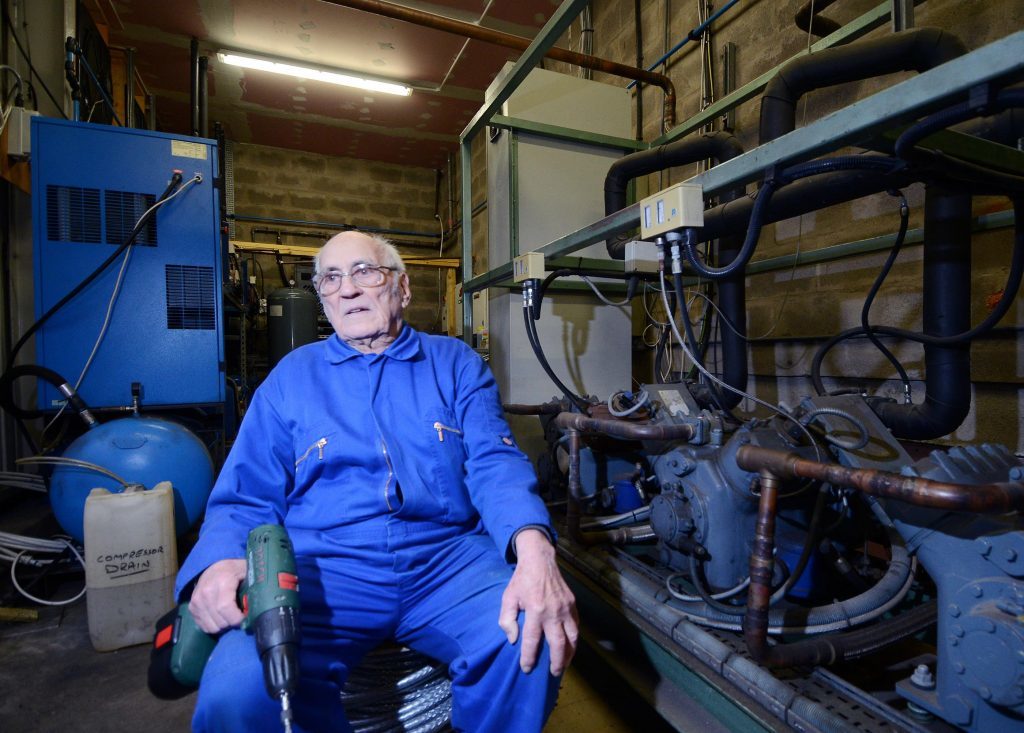 HANDYMAN Peter Mitchell has worked for 27 years at the same meat firm – and is still going strong at 90.
The pensioner retired from his job as a docker in Grangemouth, near Falkirk, in December 1989 when he was 63.
But he took a new job as a handyman and maintenance worker at family-run butchers Malcolm Allan and has been there ever since.
He said: "I get fed up doing nothing. I like to be busy – I've always been busy. I just can't sit about.
"I've never been one to sit around the house and was doing some handyman stuff for a friend who lived next door to Malcolm in Bonnybridge. I was looking after the garden and general odd-jobs most days when Malcolm said I could work for him at the bakery in Tamfourhill.
"I'm pretty good with machinery, so anything that broke down I would have a go at fixing.
"Then I would go around the shops repairing things. I learned a lot as I went along."
Since his 90th birthday Peter has cut his hours down to four a day, Monday to Friday, as he still feels "too young" to stop working.
Peter served with The Black Watch and worked for Falkirk Council before becoming a docker at George Palmer Stevedores at Grangemouth Docks.
Family first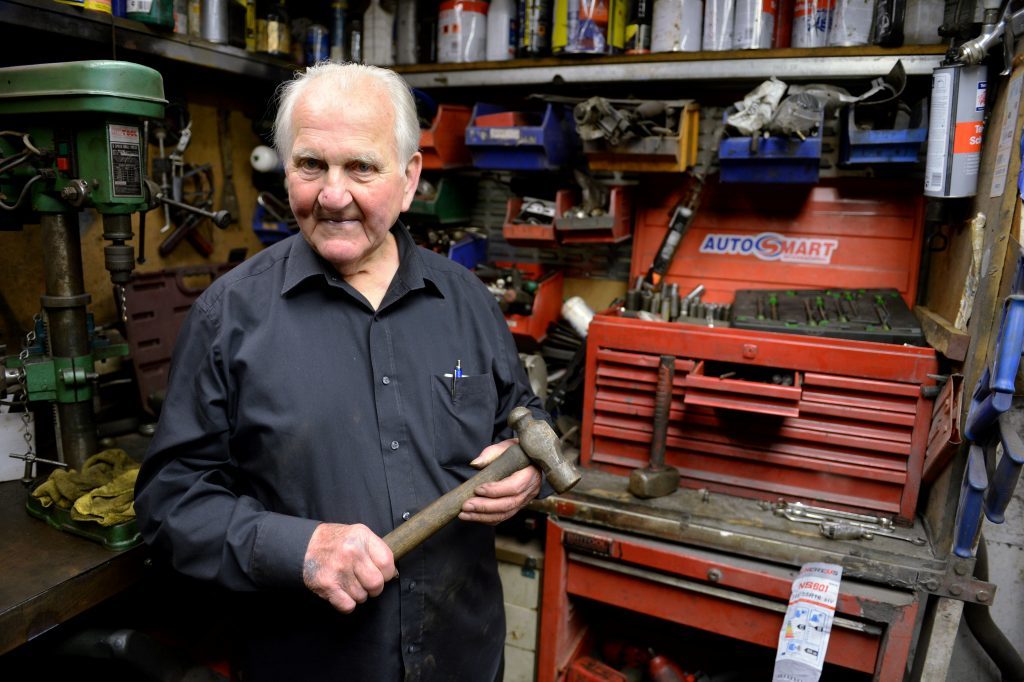 SPRIGHTLY Rudi Stetz, proud boss of a scrapyard in Gourock, Inverclyde, is still going strong at 90.
The great-grandad refuses to retire from his family business as he "couldn't just sit at home".
He works six days a week, from 9 to 5 each day.
He said: "It's a way of life to me. I couldn't just sit at home. What am I supposed to do at home? I like to work and spend my time in a useful way.
"The people come to me and ask, 'what's your secret?'
"The secret is live a good life, work hard and go out and spend time with the women. I also like to make jokes."
The German immigrant has seven children – Marrianne, Ingrid, Christine, Barbara, Rudi, Rosalind and Hans, as well as grandchildren and great-grandchildren.
His son, Hans, 50, said: "He works six days a week and has the Sundays off.
"He's great with the customers. He also deals with the non-ferrous jobs, scrap metal, takes the phones and books jobs in and out.
"What he does is invaluable and frees up much of our time.
"I'd say he is very family-orientated.
"He's definitely a local legend. He can go on for days about his achievements and the people he's met."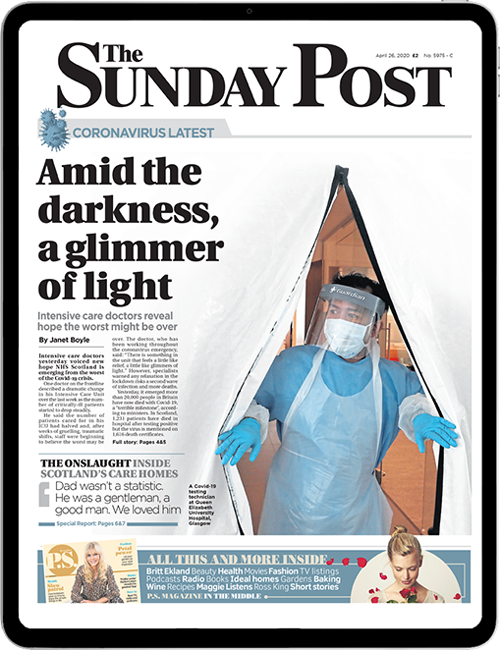 Enjoy the convenience of having The Sunday Post delivered as a digital ePaper straight to your smartphone, tablet or computer.
Subscribe for only £5.49 a month and enjoy all the benefits of the printed paper as a digital replica.
Subscribe