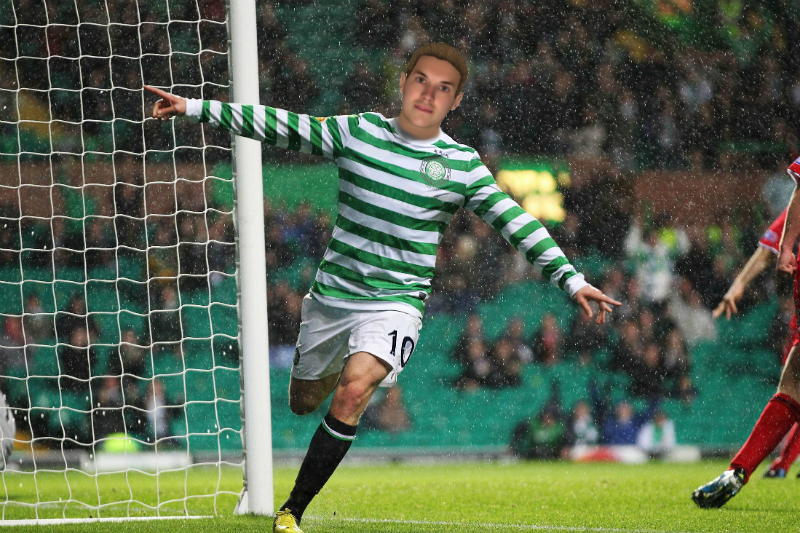 IVICA STROK has scored over 800 goals for Celtic and has become a Hoops legend on a laptop.
But while the Croatian striker is the brainchild of a Football Manager computer algorithm, his manager has crafted him into a cult hero.
30-year-old Jonny Sharples, from Lancashire, brought Strok to life using the power of Twitter and Photoshop and is using the character for a great cause.
Strok's newly found status is helping to raise awareness and funds for CALM (Campaign Against Living Miserably) after the suicide of Jonny's brother Simon in 2014.
It was Simon that first introduced Jonny to the Football Manager game back when they were both kids.
And the game provided a sense of escapism in the aftermath of the family tragedy, and in turn spawned the growth of Strok.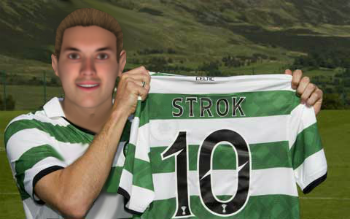 "When he [Simon] passed away, I'd already been playing this particular game for about a year and a half when it happened so I was really stuck into it," Jonny tells the Sunday Post.
"It happened so close to Christmas, I was off work and with my family, and none of us felt like celebrating so to just go and play Football Manager for a couple of hours, or however long it ended up being, was a benefit to switch off from what was going on.
"The first person to introduce me to Football Manager (Championship Manager back then) was my brother back in 1996.
"So that's 21 years, not of constant playing because I've slept and eaten and stuff, but it's always been a big part of my life and it's always been a big reminder of my brother, even before he passed away."
It's #WorldMentalHealthDay, here's a video I made with @JOE_co_uk about my brother and the importance of talking. pic.twitter.com/zRGHx6oEzg

— Jonny Sharples (@JonnyGabriel) October 10, 2016
The game allows players to assume the role of manager at clubs all across the world.
As manager, you put together training sessions, set up tactics and buy and sell players just like in the real world.
Jonny explains: "It's the ability to control something that you wouldn't otherwise have control over. It's the same as any other football game, it's a bit of escapism."
"I'm never going to manage Celtic – never say never – but the ability to do that is certainly a draw."
After spells at Dynamo Dresden and Brighton, Jonny was fired by Hearts for not being able to keep up with Celtic at the top of the league.
It was then that the Hoops came calling, and he remains in charge on the game, where the year is now 2058.
The stadium has been renamed Sharples Park after him, but it's another name that dominates club folklore in the alternate reality.
Strok.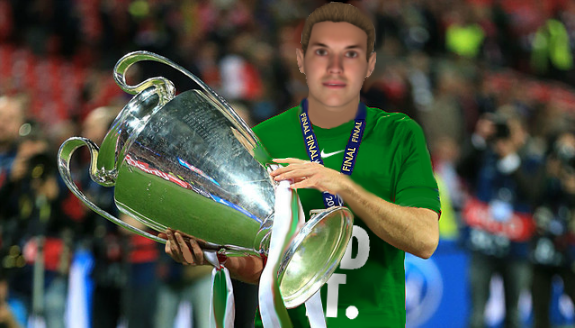 Signing for £5 million, and turning down Chelsea, PSG and Barcelona, the Croatian starlet came to Glasgow and flourished under the Sharples regime.
He surpassed Jimmy McGrory's goal-scoring record by a mile and led the Hoops to European glory four times.
He entered the Scottish Football Hall of Fame, won several Ballon d'Ors and won Euro 2032 with Croatia.
But it was time for him to come out from the computer and into the wider world.
Jonny had already shared details of his game world progress and photoshops of Strok on his Twitter account, but soon decided that the superstar striker deserved an account and personality of his own.
"He's got more followers than some real life footballers have… it's unbelievable," Jonny says.
"It all happened when I was at my sister's after my brother passed away, just as something to pass the time and concentrate my mind on.
"I'm not the best at photoshopping things, especially back then, but I think it was another thing to concentrate on, teaching myself to do that.
"It was just a place to hide it away and keep it from my other followers but it took off and now he's developed his own little personality and a cult following."
He admits that at times he felt he was living as Strok when photoshopping the character's face onto Strictly Come Dancing stars (Strok, of course, competed in the show) and sending out tweets in the footballer's arrogant style.
Jonny adds: "Half of it's updating people with what's going on in my Football Manager world, and the other half is parodying stuff that happens in real life.
Thanks for your votes, safe for another week #StroklyComeDancing ??? pic.twitter.com/Vl6FhdQRjw

— Ivica Strok (@IvicaStrok10) October 25, 2015
"You play the game to pretend you're a manager and this as a sideline was the closest I'd get to being a professional footballer.
"It's like a Jekyll and Hyde different personality."
Strok's life now has quite a following, with the Hoops star becoming a cult hero on Twitter.
His escapades entertain his thousands of followers on a daily basis, but there's one party that haven't yet acknowledged his legendary status: Celtic.
"Hearing from Celtic would be a dream, although it's not like they'd be building a big statue outside!" laughs Jonny.
He reveals that there is a commemorative brick at Celtic Park bearing the words "Jonny Sharples – manager", a gift from his girlfriend.
"My family are getting to grips with it," he adds.
"I think they understand, especially in the aftermath of what happened to my brother, different people need different distractions and that was my way of doing it.
"My sister, who's 37, doesn't really get it and thinks it's weird but she understands there's a purpose and a point to it that she can support."
Now in his retirement, Ivica is helping Jonny and his family raise funds for the Campaign Against Living Miserably (CALM) in memory of Simon.
"After my brother passed away we didn't want flowers at his funeral – it's not the sort of person he was," says Jonny.
Simon's death was tragic and the message we share from it is important, but it should not define him – his smile should. pic.twitter.com/5XZCdyvyej

— Jonny Sharples (@JonnyGabriel) June 10, 2017
After some research, the family found CALM and decided to have donations instead to a charity with a cause now very close to their hearts.
The charity are specifically aimed at men, with suicide the biggest killer in men under the age of 50.
Three-quarters of UK suicides are by men.
"It's a really big issue and one we think isn't really highlighted that much," Jonny says.
"It's something that's close to our hearts that we've been able to support and one of the ways we've been able to do that is though Football Manager.
"It's strange but combines two things that I personally would be doing anyway. It's a real privilege."
£650 was raised from the sale of a specially designed programme for Ivica's Celtic testimonial match.
A copy was even displayed next to a Hoops top emblazoned with the name Strok in Manchester's National Football Museum as part of an exhibition of the sport in computer games.
"It's quite a bit of money when you consider that it was a fictional footballer for a match that didn't happen," Jonny laughs.
What stage of addiction are you at when the shirt you have with a newgen's name on is in the National Football Museum? pic.twitter.com/NR0pUQ7SCT

— Jonny Sharples (@JonnyGabriel) March 21, 2017
The support is greatly appreciated by the charity, who offer support to men of any age who are down or in crisis, help with families bereaved by suicide and challenge a culture where men seeking help can often be seen as a weakness.
Simon Gunning, CALM's CEO, said: "The work of Jonny – and Ivica Strok – is nothing short of brilliant.
"CALM relies on the hard work of volunteers and fundraisers, whether that is someone running a marathon, someone putting on a gig, or someone using a fictional footballer to raise money and awareness of the fact that suicide is the biggest killer of men under 45 in the UK.
"I just wish Strok played for my beloved Arsenal!"
Ivica's story is set to go on, with an autobiography in the works and more charity endeavours to come.
"I want to keep it going as long as possible really until people want me to stop talking about it and everyone's got too bored," admits Jonny.
"I might have to make a promise to people that are bored of it already – if Celtic ever build a statue of him I'll stop talking about it!"
---
Find out more about CALM at https://www.thecalmzone.net/ 
You can contact the CALM helpline (0800 585858, 5pm to Midnight)
To donate to the charity in memory of Simon, visit https://www.justgiving.com/fundraising/Roger-Sharples
Follow Ivica Strok on Twitter: @IvicaStrok10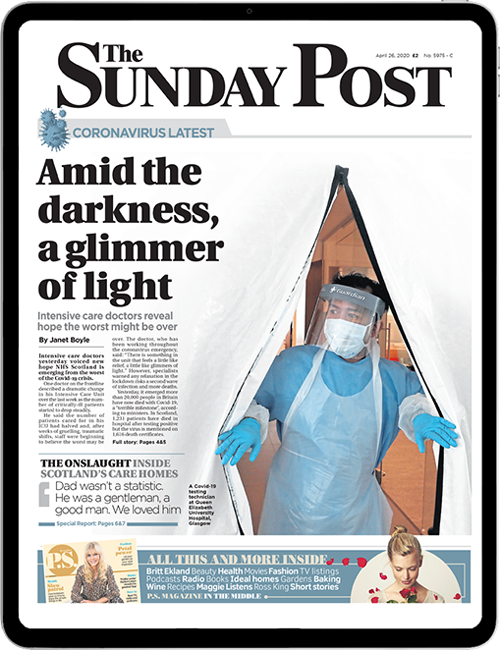 Enjoy the convenience of having The Sunday Post delivered as a digital ePaper straight to your smartphone, tablet or computer.
Subscribe for only £5.49 a month and enjoy all the benefits of the printed paper as a digital replica.
Subscribe