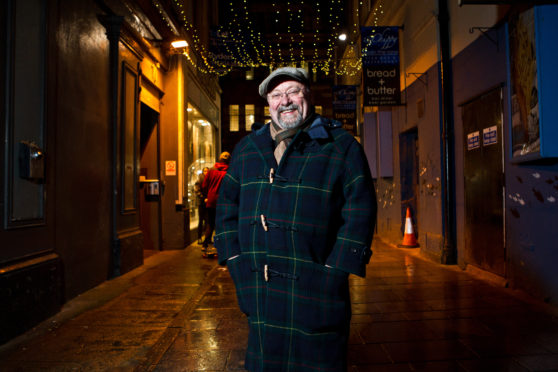 He's lived in London for longer than he ever laid his head in Scotland, but Alex Norton says that could be about to change.
Alex, who stars in ITV's big new drama Hatton Garden next week, says his love affair with the capital may just be coming to an end, with his homeland beckoning.
The star of Two Doors Down, the BBC Scotland sitcom that has become a huge network success, and his wife Sally Kinghorn have homes in both London and France, where he spends much of his free time.
"I can see a time in the next few years when we may move and have Scotland as our primary home and France still as our second home," says Alex, 69. "It's nothing you can put your finger on. It's not as if I miss deep-fried Mars bars or Irn-Bru, but Scotland is part of my background.
"The older you get, the more you think about spending the autumn of your life back where you came from.
"I love being in Scotland, although I don't see much of it with Two Doors Down as I spend most of my time in a pitch-black studio in Dumbarton. It's just something we've talked about. I think if we were to move permanently to France, we could fill our days very pleasantly, but it'd be different from just coming down here each year."
Alex has been in London on and off since he was 18 but he says it's not the city he came across first in the 1960s.
"I think that maybe I've had the best of London. I'm now finding it crowded and people are snappy and rude and bad-mannered.
"I don't think this Brexit stuff is doing anybody any favours and I don't know how this whole mess is going to affect us with our place in France.
"I'm very much pro- European. I'd have to be an idiot to have a house in France and not be pro-European.
"That's one of the things I really like about Scotland, they want to remain in the EU.
"I'd rather have that than a country that wants to hanker back to the glory days of the British Empire, which, let's face it, ain't going to happen."
While Alex can see the west end of Glasgow becoming his base if his "hankering" for Scotland wins out in the coming years, London is absolutely at the centre of his latest TV project.
Hatton Garden is a four-part drama about the audacious £14 million jewellery, gold and cash burglary by an elderly gang of career criminals across the Easter Bank Holiday weekend in 2015.
Timothy Spall, Kenneth Cranham, Brian F O'Byrne, David Hayman and Geoff Bell play the other crooks with Alex portraying John "Kenny" Collins, lookout and getaway driver.
"He was a bit of weak link because he kept falling asleep," says Alex. "And at one stage he deserted his post because he was starving and went off to get fish and chips.
"I did look into him because I didn't want to play him as a bumbling idiot. I think he was far from that. The details we have in this are just incredible. Collins was the one that was supposed to look after the loot until the heat died down but he said he couldn't have it in the house because his wife was in.
"They had these two big wheelie bins stuffed with this loot and they ended putting them among the ordinary bins at the back of Collins' house.
"For two nights these bins, stuffed with more money, jewels and bullion than you can believe, sat there.
"If you'd happened to be passing and lifted one of the lids, you'd have been a multi-millionaire."
The drama was filmed a couple of years ago and was due to be screened in December 2017. But it was replaced at the last minute by Sarah Parish police drama Bancroft because of legal proceedings involving a gang member.
It had to be postponed again last year as a result of the arrest and subsequent conviction of another of those involved.
The delays meant that another re-telling, the film King of Thieves with Michael Caine, Michael Gambon and Ray Winstone, was released first.
Alex was concerned a high-profile, big-screen version of the story may impact on the interest in his drama, but says the TV tone is very different.
"I thought we'd be trumped with the Michael Caine movie coming first, but I felt it made them a bit too sweet-natured. I didn't think they told the story well and I just didn't think it was a great film."
Alex says not glamorising the gang was an important selling point for him when the project was pitched.
"I spoke to the director, making sure it wasn't a caper movie. He said there was no way it was lovable old granddads coming together. There was really nothing lovable about them.
"We haven't made it a chirpy, buddy movie. It's the story, as close as we'll ever get to know, about what really went on with these geezers."
Both David Hayman and Alex had to work on their Cockney accents for the drama and, although he's been a long-term London resident, Alex took a novel approach to getting his screen sound right.
"I'm always more comfortable with a Scottish accent, but with this I really had to go for it.
"A friend of mine runs a market stall in Islington and I got him to record my lines for me so I could get his intonations and rhythms.
"I did spend enough time on it and I can only hope that I've got it right. Almost every day I was saying a variation of the actor's prayer – "Oh Lord, don't make me sound like Dick Van Dyke in Mary Poppins!"
But unlike Line Of Duty's Martin Compston, who stays in his London accent off-screen, Alex says it wasn't an ongoing thing for him.
"I appreciate somebody who does that but I couldn't. It'd just drive me daft."
Alex fitted in filming of Hatton Garden with his work on Two Doors Down, the success of which has come as a shock to the star.
"It's very hard to get a hit and none of this expected this.
"We tend to do it late summer and although nothing has been confirmed yet, I'm fairly sure they do want to go ahead with another one."
Alex does a lot of voiceovers for video games and it has led to him becoming a Far East phenomenon.
He's Rab, one of the central characters in Dragon Quest XI, which has had global success. "It's made and based in Japan and I do the English language version," said Alex. "My middle son Rory is teaching English in Japan and when he told his pupils, who are 13 and 14, what I did they went absolutely crazy. So apparently I'm a big star out there, which is a lot of kudos for Rory."
---
Hatton Garden will be screened on ITV over four successive nights, starting on Monday, May 20