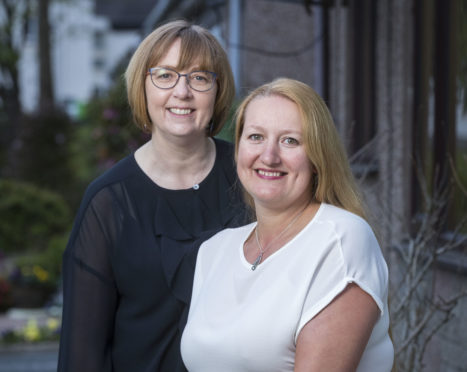 Chatting over a cup of coffee, Celine MacConnell and Hannah Ward look like typical old friends enjoying a catch up.
The bond between the women is obvious but their friendship was forged out of a shared grief that few can comprehend.
Celine, 51, of Aberdeen, and Hannah, 38, met three years ago through Widowed and Young (WAY), a national support group set up to help people who have lost their partners. Celine's husband, Peter, died when she was just 44 and Hannah lost Jamie, her partner for 12 years, to oesophageal cancer in 2015.
When they met the women were consumed by grief but both credit their friendship as marking the beginning of their recovery. They may have lost their loves, but finding new friends has been a saviour.
WAY is the only national charity in the UK providing peer-to-peer support to young widowed people – married or not, with or without children – as they adjust to life after the death of their partner. It now has almost 3,000 members across England, Wales, Scotland and Northern Ireland and is hosting a series of Big Picnics this year.
These are a chance for people who have been widowed young to get together with other bereaved families – and for non-members to find out how the charity works.
Scottish dates include Aberdeen's Duthie Park on Saturday, May 18, and Pittencrieff Park in Dunfermline on Sunday, May 19.
Celine on Hannah
We have laughed – and cried – together. Hannah just gets it
It was such a relief to finally meet someone who just got it. Hannah and I have laughed – and cried – together.
That's the thing about Widowed And Young. We can all go out for dinner and someone at some point someone will be crying into their glass of wine, but it's OK.
Nobody feels awkward, as we've all been there.
No matter what stage of loss you're at, it never goes away. A song could come on that played at your wedding, or you pick up your partner's favourite meal at the supermarket – and then you realise they're not there anymore.
We got married when I was 26 but Peter was diagnosed with chronic lymphocytic leukaemia three years later. Doctors explained the disease was a slow progressive type and we were determined to continue our lives as normally as possible.
I became pregnant but Peter was showing more symptoms and our son Michael was born in the middle of his chemo.
Peter had every treatment available, but died in 2011.
It was devastating.
He died peacefully with just the three of us in the house and Michael holding his hand.
Thankfully we had prepared Michael, but telling an 11-year-old his dad was going to die was the worst thing I've ever had to do in my life.
Some days he would cry for his dad all morning, then play with his Lego in the afternoon as if he didn't have a care in the world. Kids deal with it in a different way.
I cried a lot, mostly after putting Michael to bed. But I shelved my grief because, as a parent, I not only had mine to deal with but Michael's too.
I felt like a square peg in a round hole. Most widows were in their 70s or 80s. I was still working, with a young child and with years still ahead of me – alone.
I found myself Googling at 4am when I couldn't sleep, looking for advice or answers, and that's when I found Widowed And Young and, through them, Hannah.
Michael's 19 now and in his first year at university studying physics.
We're both still standing – and I think WAY has been a pillar helping us get to this stage.
Losing the person you planned to spend the rest of your life with is something that you can't imagine will happen.
And when it does, nothing can prepare you for the loss.
But the support of others who have gone through it can certainly make it a little bit easier to bear.
Hannah on Celine
We clicked immediately. She's always an amazing support
After Jamie died, people tried to understand, but they just couldn't.
It's so hard when the person you live with, day in and day out, just isn't there anymore.
I felt like life as I knew it just stopped. I tried to cope by staying busy. I joined a running club, started a dance class. I needed to get into a new routine.
It was my mum who found WAY and I met Celine at my first meeting.
We clicked immediately.
Our circumstances are completely different – Celine was married with children, I wasn't married and don't have children – but we have this common ground that brought us together.
Celine was an amazing support for me in the early days when I needed someone to talk to – and just to understand.
She's always there on the other end of the phone to empathise and just get it in a way that other people can't, because they haven't experienced the pain
we have.
I'm so glad I met her. We have a similar sense of humour and we have lots of fun.
When you are sad about a loss, you can feel guilty for having a good time but I think Celine and I realise we can still enjoy ourselves.
I hope that I have some pearls of wisdom I can pass on to newer members of Widowed And Young. It is surprising to see how many people have lost their partners
too soon.
I found the group because I lost a loved one, but because of it I've made friends for life and that is the best you could hope for.
---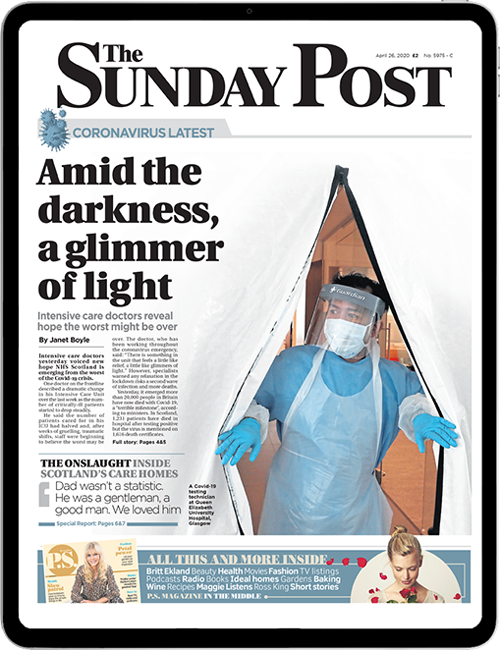 Enjoy the convenience of having The Sunday Post delivered as a digital ePaper straight to your smartphone, tablet or computer.
Subscribe for only £5.49 a month and enjoy all the benefits of the printed paper as a digital replica.
Subscribe