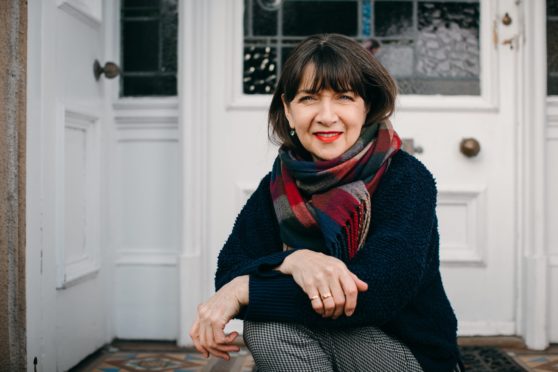 Clearing a loved one's home after their passing can be a daunting, difficult task, but the discovery of so much of what was important to them can also prompt happy memories.
For actress Maureen Beattie, whose father, Johnny Beattie, was one of the true greats of Scottish showbusiness, going through his belongings following his death last July is not just of personal importance, but of national significance.
The acclaimed London-based stage and screen actor is back in her home city of Glasgow, sifting through her dad's huge archive of memorabilia. Every picture and poster provokes a memory, each script and sketch provides a link to the past.
"The flat has been sold, so it's time to clear it and that will be the end of an era," said Maureen, who shone as David Tennant's mother in Channel 4 drama Deadwater Fell last year.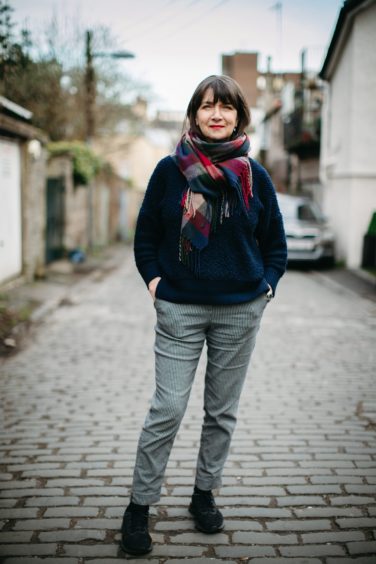 "Dad was a man who never threw anything away. He had a vast amount of memorabilia – sketches, parodies, posters, programmes – it's fantastic.
"It's essential it's kept. This is the history of music hall – there's items like scripts from when the Lord Chamberlain was still putting his blue pencil through things. Some of the scripts, you wonder what he was objecting to, you can't work out why there's a blue pencil through it.
"We have the time, fortunately, to make sure it all goes to a good home. And we need to take that time over this to make sure we don't feel we're short-changing it in any way. It's nostalgic and brings back many happy memories, so we'll spend the next couple of months on this.
"There's a theatre archive at Glasgow University and there's also the National Library of Scotland in Edinburgh. Hopefully we'll take a van-load to them and it will be properly archived in time, which will be fantastic.
"The Gaiety Theatre in Ayr also has its own archive and we plan on giving it anything which relates to there. That's great because my dad and the Gaiety were synonymous with each other for so many years."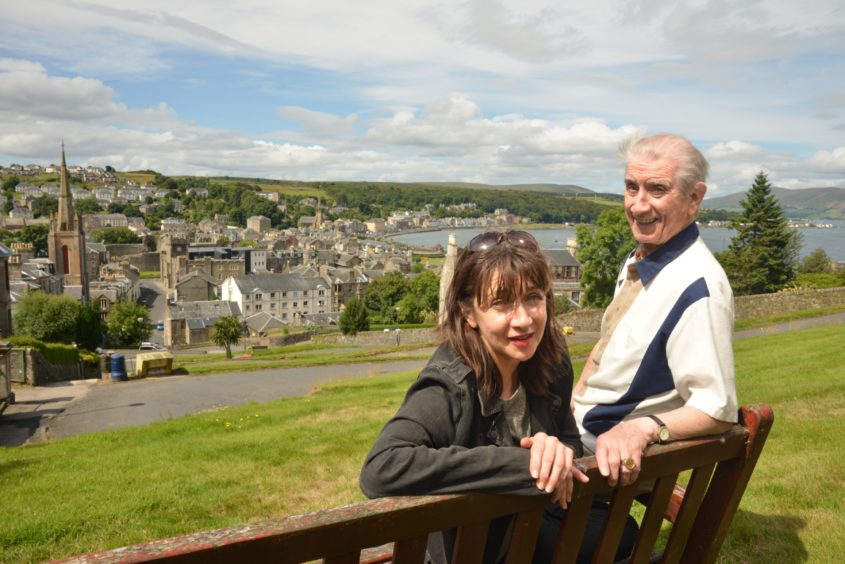 Maureen was just a tot when her dad began a run of six summer seasons at the Ayrshire theatre in the '50s, giving her a taste of the business at a very early age.
"To be offered the headliner slot six seasons on the trot was an incredible opportunity, so all of our summer holidays were spent in Ayrshire," she continued.
"This was in the Gaiety's heyday, when everyone was going down the water for their holidays. My mum would shut up our flat in Glasgow at the start of the school summer holidays and we'd rent a place down there and have the most idyllic holidays and a fantastic time. For me, as a wannabe, having the run of the theatre was amazing."
That family history is part of the reason why Maureen's upcoming stage role is such a special one to her. She stars in Meet Jan Black, a comedy about an am-dram society determined to put on a new show, even if it means rehearsing over Zoom. It's a classic case of art imitating life, as Maureen's co-stars will be members of the local am-dram group, who she's been rehearsing with via Zoom.
There will be four performances of the show next month, streamed online, with former Casualty star Maureen performing the piece live from the Gaiety, while her co-stars' performances will be pre-recorded.
"It'll be an interesting dynamic, very different from anything I've done before, and it will be fascinating to see how it works," she said. "When the director contacted me about the role, I realised the am-dram societies were another victim of all this, people whose leisure was to get together and put on a play, and how important that was."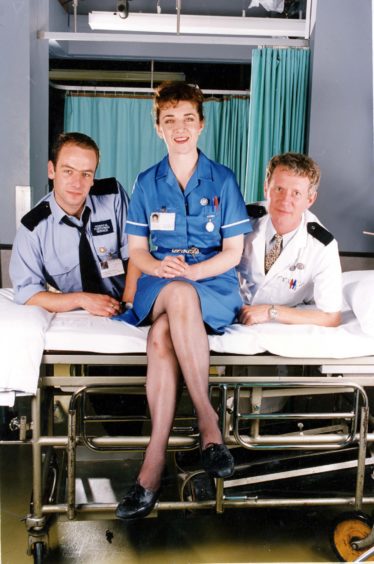 As president of Equity, the union for workers in the creative industry, Maureen is all too aware of the devastation caused in her sector by the pandemic. Having been re-elected for a second term last summer, Maureen has been at the coal face of trying to support people financially and mentally, as well as lobbying government, since the industry coming to a standstill due to Covid.
There were already issues, she says, due to Brexit, with many UK creatives finding that not having a European passport was now costing them jobs on the continent. She says her members will continue to band together and petition the government.
"They have this slightly dismissive attitude towards us. Because we love what we do, they think we'll find a way, which we probably will, fortunately or unfortunately, but people need to eat and they need to feed their children and it's a big struggle right now," said Maureen, who will also star next month in Pitlochry Theatre's production of Tennis Elbow, a companion piece written by John Byrne to his hugely successful first play, 1977's Writer's Cramp. "The government knows how important it is, because Boris Johnson went to a school with a fully-functioning theatre with full-time staff and an artistic director.
"But when it comes to allowing just folk, working-class folk, to do their job and have access, suddenly it's not so important. They know how important it is but they want to keep it for themselves – that's my view."
It was Maureen's dad's passion for standing up for the rights of the workers that instilled a similar attitude in her.
"He started as an electrician on the shipyards, which were very unionised, then went into the Marines and when he came back he went into amateur dramatics," she explained. "There was a fork in the road, he told me, where he could either have become a union official or continued in showbusiness. He was very keen on collective activism.
"I wasn't long born when he got a gig at The Gaiety in Leith. My mum was the main breadwinner at the time as she was a very famous model in Scotland. Dad spent money on costumes and got all his props together and took the steam train through to Edinburgh on a horribly wintry day, only to find a note pinned on the stage door saying,'Insufficient bookings. Go home'. At that time there was a clause in the contract – no play, no pay – and he went home and said he wasn't having this, so he joined the Variety Artists' Federation, which later became affiliated to Equity."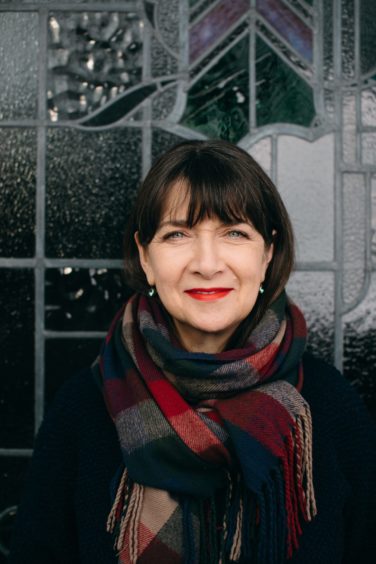 It was her dad whom Maureen confided in when she was awarded an OBE in the New Year's honours list last year.
"I had to tell him – I swore him to secrecy. I told him I had a surprise, that I was being given an OBE. 'Hold on,' he said. 'An OBE is better than an MBE, which I have.' I told him that was correct and to suck it up," she laughed. "He was slightly discombobulated at first, but then he rallied and was really pleased."
Maureen collected the honour from Prince Charles, just before lockdown.
"I know people who were upset I had accepted it, but to me it's a weaponisable thing, it really does make a difference to certain events and opportunities if you can say our president, Maureen Beattie OBE, will be there, and that's what I want to do with it. I'm not sitting at home polishing it and thinking how clever I am.
"I want to use it for good purposes, and hopefully that's what I've been doing."
---
Family tribute to Johnny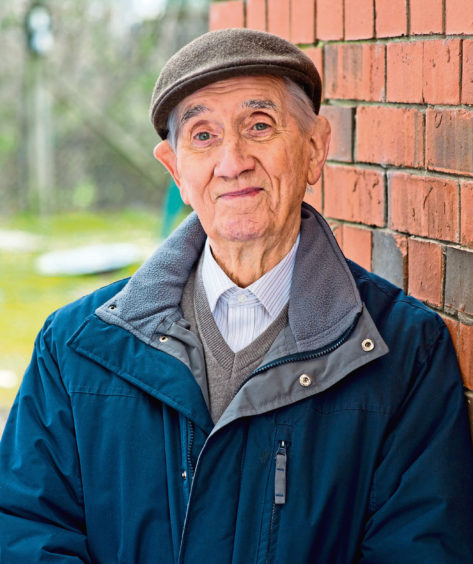 Eight months have passed since Johnny Beattie passed away at the age of 93.
The stage and screen star continued working on BBC soap River City until he was 89, and Maureen, the eldest of four children he had with former model Kitty Lamont, said his family were able to give him a fitting send-off, despite lockdown restrictions.
"We all feel we did him proud, which is a comfort," she said. "The people at the crematorium were so fantastic, understanding and kind, as was the priest at St Peter's, which is the church in Partick where my parents were married, where all my siblings were baptised, where we had our holy communions, and where my mum's funeral mass was held, so it was the only place to go.
"Dad spent his last two weeks at St Margaret's Hospice in Clydebank. He'd done a lot of fundraising for there and attended many events at the hospice, so he had a long relationship with the place and therefore it wasn't a building that he didn't know.
"Also, his old friend there, Sister Rita, is now the CEO of the hospice, so it was great it wasn't a strange place to him.
"It was also a great comfort to know how many hearts he touched among the public, no question."
---
Meet Jan Black, Gaiety@Home, Apr 1-3, tickets available from thegaiety.co.uk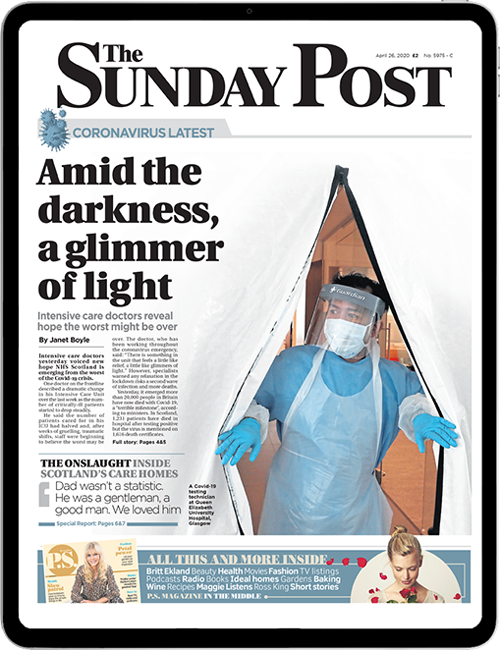 Enjoy the convenience of having The Sunday Post delivered as a digital ePaper straight to your smartphone, tablet or computer.
Subscribe for only £5.49 a month and enjoy all the benefits of the printed paper as a digital replica.
Subscribe