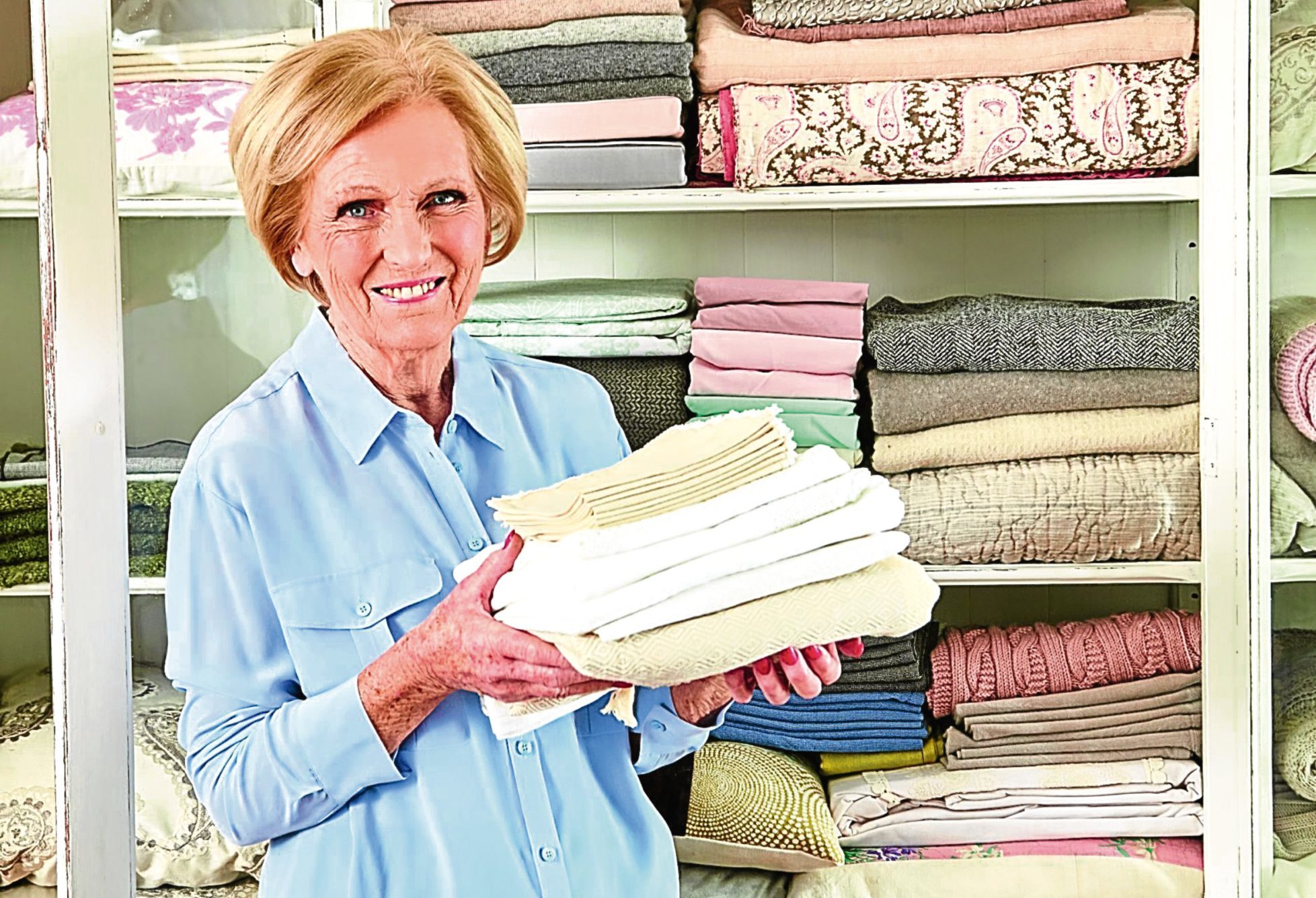 MARY BERRY has whipped up a recipe for "home happiness" in her new book, Mary's Household Tips & Tricks — Your Guide To Happiness In The Home.
"My focus may have been on cooking, but it's always centred on the home," says Mary.
"In my books and TV programmes, I'm always keen on sharing tips to help people.
"This book's not about creating more work, or telling people what to do, it's just passing on a collection of tips, things I learnt from my mother, my own ideas gleaned from years of practical experience, as well as helpful hints from friends and family.
"We're very lucky — my husband and I have been married 50 years and don't really argue as life's too short.
"Never let the sun go down on a row is our motto.
"The one thing Paul and I really disagree about is how the house is decorated," Mary adds.
"My husband likes the style he grew up with, which isn't exactly mine!
"For example, I've got tie backs on the curtains, but if I go away, he removes all the tie backs and puts them away in the cupboard.
"Similarly, he'll move cushions he dislikes out of sight. Then gradually I put them all back again. It's a farce, really!
"Our kitchen is a practical, attractive space where everyone tends to congregate — family, friends and our two dogs — and where all the decisions are made.
"But there are all sorts of easy tricks to making a space more practical."
Here are Mary's top tips —
1 Sort it out
"My house is tidy, but definitely not immaculate!" says Mary.
"I like to keep on top of things, though, so every so often, I'll sort out the chaos in my wardrobe and clear out some clothes.
"I also clean out kitchen cupboards and drawers every six months — I empty them, use a clean cloth and hot soapy water to wash all surfaces, and dry thoroughly.
"I'd suggest lining pan drawers with ridged rubber matting."
2 Iron candle wax off a carpet
"If some spilt wax has got onto a wool carpet, place kitchen roll or greaseproof paper on top of the affected area, then iron it," says Mary.
"The wax will melt and stick to the paper — simple!
"Do take care with synthetic carpets, though, as they don't deal well with the heat!"
3 Clean your machines
"To clean a dishwasher, run a wash with white vinegar. Use around 250ml placed in a container on the bottom rack, then just run a normal cycle and it will be like a new machine," Mary explains.
"For the washing machine, run an empty cycle to clear the drum, and add a cut lemon to a short empty cycle, to keep the machine fresh.
"To pep up your microwave, put a cut lemon in a bowl of water and microwave on full power for one minute — the condensation will release stains around the sides and make it easy to simply wipe clean."
4 Use nuts to help fade furniture scratches
"Break an oily nut — such as a walnut — in half, and rub the exposed area over scratches in the wood," Mary says.
"The oil of the nut should help them to fade and appear less noticeable."
5 Steam clean your floors
"I use a steam mop to clean my tiled floors and I don't think it's too much to say that it's changed our lives," says Mary.
"Steam mops are quick to heat up and can be used on any sealed floor surface with minimum effort."
6 Wear rubber gloves and get stuck in to properly clean a toilet
"To remove hard water and limescale toilet stains, wear rubber gloves, flush the cistern and remove a mugful of water from the bowl — I use a tin mug — so you can see the rim of the limescale line clearly," Mary reveals.
"While the water level is low, pour or spray the loo cleaner around the limescale in the bowl.
"Make sure you get the product around the top and where water drips down the back of the bowl, too.
"Leave for 30 minutes, then rub with a fine scourer or brush. Pour the water in mug back into bowl, then brush and flush the cistern again."
7 Use onions to rid paint smells
"If you have newly-painted walls, counteract the smell by cutting two onions into quarters and leaving them cut up on a plate overnight," says Mary.
Great British Bake Off star Mary Berry reveals Scotland is her little slice of heaven
8 Protect the floor when you're partying
"Protect carpet if you're having a party by using rolls of polythene film," Mary says.
"Make sure you buy the appropriate film for the floor surface — the one for carpet shouldn't be used on hard flooring."
9 Keep flowers fresh
"When putting cut flowers in a vase, remove any leaves which come below the water, otherwise they'll make it turn green and smell," Mary reveals.
"To clean irregularly-shaped vases or containers, use a handful of rice and a good glug of white vinegar. Swirl around briskly, so the rice can clean corners, before rinsing and drying."
10 Clean windows the old-school way
"A mixture of vinegar and water is a traditional solution," says Mary.
"Alternatively, use a pre-packaged cleaning spray and a micro fibre cloth."
Mary's Household Tips & Tricks by Mary Berry, is published by Michael Joseph, £20.00.