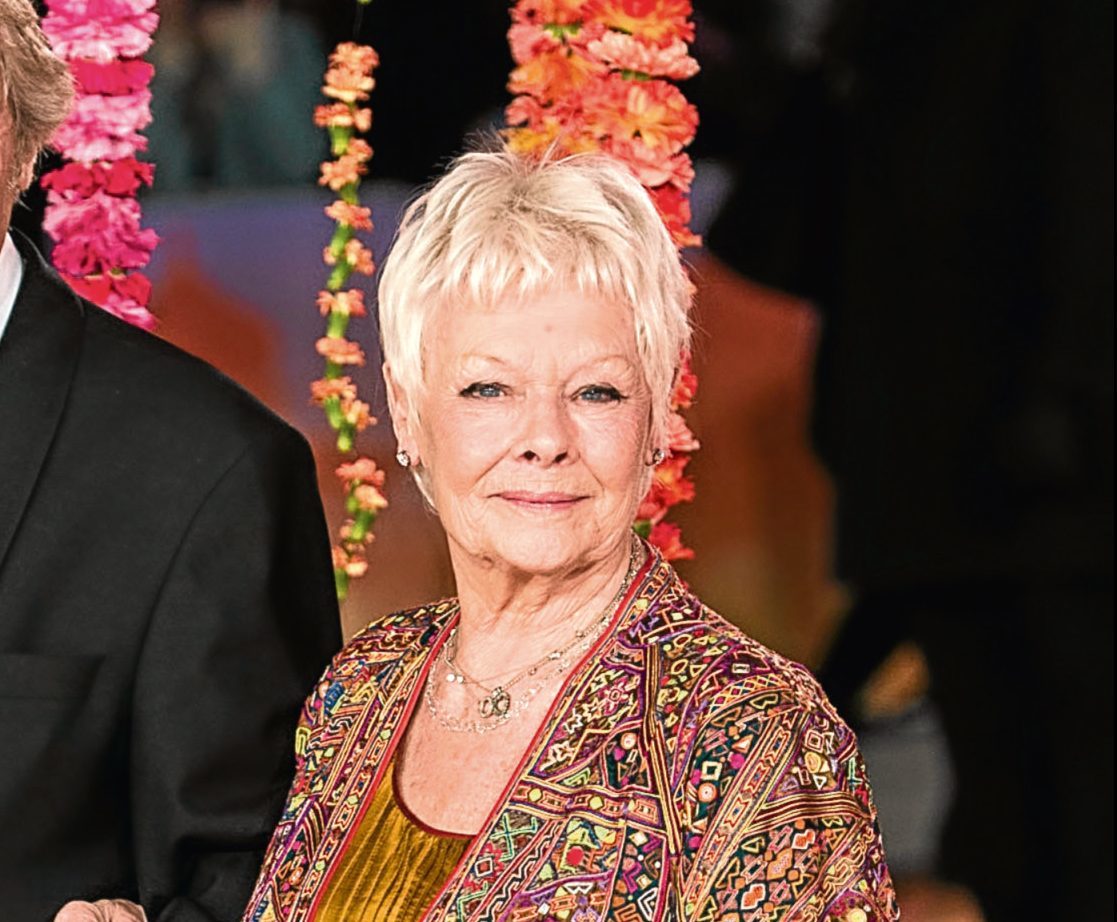 THERE'S no stopping Dame Judi Dench, who's not only played Queen Victoria twice on screen, but could also claim to be showbiz royalty, with so many appearances on red carpets and countless awards.
Time to retire? Not a chance!
"It has been an amazing journey and it is far from over," said Judi, who's 82.
"I intend to go on working as long as I can as I still have a huge amount of energy.
"It's not so easy these days, of course.
"My sight is not what it was and it will not get better. I've got macular degeneration.
"I've never been a great one for reading scripts, I've always preferred someone to just tell me the story and what I'm supposed to be as a character.
"Of course I follow the script, but if I know those things beforehand, I can form the character in my mind rather than reading it off a piece of paper.
"The sight gets worse and that can make it difficult. I can see the day when I walk on stage and address a tree instead of the leading male.
"On the other hand, I had a new knee a little while ago and it is brilliant. I don't feel my age at all.
"I'm tired of being told I'm too old to try something new.
"People sometimes ask me if I am going to retire, and say things like: 'Isn't it time you put your feet up?' like I am some dotty old woman.
"I should be able to decide for myself if I can't do things. Age is just a number."
Judi's roles have been very diverse, from Queen Elizabeth to Juliet and Queen Victoria to M in the James Bond films.
"I am so glad to have done Victoria and Abdul," she said.
"Ali Fazal was a joy to work with and it was nice to play Victoria in her late 60s.
"The essence of the story is quite nice. Victoria had not had much fun since losing Albert and her desire to learn Urdu opened a whole new chapter — and why not?
"Your interest in the opposite sex doesn't end when you get older.
"In some ways, it gets better as you know more.
"We had to be careful in making the film as there is no clear evidence of an affair although there were some pretty warm correspondence between them and apparently her family and staff were horrified by the friendship.
"Mind you, they didn't like the relationship she had with John Brown her ghillie either.
"Perhaps the fact Abdul was from India made matters worse at that time.
"I enjoyed filming and I am thrilled it has had such an excellent review.
"There was a lot of thought and hard work put into it.
"As for me, well, I enjoyed being Victoria again and to play opposite another handsome young man was worth getting up early for."
Judi was born in York in December, 1934.
Her father was a doctor — Reginald Dench — and her mother Eleanora was so talented with needle and thread, she was Wardrobe Mistress at York's Theatre Royal.
Reginald was also the official doctor to the theatre, so even as a little girl, Judi was soon introduced to the magical world of the stage.
"I loved it and basically grew up around performers backstage," Judi recalled.
"My mother was talented and also played the piano, encouraging me to sing.
"I didn't need much encouraging as I was already into the whole theatre world.
"My father was not so keen on my leaning towards theatre, but I think he realised that I was likely to be heading in that direction.
"I wasn't forced to take an interest, but it was just there from the start.
"I wanted to be a ballerina, but then I went off that idea and decided I wanted to be a theatre designer."
Judi's performing debut came when she was a little girl when she appeared in a junior school play as a snail. Yes, a snail.
Judi laughs when she remembers it.
"I had a brown romper suit on and brown tights and my father made me an enormous shell," she said.
"All I was supposed to do was crawl across the stage under the shell.
"When my parents came to it, I can remember standing up to see them and someone at side stage saying: 'Get down!'
"I think I was a very good snail, I liked the pace of the performance.
"The moment that made me realise I could become an actress was when my brother Jeffrey sat me down and told me I could do it.
"He was at drama school and I felt I had to try."
From that turning point, here we are all these years later with Dame Judi Dench loved throughout the world.
How does she keep on doing it? Judi puts some of it down to her Irish heritage.
"The secret of my success is my mother, who was from Dublin," she said.
"All my relations are in Dublin or in the west, or, as I found out when we went to Rostrevor, in Northern Ireland.
"We were there filming when a man said to me: 'You know you have cousins in this town? They're coming down to see you.'
"I was amazed, but he was right and they did come to see me, lots of them.
"Add to that the fact my father was also brought up in Dublin and met my mother when studying medicine at Trinity College, Dublin, my Irish heritage is there for all to see.
"The arts are important in Ireland and I cannot help thinking that I have my Irish heritage to thank, at least in part, for getting me this far."
Judi's sense of fun is never far away and as she considers the possibility of being M again, she smiles.
"My husband Michael always liked the idea of me being a Bond girl, but I don't think M was quite what he had in mind," said Judi.
"Maybe there is more to come. I wouldn't rule it out.
"You never know if you'll be offered another chance, but if it were possible, I'd really enjoy it.
"Perhaps I might return in a totally-different role and be a crazy mega-millionaire who wants to rule the world!"
Judi and Michael were husband and wife for 30 years and had one daughter, Tara, who's always been known better as Finty.
Michael died in 2001, but not before he and Judi had worked together in the TV series A Fine Romance.
"I've been fortunate in TV series," she said. "Michael was so good to work with and then later, I played opposite my good friend Geoffrey Palmer in As Time Goes By.
"It makes all the difference if you have confidence and a friendship with the person."
Away from the spotlight, Judi lives in an old house on the borders of Kent, Sussex and Surrey.
"My daughter and grandson are there a lot. Otherwise it's just me, my dog and the cats plus our goldfish."
Judi's always loved horses and ponies and along with her driver, Bryan Agar, owns a racehorse called Smokey Oakey.
"I've always relaxed with painting, but I can't do much of it because of my sight problems.
"I don't read much at all now either," she admitted.
Judi's ruled out marrying again though she is in a relationship with conservationist David Mills.
"We're the very best of friends, but I hate it when people use the word 'partner', it sounds so twee.
"It's not something you should use to describe for anything other than business, dancing or perhaps tennis," she said.
Despite her difficulties, Judi is still ready to laugh.
"I'm looking forward to the next challenge," she said.
"I have difficulties, but they are only obstacles, I can still walk and talk, so I can act and plan to do so for a long time."